Contact
Employment
In addition to the magnificent vaulted tasting hall and winery overlooking vineyars on Keuka Lake, Heron Hill also has tasting rooms on the west site of Seneca Lake and on the west side of Canandaigua Lake.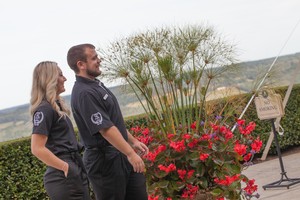 Event Logistics Staff - Keuka Lake, 9301 County Route 76, Hammondsport, NY
Heron Hill Winery on Keuka Lake is looking for an individual interested in working part-time in a fast moving, fun atmosphere. Individuals will be responsible for the setup, planning and service of weddings, receptions and other booked events at Heron Hill. Successful applicants will be able to perform the following: execute the design layout of table and chairs, bar, dance floor and stage for weddings and special events; ensure the event space is clean & well-maintained; interact with caterers, creative vendors, and personnel providers in the execution of the special event plan; occasionally interact with customers & guests during weddings and/or receptions and other related events. The job does require heavy lifting (40 lbs) and long periods of time standing. Individuals should be proactive developers and implementers of plans, be able to relate effectively with peers, and feel comfortable interacting spontaneously with guests. Position runs from Mid-May until Early-October, weekends and late nights are a must.
***Please apply within at our Keuka Lake Winery location or e-mail. No calls, please.
Contact: Meghan O'Toole, Wedding and Events Coordinator at Heron Hill – Events@heronhill.com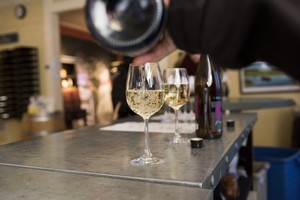 Tasting Room Staff - Keuka Lake, 9301 County Route 76, Hammondsport, NY
This is a great opportunity to join this growing and exciting industry and gain experience in the hospitality field! We are looking for seasonal and year-round part-time staff in the tasting hall to join our team and represent the winery to serve a variety of customers local, across the U.S and world-wide.

Our tasting hall staff are articulate, hard-working, self-motivated, customer-oriented, and above all, enjoy working with the public. Relevant experience is a plus, but we are happy to train people with strong work-ethic who want to learn and gain knowledge and experience. Candidates must be over the age of 21, have weekend availability and can lift 40 lbs. We are currently hiring for part-time positions, but there is opportunity for year-round employment with the right candidates.

ESSENTIAL FUNCTIONS AND RESPONSIBILITIES
- Greet and pour wines for guests
- Describe wines, winemaking techniques, and winery history
- Sell wines by educating and assisting the customer in making purchasing decisions
- Promote and sell Wine Club memberships and special events at the winery
- Accurately process transactions using a POS system and keep track of tasting fees throughout shift
- Perform daily cleaning and facility maintenance duties
- Wash and polish glassware
- Assist with special events in the Tasting Room
- Other duties as assigned by Tasting Hall Manager

Compensation based on experience. Employees are rewarded with our sales incentive program. We also offer a generous employee discount on wine, merchandise and food from the Blue Heron Café!
***Please apply within at the winery
Contact: Eric Frarey, eric.frarey@heronhill.com