Bernard Cannac, Winemaker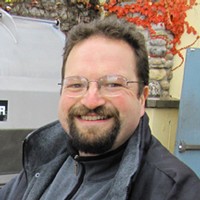 I was born and raised in Languedoc, southern France. My family had a vineyard, and my grandfather and my father were making the wines in the cellar that was the first floor of the family house. As a teenager, I helped my dad tending the vineyard on weekends. Everything was done by hand, without using a tractor. After getting an associates degree in the Food Industry, I went back to my passion: making wine. I graduated from The University of Bordeaux in 1995 with a Bachelor Degree in Oenology. I then went to Burgundy to get a M.B.A in International Commerce of Wines and Spirits. After spending a few harvests in Southern France, from Saint-Emilion to Provence, I set course to Virginia in 1999 for a one year internship. I had a great time there, and met lifelong friends. That is where I was introduced to the American way wineries operate. I then landed on Long Island for the 2000 harvest. Still single at the time, I met a wonderful woman who changed my life plans. We got married in 2003. I spent nine vintages on Long Island as winemaker in various wineries there, and consulting for others. And now here I am at Heron Hill Winery, it is a great place to work at, with awesome employees.
Interests
Wine making and wine drinking (of course!), good food (I am a decent Sunday cook), entertaining friends and family at home, car racing (Formula One, NASCAR, Indy, Rallye WRC, 24 Hours of Le Mans (the real thing!)), fresh water fishing, camping (there is nothing like a trout grilled on a camp fire followed by popcorn!), history in general.
Favorite Movies
The list is long and eclectic: my number one has to be The Good, The Bad and The Ugly. Other favorites are: The Royal Tenenbaums, Good Fellas, Casino, Best in Show, Fargo, Jackie Brown, Pulp Fiction, Reservoir Dogs, and many more…

French movies: Les tontons Flingueurs is awesome, Jean de Florette, Manon des Sources, all movies with Fernandel, Bourvil or Louis De Funès, Delicatessen…
Favorite Music
I tend to listen to French classics: Georges Brassens, Jacques Brel, Charles Trénet, Serge Gainsbourg, Charles Aznavour. I also like Manu Chao, The Gipsy Kings, Les Négresses Vertes and Francis Cabrel. My

American taste is pretty varied: Dire Straits, ZZ top, The Doors, Bob Marley, Johnny Cash, Jerry Reed
Favorite Books
I have read mainly French books. My favorite authors are: Emile Zola (Germinal), Victor Hugo (Les Misérables, Le Père Goriot…), Albert Camus (La peste L'Etranger), Stendhal (Le Rouge Et Le Noir)… In the last few years I have read Historical books about the American Civil War, The Free Masonry and The Knight Templars.
Contact
winemaker@heronhill.com
607-868-4241 x. 12

Read blog posts by Bernard here.
Featured Wine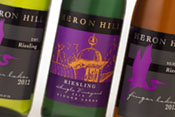 Ingle Vineyard Riesling 2011
Double Gold NY Wine & Food Classic
87 points Wine Spectator
Shop Riesling>
Next Event
November 29th
Small Business Saturday Sale
all 3 Heron Hill locations
---