After three years of super cold winters, devastating spring frosts and greatly reduced grape yields, 2016 was a relatively benign winter with minimal frost incidents and, thankfully, a normal to above normal crop size. Throw in a hot, dry summer and we have a recipe for a superb harvest. The reds have deep color and robust flavors, the whites are full bodied and rich and our first dry rosés in over ten years are very intriguing. Great cause for excitement and celebration. Going into 2017, our fortieth vintage, we have great wines in the tanks and barrels and exciting plans for the new year including our first Grüner Veltliner wine, an anniversary celebration and two dry rosé offerings. As the winter progresses we will develop these projects in plan for a memorable 2017 for all.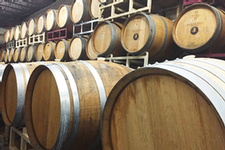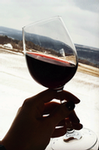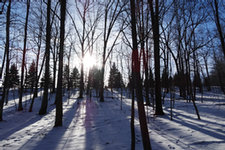 Heron Hill Winery presented a donation in the amount of $4,500 to Seneca White Deer, Inc. (SWD) at the Finger Lakes Visitors Connection office on December 6, 2016 in Canandaigua, NY. In May 2016 Heron Hill Winery released a new Riesling-Chardonnay blend under the Save the White Deer label with proceeds from each bottle sold going directly back to SWD. Thanks to our fantastic customers for showing their support of the Seneca White Deer, the wine sold out in less than four months!

Since 2010 Heron Hill has partnered with SWD in an effort to raise awareness and funds to benefit SWD's work preserving the unique and treasured animals and their habitat.
"Heron Hill Winery is not only intent on making superior wines but also in giving back to the community. We are very fortunate to have partnered with Heron Hill and we sincerely appreciate this wonderful donation which will be used to further our efforts to protect this unique resource for the world to be able to enjoy," says Dennis Money, president of SWD.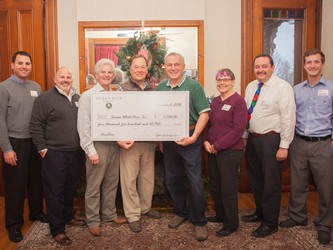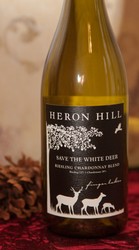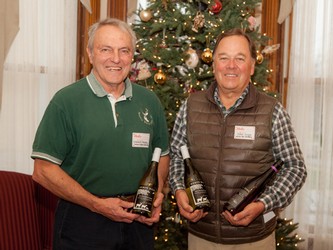 "A lifelong commitment to conservation and philanthropy from our founders John and Josephine Ingle remains an integral part of our business plan at Heron Hill", stated Eric Frarey, Chief Operating Officer. "The wine and donation program were truly embraced by consumers and our entire production was sold out in a short time," Frarey also noted.
To learn more about Seneca White Deer, Inc. visit their web site at senecawhitedeer.org or contact the president. Heron Hill Winery is celebrating 40 years of excellence in 2017. Through the decades, Heron Hill has been committed to supporting conservation in the Finger Lakes region.

This year the Keuka Lake Wine Trail's Keuka Holidays event weekends both sold out by early. We are very thankful that so many people have chosen to celebrate the beginning of their holiday season by visiting our wineries. Once again, the ornament you receive at Heron Hill Winery was made by a local craftsperson. I'm also very excited to share the Mushroom Burgundy Soup recipe below from Blue Heron Cafe because it's so easy and so flavorful!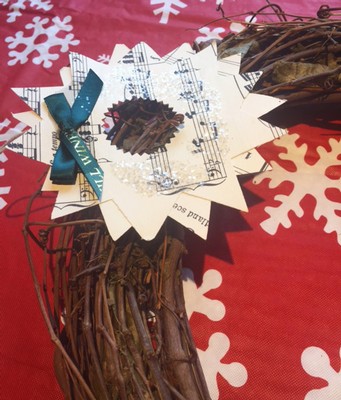 INGREDIENTS:
6 cups of milk
3 cups chopped button mushrooms
1⁄2 diced red onion
1⁄2 bunch of diced green onions
1⁄2 cup chicken stock
1⁄2 cup of Eclipse Red
2 tablespoons of garlic
2 tsp of sage Day-old bread (any type)
1 cup Asiago cheese

TO PREPARE:
In a medium-hot pan with olive oil, sauté the garlic until almost soft then add in the red and green onion. Sweat the onions then add in the mushrooms. Once the mushrooms are tender add in the Eclipse Red wine to deglaze. Once the red wine reduces add in the chicken stock and cook for about 5-6 minutes and add milk, leaving on low simmering for about 20 minutes. Add in the sage, salt and pepper to your liking. Once the soup thickens turn off and wait about 10 minutes before serving to cool down the soup. Once cooled top with home style croutons.
TO MAKE HOMESTYLE CROUTONS:
Cut bread into small cubes and toast. Once toasted, toss in olive oil and toss with salt & pepper and top with shredded Asiago cheese.

Heron Hill's Classic Muscat is made with Valvin Muscat, a cross of Muscat Ottonel and Melon Muscat. It's very aromatic and slightly sweet with tropical fruit flavors. The current sale price on this wine makes it a great value for holiday entertaining. Here are two holiday recipes utilizing this wine.
Easy Wine Brine for Turkey
1 cup kosher salt
1/2 cup light brown sugar
1 quart vegetable stock
1 teaspoon poultry seasoning
1 teaspoon chopped fresh rosemary
1 teaspoon cracked black pepper
1 bottle Heron Hill Muscat
Heat vegetable stock with brown sugar and salt until completely dissolved. Transfer to a shallow pan and chill for 10 minutes.
Mix all remaining ingredients in a very large stock pot or plastic bin (that will fit in your fridge). Place your turkey in the brine and submerge completely. Cover tightly and keep refrigerated for 48 hours, turning once every 12 hours. Remove turkey from brine and roast as you normally would. Discard any leftover brine.
Sweet & Spicy Ham Glaze
2 cups Heron Hill Muscat (this leaves enough for the cook to enjoy while making dinner)
1 pound of dark brown sugar
1 teaspoon of creole spice mix (such as Tony Chachere's)
½ cup spicy brown mustard
Juice from one can of pineapple rings
Mix in a saucepan and heat on low stirring it every few minutes.
I use a spiral sliced ham to make carving easier but if you like big, rustic slices buy a ham that has not been pre-sliced.
Place pineapple rings on surface of your fully cooked ham and put a maraschino cherry in the center of each securing with a toothpick.
Pour glaze over entire ham and bake (covered) for 3 hours at 300 degrees.
Remove cover (foil or pan lid) and baste with glaze in the pan. Bake uncovered at 350 degrees for an additional 25-30 minutes to brown nicely.

Did you know? More than a third of Americans own a dog, and many of them like to take their furry companions everywhere, especially when they come to the Finger Lakes on vacation and are coming to places like wineries and restaurants. Well, guess what? We at Heron Hill Winery are very dog friendly!
We offer many doggie treats for sale for your pooch at the winery and love to have them come into the winery as it offers a fun distraction for the staff. For our dog treats, Kiley's Canine treats, locally sourced from here in the Finger Lakes region offers all-natural gourmet (non-alcoholic) bone-shaped dog biscuits. Don't think we left out the kitties as well, since they are equally as important, we sell kitty treats for them too!
At the Blue Heron Café on Keuka we love to have the pooches and their owners come dine with us. We have different size water bowls for all size dogs to borrow as they lounge on the patio. We realize that by offering dog owners a place to eat with their pet, we can benefit both you as the consumer and the winery too by having a place to relax with your dog!
In addition to being a dog-friendly location, we work with 2 local animal shelters here in the Finger Lakes region with a couple donation boxes on our front counter. You would be amazed by the amount of money we collect here at the winery during our busy season. The dog shelters have both collected thousands of dollars from us over the past year. We love to support all the animals at the local shelter. Don't forget to drop your leftover change in the boxes after buying your wine when you stop by with your pooch.
Here are some of the labs that help around the vineyard and winery: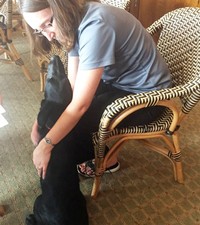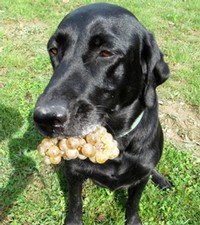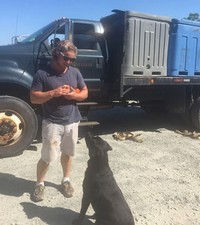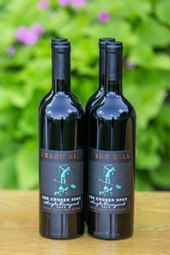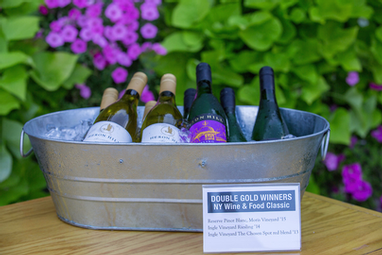 Heron Hill Winery submitted thirteen wines in the 2016 New York Wine & Food Classic, and we were proudly awarded thirteen medals!
Double Gold:
Ingle Vineyard The Chosen Spot red blend 2013
Ingle Vineyard Riesling 2014 (SOLD OUT)
Reserve Pinot Blanc 2015, Morris Vineyard

Gold:
Classic Semi-Sweet Riesling 2014


Silver:
Ingle Vineyard Unoaked Chardonnay 2014
Classic Dry Riesling 2014
Classic Semi-Dry Riesling 2014
Classic Pinot Noir 2013 (SOLD OUT)
Classic Cabernet Franc 2013
Reserve Chardonnay Unoaked 2013 (not yet released)

Bronze:
Ingle Vineyard Cabernet Franc 2013
Save the White Deer blend

As we approach Father's Day and the first day of summer, we at Heron Hill are putting our first wines of the 2015 vintage into the bottle along with some others wines as well. So far, I'm very pleased with the 2015 whites. From last vintage we have the Save the White Deer wine that is a blend of Riesling and Chardonnay mostly from Ingle Vineyard. Reserve Pinot Blanc 2015 has made it into the line-up after being sold out for 6 months. It is a dry, elegant wine sourced from Morris Vineyards on the west side of Seneca Lake. The 2014 Ingle Vineyard Riesling has also been released. Although fairly dry, it can be both enjoyed on its own or definitely with food. Classic Chardonnay 2015 is now in the bottling room awaiting last minute tweaks and will be bottles next week. We are also preparing to bottle the 2014 Eclipse Red…all year we're celebrating 25 years of this signature Heron Hill red blend and we are looking forward to the celebration party this summer on August 25!

John Ingle selected a slope near where he planted Cabernet Sauvignon and Merlot over 15 years ago to clear a site for planting Blaufränkisch (also known as Lemberger). What looks like barely a nub peaking out, is supported by a much larger root system buried in the soil, and should produce grapes in 3-4 years. It's important to keep the new planting covered with dirt as much as possible to hold the moisture.
Heron Hill's history with Blaufränkisch goes back to 2007 when the winemaker at the time, Thomas Laszlo who had live in Hungary, had a fondness for the variety. Since that time Blaufränkisch has developed a following among Heron Hill's returning visitors and Heron Hill only produces the wine select years bottling it under the Reserve label. Stay tuned for updates on the progress of this new site!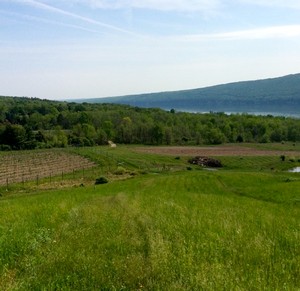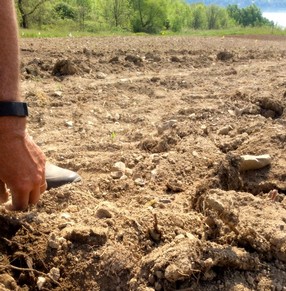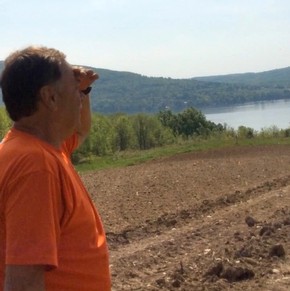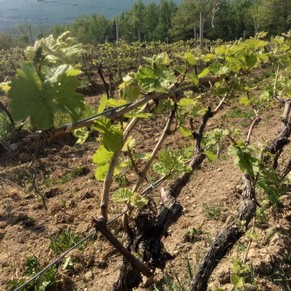 "Buds is the word!" exclaimed John Ingle this week.
Other lots at Ingle Vineyard look good for this point in the year – we're counting strong numbers of 40+ healthy, lively buds per vine across Riesling, Chardonnay, and Pinot Noir. Interestingly, the vines at Ingle Vineyard are a bit further along with larger buds than the Heron Hill Keuka Lake estate vineyards.
Merlot and Cabernet Sauvignon at Ingle Vineyard have experienced much damage after the past three harsh winters. However, we're seeing more Pinot Noir buds already this year than the last three year total. Although it's early in the season and even the smallest things such as wasps can have an impact on harvest, John Ingle is hopeful that we'll see an increase in Pinot Noir yields this year at Ingle Vineyard

As we happily hit spring in the Finger Lakes, Heron Hill is pleased to continue the tradition of making world-class Rieslings. Since the beginning of 2016, we've received some excellent score in top wine publications and wine competitions. Each year Heron Hill's winemaker makes a full range of Rieslings from dry, single-vineyard wines to sweet, ethereal dessert wine. What most excites Heron Hill's owners & staff is when we meet people who have found a favorite style of Heron Hill Riesling and that wine has become their go-to Riesling to pair with certain foods or for particular occasions. Scores and medals still have meaning and we certainly appreciate judges & wine reviewers that have made tasting wine a life's passion. It will always be about people just enjoying our wine and choosing to share Heron Hill wines with their friends & family!
91 points Ingle Vineyard Riesling 2012, Wine Enthusiast
90 points 'Best Buy' Classic Dry Riesling 2013, Wine Enthusiast
Best of Class 'New York' Classic Semi-Dry Riesling 2013, Grand Harvest Awards*
Double Gold, Classic Semi-Sweet Riesling 2014, Finger Lakes International Wine Competition
*At the Grand Harvest Awards, judges taste wines with other wines of the same appellation. Established in 1990, it is the only wine-judging event in North America that is based on Terroir

What a glorious 2015 season…and now I look forward to what 2016 will bring! I want to take this opportunity to introduce
myself. My name is Nicolette DeAngelis and I am the new Wedding & Events Coordinator for Heron Hill Winery. I have been a part of the Heron Hill team for nearly two years. I began working behind the tasting bar and interning while I finished my Bachelor of Science degree in Business from Mansfield University. Upon graduating this past May, I spent some time on the road working in wholesale selling Heron Hill wines. I transitioned to assisting with events in mid-July under the mentorship of the previous event coordinator, Elke Schmitt. I am so excited for this wonderful opportunity and to bring couples' visions to life at this breathtaking venue in the Finger Lakes.
Here are some of my favorite wedding details from the past season:
The First Look
One of my favorite aspects of weddings is the star-struck reactions couples exchange when they see each other for the first time on their special day. It is an overwhelming moment and absolutely irreplaceable. The "First Look" is when couples actually see each other before the ceremony and specifically take time to photograph this special moment. It makes the moment more intimate and allows for crisp and precise pictures, then the couple uses less of their time during the reception for picture taking.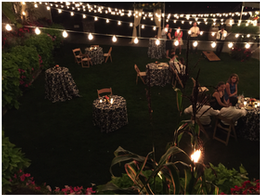 Lighting on the Lawn
The Heron Hill lawn adjacent to the main event tent is a stunning aspect of the venue with its lush colors and dangling greenery. Some couples this past season brought in extra bistro lighting and tables for the lawn so it could be utilized after dark. It brings a romantic feel to the area and is the cherry on top of an already beautiful outdoor landscape.
"Pick a seat, not a side"
Typically, seating for a ceremony is split between the "Bride's side" and the "Groom's side." Some couples chose to have everybody blend together and veer away from labeled seating. This brought a special synergy to ceremonies as well as avoided the confusion of guests figuring out on what side to sit.
There are a few aspects of my job that make me love it so much. My absolute favorite part is the relationship I gain with couples. In order to envision exactly what they want their wedding day to be, I get the opportunity to get to know who they are and what is important to them. Every couple is dramatically different and that is my second favorite part of this job. The event tent has different ambiance every single weekend. It keeps me intrigued and challenged to execute unique weddings every week. My third favorite part of the job is seeing the connection that happens at weddings. There is nothing quite like seeing the love in couples' eyes throughout the evening…a tearing up during a father-daughter dance, or a maid-of-honor gushing over how much love she has for the couple. It is an event where everybody sees the bigger picture about how important it is to love those close to us, which can be overlooked in the day-to-day shuffle.
Overall, I have such a passion for this job and creating memorable experiences is my number one priority. I am ecstatic to see what 2016 brings...there are sure to be many beautiful weddings and exciting new experiences!
Recent Posts
December 27, 2016

December 9, 2016

November 11, 2016

November 7, 2016

October 21, 2016

August 29, 2016

June 17, 2016

May 27, 2016

March 28, 2016

January 4, 2016
Blog Categories
Blog Archives
Our Writers