Brian Barry, Assistant Winemaker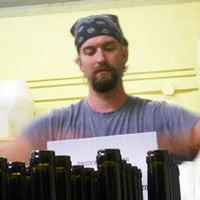 I grew up in a small town outside of Albany, NY. and my wine knowledge was limited. In 2005 I was sort of stuck and I didn't really know what I wanted to do. My brother Ian, then Assistant Winemaker here at Heron Hill said, "Hey, I bought a house and some land. Why don't you move out here and help me out with both and I'll get you a job at Heron Hill." What started as vineyard work quickly switched to cellar work. I showed an interest in the process early on and when Ian moved on to Swedish Hill, I became the cellar master and very quickly had to learn the ropes. I started as assistant winemaker in 2008 through showing interest and taking on responsibility. I also have a side project of making an austere German style Riesling from some extra fruit completely on my own. I've just started my 5th year here at Heron Hill, there's something special that makes me stay.
Interests
Wine, Microbrews, Snowboarding, Video games (yeah- I'm a gamer. It's an addiction can't help it.), Books, movies.
Favorite Movies
Fight Club (I'm a guy. Sorry.), Jurassic Park (Loved dinosaurs as a kid so when that movie came out I was a little kid again for 2 hours.), Batman Begins (Who doesn't want to be Batman?), Aliens (thrills, explosions, nasty creatures that make your skin crawl- what more could you ask for?), The Matrix (cliched I know but it was a genre-bender. Can't help but like it.) In case you can't tell I enjoy movies that entertain me not ones where I have to think or worry about plot or character development. That's what plays are for.
Favorite Music
Phish, Bruce Springsteen (I'm east coast all the way.), Ben Folds, Tom Petty, Not an all time favorite but my new love is Neko Case.
Favorite Books
Lamb by Christopher Moore, Boy's Life by Robert McCammon, The Hobbit
Contact
info@heronhill.com
607-868-4241

Read blog posts by Brian here.
Missing Component