Christina Bowe, Manager of Tasting Room at Bristol and Wholesale Sales Manager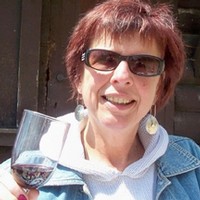 During the 70's my favorite winery to visit in the Fall was Heron Hill Winery. In 1996, I was working at the Rochester Public Market for a vegetable wholesaler. The Sales Manager approached me from Heron Hill asking if I would consider staffing a stand at the market. Besides the fact that the hours were much better, 6:00-1:00 pm (not 3:00 am 3:00 pm), but Heron Hill was my favorite winery. That was the beginning of my life with Heron Hill. Over the 15 years, I have worked in different capacities at the winery and each job has given me a greater understanding of the business. Being there from close to the beginning, I have seen the quality of Heron Hill wines become world-class, and visability of New York wines on a National and International level is so exciting. Now that my two girls have grown, they work side-by-side with me on some of the outside events that are fantastic for all of us. I am proud to be a member of a team of colleagues who work together for the same purpose producing great wines, a wonderful destination and a memorable experience.
Interests
Wine of course, Entertaining for friends, amateur potter
Favorite Movies
Godfather, Big Night, Tropic Thunder, Otis and Milo (the kid in me), Gran Torino and any movies with Mel Gibson or Dustin Hoffman
Favorite Music
My heart is in the Blues, but I like most music even some country (but not much)
Favorite Books
Love to read but now only when I am on vacation. Daniel Brown is my new favorite author (Devils and Angels, DaVinci Code) however; I did not like the movies. I like complicated twisting mysteries. My other favorite author is Mario Puzzo (loved those movies).
Contact
sales@heronhill.com
607-868-4241 x. 33
cell: 585-530-7725
Read blog posts by Christina here.
Featured Wine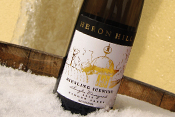 Riesling Icewine
Shop now >
Next Event
Wood Fired Pizza, 5-8pm
every Saturday through Sept.
Tasting Room at Bristol, Canandaigua
Ingle Vineyard Harvest Celebration
Saturday, Oct. 15, 12-5pm
Tasting Room at Bristol, Canandaigua
---