Quick and Easy Shrimp Scampi
(recipe by Aimee Krofssik, Assistant Manager at the Heron Hill Tasting Room on Seneca Lake)

INGREDIENTS
1 stick butter (unsalted)
½ cup grated carrot
½ cup finely chopped red pepper
1 cup sliced mushrooms
2 Tablespoons chopped garlic
Add butter to a large skillet over medium heat. Sauté remaining ingredients just until mushrooms are starting to golden.
Add:
1 pound large shrimp (peeled and deveined)
½ cup fresh lemon juice ("Verjus" works very well in this recipe)
½ cup Heron Hill Muscat Wine
1 heaping tablespoon of fresh chopped parsley
½ teaspoon kosher salt
¼ teaspoon freshly ground black pepper
¼ teaspoon smoked paprika

Sauté 5 minutes or just until shrimp are cooked. Pour over angel hair pasta.
Serve with a summer salad, slices of ciabatta bread for dipping and a glass
of Heron Hill Classic Muscat.

---
Curried Shrimp and Basil Crispy Spring Rolls
Pairs with Ingle Vineyard Riesling
Spring Rolls
1 package spring roll wrappers
1 carrot, julienned
36 raw shrimp, peeled and deveined
30 fresh basil leaves
1 package cellophane or bean thread noodles, rehydrated as per package instructions
2 tsp. chili oil
1 T Curry powder
1 egg, beaten
oil for frying
To noodles add chili oil and curry powder and mix until uniform in color.
Uncovering one wrapper at a time, place wrapper on work surface. Add about five sticks of julienned carrot, 2-3 shrimp (depending on size), noodles, then 1-2 basil leaves on top. Roll up wrapper; tucking sides as you go, seal by brushing on egg wash.
Deep fry spring rolls until crispy, serve with chutney.
Habanero, Mango and Ginger Chutney
1 ripe mango, cut into large pieces
¼ - ½ cantaloupe, cut into large pieces
½ tsp or more diced habanero pepper, seeds removed
freshly grated ginger
honey, if needed to achieve desired sweetness level
Puree mango and cantaloupe, strain mixture through coffee filter to remove excess water. Add diced habanero, ginger and honey to taste.
---
Featured Wine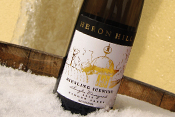 Riesling Icewine
Shop now >
Next Event
Wood Fired Pizza, 5-8pm
every Saturday through Sept.
Tasting Room at Bristol, Canandaigua
Ingle Vineyard Harvest Celebration
Saturday, Oct. 15, 12-5pm
Tasting Room at Bristol, Canandaigua
---