ABOUT HERON HILL WINERY | LOCATIONS | THE VINEYARDS | WINEMAKING | THE ARCHITECTURE | TASTING & ENTERTAINMENT | ABOUT JOHN & JO INGLE | SUSTAINABILITY | ABOUT THE FINGER LAKES
About Heron Hill Winery
Heron Hill Winery is nestled into a hill overlooking scenic Keuka Lake in New York's Finger Lakes region. For over 35 years the winery has set the highest standards for wine quality, customer satisfaction and tasting room experience. Since its first vintage in 1977, Heron Hill has steadily grown from a small 5,000 case winery that only made white wines into a dynamic 18,000 case production facility and entertainment destination for more than 50,000 people every year.
Photogallery rendered here.
Heron Hill's grape grower and owner, John Ingle often says that Heron Hill has "
boot prints in its vineyards, not tire tracks.
" People maintain the vines at Heron Hill, not machines. This personal approach and commitment to quality is evident throughout every aspect of making, serving and selling Heron Hill's wines.
These guiding principles have remained constant through the years – from hand-maintaining the vineyards to hand-harvesting grapes to offering educational and enjoyable tastings and hosting events that combine food, wine and entertainment.

Today, Heron Hill offers nearly 20 wine varieties; crisp and light Rieslings, aromatic dry Chardonnays, the winery's legendary Eclipse series, spicy, exotic Pinot Noirs and Cabernet Francs, and our winemaker's specially crafted dessert wines. For over 35 years, Heron Hill has won many awards for its distinctive, elegant wines and continues to be at the forefront of Finger Lakes winemaking. Today Heron Hill makes over six styles of Riesling. Heron Hill's Ingle Vineyard Riesling 2002 won "Best of Show, White Wine" & Double Gold at the San Francisco International Wine Competition. For a full list of our awards over the years, click here.
Read about locations here.
Featured Wine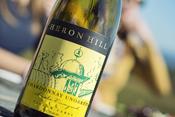 Ingle Vineyard Chardonnay Unoaked 2013
citrus with tropical notes
87 points Wine Enthusiast
Shop now>
Next Event
Barbecue at the Wineries
June 13 & 14
June 27 & 28
Keuka Lake Wine Trail
---