The Café is now closed for the season...
we'll open again in May 2014!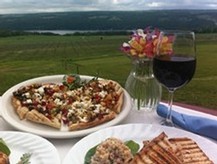 The Café takes great pride in using only the freshest and highest-quality locally sourced products whenever possible. The Blue Heron Café is supporting the sustainable agriculture movement alongside Heron Hill Winery. The Café has generously portioned menu items featuring appetizers, salads, flat bread pizzas, wraps and sandwiches. Savor the vista views of Keuka Lake from the Café terrace over appetizers or lunch and our award-winning wine. All menu items are half price for children 12 and under.
View Menu >>
Enjoy free, live music every Sunday on the terrace from 12:30pm – 4:30pm all summer long.
The Blue Heron Café welcomes all winery employees from the Finger Lakes and beyond by extending a discount of 20%, please bring your business card or proof of employment.
Hours of Operation
Friday - Monday: May 24 - October 27, 2013
open every day: June 16 - September 8, 2013
open select Mondays in October
Monday - Saturday, 11am - 4:30pm
Sunday, noon - 4:30pm
Happy Hour 5-7pm every Wednesday in July & August!
Contact
Café Director: Brian Fay, cafe@heronhill.com
address: 9301 County Route 76 Hammondsport, NY 14840
phone: 800-441-4241 ext. 21
fax: 607-868-3435


Groups & Buses
The Blue Heron Café has a group menu that is available to groups of 10-25 people for pre-order.
Please contact the Café if you prefer to have it emailed, faxed or mailed to you.
For groups and bus tours over 25 people, please contact the Café to make other arrangments for a buffet or family-style meal. We are happy to accommodate large groups when we are given ample notice.
2013 Menu
SOMETHING LIGHT
Couscous Stuffed Tomato $6.50
Crab Cake $8.50
Stuffed Mushroom Caps $8
Finger Lakes Cheese Board with Charcuterie $14
Crabtini $10.50
Calabrese Crostini $7.50
Soup of the Day $4.50 with side salad $7.50

WRAPS & PANINI
Savory Grilled Ham Panini $8.75
Roast Beef & Mushroom Panini $9
Chicken Parmesan Panini $8.50
Turkey & Bacon Panini $9

Meatloaf Panini $8.50
Roasted Vegetable Wrap $8
Chicken Margherita Wrap $8.75

SALADS
Strawberry & Walnut Salad $7
Classic Caesar $7
Greek $7

FLAT BREAD PIZZA
Roasted Vegetable and Cheese $9.50
Caramelized Ham and Fennel $10.50
Beef and Blue Cheese $11
Chicken Parmesan $10.50
Crab & Shrimp Pesto $12

DESSERT
Cheesecake
Mississippi Mud Pie
---