Visit Our Tasting Rooms in the Finger Lakes
Taste our full portfolio of wines at three locations in the Finger Lakes:
Heron Hill Winery on Keuka Lake, Tasting Room on Seneca Lake and Tasting Room at Bristol.
All premium tastings are $5 per person.

New York -- Wine Region of the Year
Finger Lakes -- 10 Best Wine Travel Destinations 2015

FOR LIMO OR BUS GROUPS OF 10 OR MORE PEOPLE - PLEASE REVIEW DETAILS BELOW FOR MAKING A RESERVATION AT INDIVIDUAL HERON HILL LOCATIONS.
HERON HILL WINERY ON KEUKA LAKE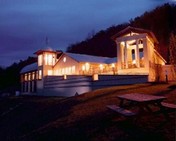 For 35 years Heron Hill Winery has grown cold-climate Riesling and Chardonnay grapes and made elegant world-class wines on a slate hill overlooking scenic Keuka Lake in the Finger Lakes region of western New York. Enjoy the views from our magnificent vaulted Tasting Hall, as you taste our portfolio of Rieslings, Chardonnays, Vinifera reds, and our popular Eclipse Series. Taste the Ingle Vineyard series as well as our Late Harvest and Icewines at our Premium Bar. Heron Hill has garnered numerous awards for its wines, including "Top 100 Values" by Wine & Spirits magazine and "Best US Riesling" at the World Value Wine Challenge.

The Gift Shop offers something unique for everyone, specializing in locally produced food products, handcrafted gift items and works by local artisans including our extensive line of Havill pottery. The Events Calendar is always packed with themed Wine Trail weekends and live entertainment throughout the summer and fall months. Don't miss out on our eagerly awaited "Tunes in the Tent" series every Sunday in October with free admission!

We are pet friendly! If your pet is friendly and on a leash, they are welcome to join you in our tasting rooms. Please clean-up after your pet and be mindful of visitors who are less comfortable with dogs.

The Blue Heron Café is open mid-May through October. Enjoy a glass of our award-winning wine on the terrace overlooking Keuka Lake while enjoying live entertainment on the weekends. Heron Hill Winery also hosts weddings and events. A celebration here, in any season will be a memorable occasion.
Contact

Open all year round


"Coolest Small Town in America 2012"
--Budget Travel Magazine
9301 County Route 76
Monday - Saturday 10-5pm
Hammondsport, NY 14840
Sunday 11am-5pm
(800) 441-4241 or (607) 868-4241
info@heronhill.com
Closed 11/26, 12/24, 12/25,
12/31 and 1/1
---

HERON HILL TASTING ROOM ON SENECA LAKE
The Heron Hill Tasting Room on Seneca Lake opened in 2006. We're conveniently located on Route 14, 19 miles south of Geneva and 16 miles north of Watkins Glen. This facility features a Tasting Room showcasing our award-winning wines and retail space. This location is also pet-friendly -- as long as your dog is friendly and on a leash. A selection of small batch spirits from Black Button Distilling and Hometown Distilling, both crafted in Rochester, are also available at this location.
On Saturdays & Sundays in the summer and fall -- enjoy casual grilled food on our back patio in the afternoon...you may also purchase wine by the bottle or glass!
| | | |
| --- | --- | --- |
| Contact | Spring, Summer, Fall hours | Winter hours |
| 3586 Route 14 | Starting May 1: open daily | November - April: |
| Himrod, NY 14842 | Monday-Saturday 10am-5pm | Monday, Thursday-Saturday 10am-5pm |
| (607) 243-7109 | Sunday 11am-5pm | Sunday 11am-5pm |
| seneca@heronhill.com | | Closed Tues. & Wed., 11/26, 12/24, 12/25, 12/31 and 1/1 |
---
HERON HILL TASTING ROOM AT BRISTOL
Heron Hill Winery has opened a Tasting Room in Bristol, south of Canandaigua near Bristol Harbour Resort on the Canandaigua Wine Trail! This is the winery's third location including Heron Hill Winery on Keuka Lake and a Tasting Room on Seneca Lake. The tasting room is the former South Bristol Cultural Center, housed in a renovated 100-year-old barn. The tasting room features a beautiful open space with high ceilings and original hand-hewn wooden beams. Immense windows overlook vineyards of Cabernet Franc and Riesling.

Contact

Summer & Fall Hours

Winter & Spring Hours

5323 Seneca Point Rd.
Starting May 20: open daily
January through mid-May:
Canandaigua, NY 14424
Monday-Saturday 11am-6pm
Thurs-Monday 12-6pm
(585) 394-0173
Sunday 12-6pm
(closed Tuesdays & Wednesdays)
bristol@heronhill.com
Closed 11/26, 12/24, 12/25,
12/31 and 1/1
---
Heron Hill welcomes groups at all three of our locations. Group tastings are $5-$6 per person. All visiting groups of 10 or more people need to call the specific location for where you intend to visit to make a reservation.
Please use contact information below:

Heron Hill Winery on Keuka Lake and the Blue Heron Café
9301 County Route 76, Hammondsport NY 14840
Maximum groups of 50 are allowed
To make a group reservation, please call: 800-441-4241
or send an email with your daytime phone number to: retail@heronhill.com
Tambi or Nicky will follow-up with you to confirm your reservation details.

Tasting Room on Seneca Lake
3586 Route 14, Himrod NY 14842
Maximum groups of 30 are allowed
To make a group reservation, call: 607-243-7109
Tasting Room at Bristol on Canandaigua Lake
5323 Seneca Point Rd., Canandaigua NY 14424
Maximum groups of 20 are allowed
To make a group reservation, call: 585-394-0173