Interested in joining the Heron Hill Case Club? All you have to do is purchase one case (12 bottles) and you'll automatically be enrolled as Case Club member! There is no membership fee to join. As a member, you will receive your own membership card that will give you a 20% discount on most wine for the next year. This discount is redeemable at all three locations: Heron Hill Winery on Keuka Lake, Heron Hill Tasting Room on Seneca Lake and Heron Hill Tasting Room at Bristol on Canandaigua Lake.

Case Club members will also get an exclusive coupon code for 20% off online to shop online at www.heronhill.com. We'll also send out monthly e-newsletters to keep members up to date on discounts, events, wine specials, new releases, vineyard updates, cellar updates and more!
Feel free to contact Kara Smith if you have any questions or call 800-441-4241 ext. 20 for more information.
Shop here and purchase a case or more of wine or buy the Instant Wine Cellar below to get your Heron Hill Case Club membership started today!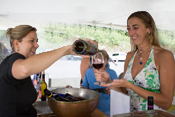 May 31
Paws & Pairings benefit for the SPCA

June 8-9 & June 22-23
Barbecue at the Wineries
---