Contact
Employment
In addition to the magnificent vaulted tasting hall and winery overlooking vineyars on Keuka Lake, Heron Hill also has tasting rooms on the west site of Seneca Lake and on the west side of Canandaigua Lake.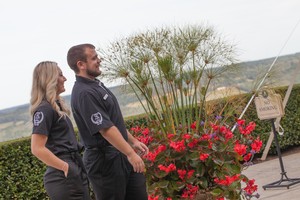 Event Logistics Staff - Keuka Lake, 9301 County Route 76, Hammondsport, NY
Heron Hill Winery on Keuka Lake is looking for an individual interested in working part-time in a fast moving, fun atmosphere. Individuals will be responsible for the setup, planning and service of weddings, receptions and other booked events at Heron Hill. Successful applicants will be able to perform the following: execute the design layout of table and chairs, bar, dance floor and stage for weddings and special events; ensure the event space is clean & well-maintained; interact with caterers, creative vendors, and personnel providers in the execution of the special event plan; occasionally interact with customers & guests during weddings and/or receptions and other related events. The job does require heavy lifting (40 lbs) and long periods of time standing. Individuals should be proactive developers and implementers of plans, be able to relate effectively with peers, and feel comfortable interacting spontaneously with guests. Position runs from Mid-May until Early-October, weekends and late nights are a must.
***Please apply within at our Keuka Lake Winery location or e-mail. No calls, please.
Contact: Meghan O'Toole, Wedding and Events Coordinator at Heron Hill – Events@heronhill.com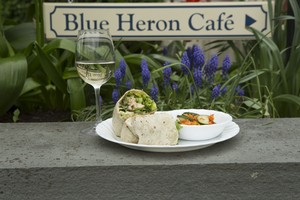 Head Café Chef - Seasonal - Full-Time Hours - Keuka Lake, 9301 County Route 76, Hammondsport, NY
The Café Head Chef at Heron Hill Winery is a seasonal position with full time hours. The Café is open mid-May through October, with additional hours available in April and November. The Café Head Chef is responsible for all café operations, food service for events, and small group catering at Heron Hill Winery. Responsibilities include but are not limited to staffing, menu development and implementation, including food preparation and cleanliness, food costing, ordering and customer service. Some evenings required, with weekends and holidays mandatory.
The Blue Heron Café is an integral part of Heron Hill Winery's vision for providing a local food and wine destination in the Finger Lakes region.
Compensation based on experience, with bonus opportunity.
Responsibilities
Personnel
Interview, evaluate, and hire candidates for line cook and service personnel positions.
Ensure that the staff is complying with all policies and procedure put forth by Heron Hill and practices safe food handling procedures.
Maintain a clean, organized, and safe facility that complies with DOH and DOL regulations and complies with the Heron Hill safety policies.
Supervision – ensures proper staffing for maximum productivity, develop, train, council and discipline
Line time – It is expected that a good candidate for this position will maintain an active role in the day-to-day operation of the Café. With labor costs in mind, he/she is expected to fulfill line cooking duties.
Customer communication and Menu development
Develop menus and standard recipes and techniques for food preparation and presentation to ensure consistency and minimize food cost by cross utilization. Exercises portion control for all items served and establish prices. Uses fresh, local ingredients that will be well received by the public.
Is in open view of the customer daily and welcomes and interacts with guests.
Inventory and ordering
Maintain a stock of perishable and dry products sufficient to meet interim needs while avoiding spoilage
Maintain an organized dry storage, cooler and freezer
Linen
Beverage – Non-alcoholic, beer, invoicing of wine from Heron Hill
Financial
Responsible for monthly performance goals, controls food and labor costs to achieve maximum profitability.
Periodic evaluation of Profit and Loss
Pricing of menu items, catering and features
Qualifications
Serve Safe certification required.
Ideal candidate has kitchen management experience as well as front of house restaurant experience
Good working knowledge of DoH standards and regulations
Ability to work independently, as part of a team, and flexibility to perform shift work in addition to being able to multitask, manage and communicate effectively.
Must be a proactive developer and implementer of plans
Reports to
Food and Beverage Director
Please e-mail letter of interest and resume to Jacqueline Wooster at retail@heronhill.com