Welcome to the Heron Hill Winery Blog!
Meet our bloggers and find out what's going on at Heron Hill Winery and our other two tasting rooms on Seneca and Canandaigua Lakes! Staff members are writing about the vineyards, what's happening in the cellar, fun events, wine pairings, new releases and more.
Meet the Authors

By Christina Bowe, Wholesale Sales Manager
T'was the night before Christmas, when all through the house not a creature was stirring, not even a mouse.
Sales at Heron Hill have slowed down for the season, however, in the October-December season, my cap switches from selling wines to retail customers to selling wines to consumers. There are many events; store-tastings and wine presentations in the past three months that keeps me busy, changing my focus to the actual consumers of Heron Hill Wine.
FIRST STOP - Syracuse Harvest Festival
November 13-16, 2009
At the Harvest Fest customers enjoyed a full weekend of unlimited sampling and purchasing fine quality food, wine and beer from New York growers and producers. Festival goers could taste everything from savory sauces to sophisticated wines and beers. There were also quality locally raised meats, specialty cheeses and fresh produce. There were cooking demonstrations and wine education seminars, which unfortunately, I was unable to attend. The attendance exceeded expectations, which surprised many of the festival organizers and vendors.
SECOND STOP - Palo Santo Restaurant, Park Slope, Brooklyn, New York
December 5, 2009
Whenever I have an opportunity to get to Brooklyn, I have to stop at Palo Santo. For those of you who have never been or are planning a trip, this is a "must go" restaurant.
If you are an adventurous diner and excited about sustainability and local foods, you are in for a real treat. This restaurant's cuisine is "Latin Market Cooking with South American Wines." However, he is now beginning to bring in a small selection of NY Wines. We are thrilled to be on their list! Many of the foods served are grown right on the roof of the brownstone above. You need to check out their website for their interesting horticulture endeavors.
Bernard and Lisa Cannac (winemaker and wife), Whitney (my helper for the weekend) and I ventured to the restaurant on Friday evening after a long drive to the city from Upstate. Bernard and Lisa were up for the challenge, but my daughter, Whitney, was not quite as daring and a little reluctant. Our server guided us through a fantastic dinner with the true taste of South American market cooking. The meal was exceptional; it was so good we never thought to take some pictures. After the meal, Whitney expressed that it was the "best meal she had every eaten!"
THIRD STOP - City Winery, Sip, Savor and Shop, New York City
December 6, 2009
The City Winery venue was amazing! Again, the turn out was more than expected. New York City has always been a difficult market for NY wines and the showing of people proves that NYC is beginning to realize the quality of their home state wines. Local restaurants, food purveyors from throughout the State were also present.
On this trip, I was excited to have Bernard Cannac, our winemaker and his wife Lisa attending. My "side-kick," Whitney and I had tremendous feedback on Heron Hill wines. The positive attitudes and looks of surprise on everyone's faces made the afternoon one to remember.

FOURTH STOP - Pride of NY (Desmond) Harvest Festival, Albany, NY
December 12-13, 2009
The following week, another event that brings the far eastern part of the State together for a celebration of NY wines and products, the Pride of NY Harvest Festival. This is the 13th year and the turnout was great. They probably should have named it the "Holiday Festival" since harvest has long past, and most people are thinking more about the holidays. The attendance was down, but the people there were repeat customers that enjoy the event. 
Proceeds from Harvest Fest benefits the Classroom Enrichment Fund at the Community Foundation of the Capital Region, to help local teachers purchase curriculum and classroom.
So, until next year when I hop behind the wheel of the trusted Explorer and hit the Interstate spreading the word about Heron Hill Winery, Merry Christmas to all, and to all a good-night! Have a happy, healthy and safe holiday


By Bernard Cannac, Winemaker
The 2009 harvest has been "interesting" for me, to say the least. I started it on Long Island, but continued and finished it in the Finger Lakes. It is easier to start a new job at a winery at a more quiet time, but I was up for the challenge.
The 2009 vintage has been full of challenges on its own: the weather hasn't been cooperating all season long, too much rain in the spring, not enough heat and sun in the summer, an early frost... But nature doing things well, the fact of having rain during flowering induced a smaller than expected crop, which in turn was able to reach ripeness precisely because it was a small crop given the circumstances.
So all in all, I am very happy with the quality of the 2009 wines at Heron Hill Winery. The fact that it was a smaller harvest made it even easier for me to adjust to my new environment, and all my co-workers made it even easier. A big thank you to all the employees at Heron Hill, from production to retail and office, for welcoming me into the clan. I also feel honored by the trust owner John Ingle has put in me. We tasted the 2009 wines last week, and John was pleased by the results: it is always gratifying for me to see people enjoy the wines we have crafted in the cellar.
Now that the last whites are gently finishing fermenting, and the reds are waiting to get into barrels, I can take some time to discover the area. I have to say, my wife and I love Hammondsport. The village is only a couple of miles from the winery. We love to walk around the square and do some shopping, or just sit on a bench and enjoy the ambiance. It is an ideal place for a getaway weekend, and I am fortunate that it is where I live now, just a few steps away from Keuka Lake. What can I say? I love it here and I love the snow! Some of my co-workers think I am nuts…


By John Ingle, Owner/Grapegrower
The end of the harvest season is a time of mixed emotions. There is the feeling of satisfaction and completeness as another vintage comes full cycle and all the work – pruning, tying, cultivating, picking, etc. yields the bounty of a successful harvest. There is the apprehension as to how the wine will turn out. Will the Rieslings and Chardonnays be crisp and bright, will the Pinot Noirs and Cabernets be rich and bold, will the dessert wines be tantalizing? As the baton is passed from grower to winemaker, there is a bond and a trust that is renewed and cemented every year.
Along with the completion of the vineyard harvest, there is also the grand finale of the garden growing season. The freezer is full of bags of peas, spinach, beans and all kinds of berry fruits. The root cellar is loaded up with potatoes, carrots, parsnips, cabbages, onions and brussels sprouts. The little freezer has sweet cider and grape juice, frozen so that it will be as fresh and delicious all winter as it was the day it was pressed. It all adds up to a lot of work that has been accomplished and the prospect of a long, cold winter enjoying the fruits and bounties of our labor. The cycle of life: plan-work-produce-enjoy-plan again.
Recent Posts
April 18, 2013

March 13, 2013

February 19, 2013

December 7, 2012

November 21, 2012

September 12, 2012

August 27, 2012

August 15, 2012

July 29, 2012

July 2, 2012
Blog Categories
Blog Archives
Our Writers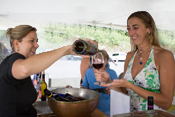 May 31
Paws & Pairings benefit for the SPCA

June 8-9 & June 22-23
Barbecue at the Wineries
---