As we happily hit spring in the Finger Lakes, Heron Hill is pleased to continue the tradition of making world-class Rieslings. Since the beginning of 2016, we've received some excellent score in top wine publications and wine competitions. Each year Heron Hill's winemaker makes a full range of Rieslings from dry, single-vineyard wines to sweet, ethereal dessert wine. What most excites Heron Hill's owners & staff is when we meet people who have found a favorite style of Heron Hill Riesling and that wine has become their go-to Riesling to pair with certain foods or for particular occasions. Scores and medals still have meaning and we certainly appreciate judges & wine reviewers that have made tasting wine a life's passion. It will always be about people just enjoying our wine and choosing to share Heron Hill wines with their friends & family!
91 points Ingle Vineyard Riesling 2012, Wine Enthusiast
90 points 'Best Buy' Classic Dry Riesling 2013, Wine Enthusiast
Best of Class 'New York' Classic Semi-Dry Riesling 2013, Grand Harvest Awards*
Double Gold, Classic Semi-Sweet Riesling 2014, Finger Lakes International Wine Competition
*At the Grand Harvest Awards, judges taste wines with other wines of the same appellation. Established in 1990, it is the only wine-judging event in North America that is based on Terroir

What a glorious 2015 season…and now I look forward to what 2016 will bring! I want to take this opportunity to introduce
myself. My name is Nicolette DeAngelis and I am the new Wedding & Events Coordinator for Heron Hill Winery. I have been a part of the Heron Hill team for nearly two years. I began working behind the tasting bar and interning while I finished my Bachelor of Science degree in Business from Mansfield University. Upon graduating this past May, I spent some time on the road working in wholesale selling Heron Hill wines. I transitioned to assisting with events in mid-July under the mentorship of the previous event coordinator, Elke Schmitt. I am so excited for this wonderful opportunity and to bring couples' visions to life at this breathtaking venue in the Finger Lakes.
Here are some of my favorite wedding details from the past season:
The First Look
One of my favorite aspects of weddings is the star-struck reactions couples exchange when they see each other for the first time on their special day. It is an overwhelming moment and absolutely irreplaceable. The "First Look" is when couples actually see each other before the ceremony and specifically take time to photograph this special moment. It makes the moment more intimate and allows for crisp and precise pictures, then the couple uses less of their time during the reception for picture taking.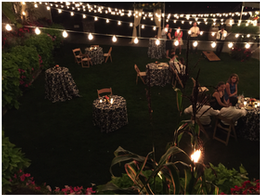 Lighting on the Lawn
The Heron Hill lawn adjacent to the main event tent is a stunning aspect of the venue with its lush colors and dangling greenery. Some couples this past season brought in extra bistro lighting and tables for the lawn so it could be utilized after dark. It brings a romantic feel to the area and is the cherry on top of an already beautiful outdoor landscape.
"Pick a seat, not a side"
Typically, seating for a ceremony is split between the "Bride's side" and the "Groom's side." Some couples chose to have everybody blend together and veer away from labeled seating. This brought a special synergy to ceremonies as well as avoided the confusion of guests figuring out on what side to sit.
There are a few aspects of my job that make me love it so much. My absolute favorite part is the relationship I gain with couples. In order to envision exactly what they want their wedding day to be, I get the opportunity to get to know who they are and what is important to them. Every couple is dramatically different and that is my second favorite part of this job. The event tent has different ambiance every single weekend. It keeps me intrigued and challenged to execute unique weddings every week. My third favorite part of the job is seeing the connection that happens at weddings. There is nothing quite like seeing the love in couples' eyes throughout the evening…a tearing up during a father-daughter dance, or a maid-of-honor gushing over how much love she has for the couple. It is an event where everybody sees the bigger picture about how important it is to love those close to us, which can be overlooked in the day-to-day shuffle.
Overall, I have such a passion for this job and creating memorable experiences is my number one priority. I am ecstatic to see what 2016 brings...there are sure to be many beautiful weddings and exciting new experiences!

Thanksgiving at the Ingle home is a perfect opportunity to share the Ingle Vineyard lifestyle with family and friends. Being an avid gardener as well as a grape grower, Thanksgiving is all about homegrown. The festivities begin with Ingle Vineyard Chardonnay unoaked, our favorite wine! Crisp and refreshing with complex flavors of apple and lemon, it satisfies the palate. As we move into the dinner mode our thoughts turn to turkey and a versatile red such as the just released Ingle Vineyard Merlot Reserve 2013. A bright and juicy wine with medium body and a silky mouthfeel that will nicely complement the assorted organic homegrown delicacies such as sweet peas, mashed potatoes, whipped sweet potatoes (yes, all from our Finger Lakes garden) and stuffing made with our carrots, celery, herbs and raisins. Traditional and time-tested flavors. For dessert we look forward to our organic apple cider pie paired with a delicious Ingle Vineyard Icewine 2010. This is a luscious wine that has an intriguing aroma of glycerine followed by creamy sweet flavors of quince and pear – nice foil for the pie.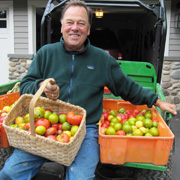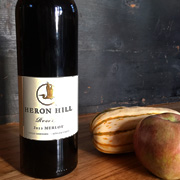 Thanksgiving has always been my favorite holiday because it's all about family, sharing, counting our blessings and enjoying our home. All recommended wines are available at our three tasting rooms and online at heronhill.com. Enjoy!
Heron Hill Winery, Heron Hill Tasting Room at Bristol, and Heron Hill Tasting Room on Seneca Lake are closed on Thanksgiving Day, however please join us for Small Business Saturday. Visit any one of our three locations on November 28th for storewide wine discounts and holiday cheer.

The harvest season plods along, day-to-day, vineyard-to-vineyard, weather report to report -- it's hurry up then wait. This convoluted vintage of freezing winter, wet summer, hot September and now cooperative October weather has brought in some beautiful grapes. The scant harvest (1.2 tons) of Pinot Noir brought exciting brix (sugar) levels and great jammy flavors. The Chardonnay, again a scant quantity (8.5 tons) was declared "perfect" by winemaker Barry Tortolon. Now we are into the Riesling. Finally good quantities to go with exceptional quality. The 7.5 inches of rain we had in June helped to develop Botrytis (the "noble rot"). We hope this block of Riesling brings a very interesting dessert wine. Next will be Merlot, then Cabernet Franc, Cabernet Sauvignon, late harvest and icewine.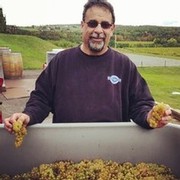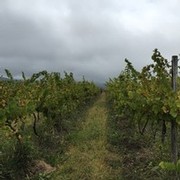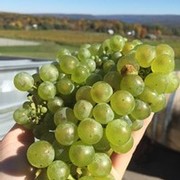 Winemaker Barry Tortolon inspecting Chardonnay from Ingle Vineyard; checking Brix in the early morning; clean & ripe Riesling from Keuka Lake.

Follow
HeronHillWinery on Instagram
.
Early this morning at Ingle Vineyard overlooking the west side of Canandaigua Lake, John Ingle chats with Good Day Rochester's own Hannah Welker about our nature-friendly viticulture practices and all the magic that happens before we begin another grape harvest. This is one of five videos in the series "Vineyard preps for fall harvest," view all on the Good Day Rochester site here >
Here's a report from Don Reisenberger, our vineyard manager overseeing the estate vineyards on Keuka Lake:
After a long cold winter and a wet spring, Summer finally arrived at Heron Hill Winery and Ingle Vineyard. We did experience some bud damage due to the cold winter, but overall it looks like we are going to have an average to above average harvest depending on the variety. When pruning in the winter, we leave extra length on the canes to increase the number of buds that break through in anticipation of some bud kill.
However back-to-back cold winters have depleted the red yields. This is the time of year where you experience warm days and cool nights, and this is begins the process of the grapes ripening. Typically Chardonnay is the first to come in…after, of course, the Seedless Concords for our Heron Hill grape juice. We could be anywhere from three to six weeks out for picking Riesling. We will closely watch the vineyards and check brix levels from multiple vines to determine the best timing for each vineyard site. It's in Mother Nature's hands. These recent hot and dry late summer days have been perfect, hopefully She doesn't dish us more rain in the fall. The berries have already swelled in absorbing moisture; they just need sun to ripen. At Ingle Vineyard, we are beginning to prepare the ground for some new plantings in the coming Spring. This year, it looks like we will again have a select yield of Merlot and Cabernet Sauvignon from Ingle Vineyard in additional to our staples of Chardonnay, Riesling, Cabernet Franc and Pinot Noir. Vidal Blanc will round out the end of harvest in hopes of crafting a luscious Late Harvest wine.

Summer is in full swing at Heron Hill's Tasting Room on Seneca Lake! With plenty of picnic tables on our private patio, it's a great spot to relax with a glass of your favorite Heron Hill wine and eat a casual lunch. The grill is hot and we're offering delicious chicken kabobs and all beef hot dogs on Saturdays from 11 am to 4 pm and Sundays from 12 to 4 pm. Yes, our tasting room is pet-friendly as long as your pet is friendly and on a leash.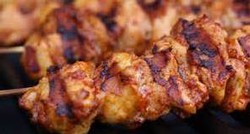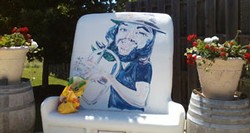 We had to say a heartfelt goodbye to two longtime team members this June. Most of you know the familiar faces of our manager Steve Acker and his wife Pam, who greeted so many of you over the years. They have officially retired and moved on to a very busy schedule of grandkids, volunteer positions and hopefully some much deserved relaxation. In addition, our pint-sized librarian, Rachel, has taken on yet another wonderful position in our community. She's now the media specialist for "Our Town Rocks" – a health improvement project for the town of Dundee, NY. We miss them immensely but wish everyone well, and we hope to still see all them often as they are sure to stop-by to replenish their stock of Heron Hill wine. Aimee Coates is now at the helm with one of the very best tasting room teams on Seneca Lake.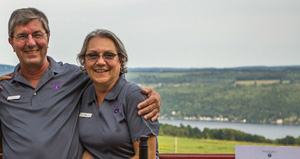 Thank you, Pam & Steve Acker!
Some new faces at the Seneca Tasting Room…
Jacob as joined us and is doing a great job outside cooking at the grill before he heads off to college in the fall. We have yet another amazing Nancy on our team – she's a local schoolteacher who has a great personality and extensive wine knowledge. You can still find the original Nancy here on the weekends, as well as Donna, Doreen, Erin and Susie. We welcome you to stop by to say hello and taste Heron Hill's newest wine releases including Ingle Vineyard Pinot Noir 2013, Eclipse Red 2013, and Reserve Blaufränkisch 2013. Our intimate Tasting Room on Seneca Lake is open daily; Monday-Saturday 10 am to 5 pm and on Sunday 11 am to 5 pm.
Heron Hill Winery's popular Blue Heron Café is now open daily through the summer. With panoramic views of rolling vineyards along beautiful Keuka Lake, the Café and outdoor terrace provide one of the best settings in the Finger Lakes region for savoring Heron Hill's full portfolio of Finger Lakes wine and freshly-prepared food in a casual outdoor atmosphere. The Café serves sandwiches, salads, flatbread pizza, and creative daily specials all featuring housemade dressings and sauces -- Monday through Saturday, 11 a.m. to 4:30 p.m. an on Sundays from noon to 4:30 p.m.
New York craft beers are now available on draft at Blue Heron Café! The selections will rotate throughout the summer and fall and will include some of New York's newest craft breweries. Guests may enjoy as a flight of four beers, order by the pint, or take a filled growler with them. The popular Wednesday Happy Hour series will return in July and August when Blue Heron Café extends its hours to 7pm. This year Happy Hour at Blue Heron Café will also include new menu items such as tacos and new drink specials offering beer, wine, and sangria. A rotating line-up of musicians jam on the Café terrace during Happy Hour.
The sounds of live music also fill the Blue Heron Café Terrace every Sunday afternoon through September. Visitors are encouraged to sip, eat, relax and enjoy free live music by a rotating mix of talented area musicians from 12:30 p.m. to 4:30 p.m. To learn about fresh-picked specials and the latest music happenings, 'like' the Blue Heron Café on Facebook.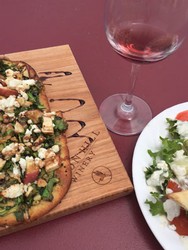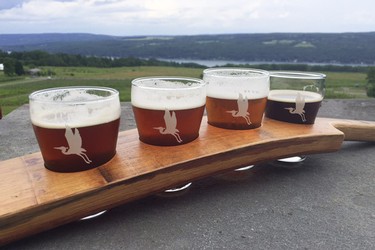 LIVE MUSIC SCHEDULE FOR HERON HILL WINERY OVERLOOKING KEUKA LAKE

Café Terrace Series
Sundays, 12:30 to 4:30pm

BHC Happy Hour Series
Wednesday, 5-7pm
Tunes in the Tent
Sundays, 12:30-4:30pm

July 5th - PJ Elliott

July 12th - Owen Eichensehr

July 19th - Charlie Ellis

July 26th - Scott Adams

August 2nd - Charlie Ellis

August 9th - Owen Eichensehr

August 16th - Lisa Zelazny

August 23rd - Acoustic Pawnshop

August 30th - Acoustic Remedy

September 6th - Shepard Pi

September 13th - Lisa Zelazny

September 20th - Owen Eichensehr

September 27th - Rick Whalers

July 1st - Alec Smith

July 8th - Charlie Ellis

July 15th - Anton Flint

July 22nd - Bruce Holler

July 29th - Acoustic Remedy

August 5th - Nate Miner

August 12th - Charlie Ellis

August 19th - Bruce Holler

August 26th - PJ Elliott

October 4th - Crosseyed Cat Band

October 11th - Virgil Cain

October 18th - The Keuka Katz

October 25th - Black Diamond Express

It is a beautiful sunny day in the Finger Lakes today. Although it has not felt like spring yet, it is just around the corner...officially it is just 10 days away! I love this time of year when I can see everything begin to wake-up, blossom, and our much anticipated wedding season begins!
All the planning I have been doing with our brides & grooms is finally coming to life. After a long winter of planning, choosing the right vendors, and organizing the key details, the brides and grooms can begin to relax and select the finishing touches for their milestone celebration.
We have some unique and very detailed-oriented weddings scheduled in 2015 and this makes my job so much fun! I love to coordinate all the decorating details with our clients and see, first hand, the transformation of the tent. Our natural backdrop really allows each wedding or event to showcase its own style and themes. From the end of May to the beginning of October, Heron Hill Winery in Hammondsport has the pleasure of executing some of the most spectacular weddings in New York.
This year we are hosting more destination weddings than ever before! It is inspiring to see brides & grooms planning a wedding and a weekend of fun-filled events for their guest right here on Keuka Lake, and throughout the Finger Lakes region.
Here are a few of my favorite wedding trends that I'm seeing for 2015:

UTILIZING SEASONAL FLOWERS
Tulips in May, peonies in June, dahlias & zinnias in July and August.
The focus is embracing what is in season in upstate New York while trying to make environmentally friendly selections, and it is truly worth it.


CREATING CASUAL & INTERACTIVE RECEPTIONS
Dinners being served "family-style" on platters, and signature cocktails served in craft mugs are a big hit. Themed grazing stations reflecting a couples' favorite flavors or travel destinations are popluar and can encourage conversation. As far as music, "what is old is new again." Classic tunes from Sinatra and Elvis to Etta James are making a comeback on the DJ's music lists. While we also enjoy seeing guests get to know each other through lawn games and other playful activities, sometimes with vintage-inspired accessories.



GIFTING EDIBLE FAVORS
Elaborate candy bars, homemade petit cupcakes, and scrumptious signature cookies, all to be taken home in adorable handcrafted bags. It is the last taste left in the guests' mouths, and it makes for a wonderful memory of the evening.
Can you tell how excited I am for another wedding season to start? I know it will be a magical one!
For those in the heart of their wedding planning process, I encourage you to attend Heron Hill's 5th Annual Wedding Show on Sunday, August 23rd from 1 to 4pm. Mingle and enjoy a glass of wine in our Genesis tent overlooking the vineyards while you meet a fantastic selection of some of the premier wedding professionals in the Finger Lakes. Pre-register here>>
Let's spring ahead!
We are very excited to announce that our Eclipse Red 2011 received 90 points from Wine Enthusiast magazine! The full review will be in the May 2015 issue. This Bordeaux-style blend aged 24 months in French oak, Eastern European oak, and American oak barrels. It's round & layered with notes of dark cherry, baking spices, and a hint of cedar. In 2016, Heron Hill Winery will be celebrating the 25th Anniversary of our signature red blend!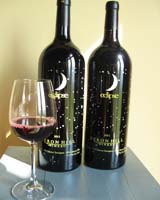 The 2011 Eclipse Red blend is composed of 40% Merlot, 32% Cabernet Sauvignon, and 28% Caberent Franc.
Something about chocolate, even just a bite, is so comforting to me in this cold weather. The Heron Hill team from all three locations, comes together at our Winery in Hammondsport for a monthly Monday morning meeting. Usually there's some tasty baked good served to pair with coffee, tea, and strategy. This month we all loved this Eclipse Red Wine Chocolate Cake. Eric Frarey, our COO and director of sales, and his wife created a delicious dessert recipe featuring Eclipse Red for our February Wine Club newsletter.

ECLIPSE RED WINE CHOCOLATE CAKE
Rich, moist and flavorful, this Eclipse Red Wine cake carries a unique taste and irresistible aroma. The wine makes the chocolate very fudge like with intense flavor. The Merlot in the Eclipse Red wine adds nice cherry notes. As the alcohol does not bake out fully this is the type of dessert you want to make for adults only.
INGREDIENTS:
1 ½ cups of all purpose flour
3/4 cup unsweetened cocoa powder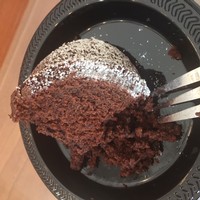 1 tsp of baking powder
½ tsp of salt
½ tsp of ground cinnamon
1 cup of softened butter
1 ¼ cup of granulated sugar
½ cup of dark brown sugar
2 large eggs
2 tsp of vanilla extract
1 ¼ cups of Eclipse Red wine
TO PREPARE:
Preheat oven to 350 degrees. Grease 12 cup bundt pan, set aside.
In a medium bowl sift flour, cocoa, baking soda, salt and cinnamon and set aside. In a mixer bowl beat together butter and sugar on medium high for 3-4 minutes until fluffy, beat in eggs one at a time until combined.
Scrape down sides and bottom of bowl as necessary, beat in vanilla extract.On low speed, beat in or fold by hand the flour mixture in three additions, alternating it with the wine in two additions, starting and ending with the flour. Do not over mix.
Pour into bundt pan, bake 45 mins or until toothpick inserted in center comes out clean. Allow cake to cool for 10 minutes on a wire rack, then turn it out to cool completely. Dust the cake with powdered sugar.

You keep me rocking all of the time.
Which is a good thing this time of year. After one of the busiest weeks of Crush thus far we got to celebrate with...an even busier week. The last of the Ingle Vineyard Riesling came in looking fine. We have left a few rows for a Dessert Wine, but the rest of the Riesling is now happily (for the most part) bubbling away in stainless and will continue to slowly eat-up sugar over the next 3 weeks or so. We also got heavily into Reds this week. First up, we pressed Merlot. Volumes will be down, and the ripeness level is not on par with 2007 or 2012, but we'll try to coax some decent tasty treats out of it. Cabernet Franc followed close behind, with decent tonnage, but somewhat low Brix levels, and a definite 'leaner' character than optimal. However, we've been pleasantly surprised by how well some of the Reds from 'less ripe' years have developed before and I don't see any reason to be less than optimistic about our chances this vintage. Last in, and the last delivery other than grapes destined for Late Harvest and Dessert Wines, was Cabernet Sauvignon. If you've grown fond of the bell pepper character in Cool Climate Cabs, you might have something to look forward to. There are also some nice red berry notes coming through in the unprocessed grapes, so fingers crossed. Tonnage was again down compared to other years, so make sure you stock up when Eclipse Red is released.
Recent Posts
January 7, 2019

July 27, 2017

December 27, 2016

December 9, 2016

November 11, 2016

November 7, 2016

October 21, 2016

August 29, 2016

June 17, 2016

May 27, 2016
Blog Categories
Blog Archives
Our Writers