One of Mother Nature's alarm clocks is ringing. Actually it's plinging, like the sound of dripping maple sap from a spigot into a metal bucket. The pace can be slow and steady or it can be surprisingly fast, almost pouring out of the tree. To those tuned into the rhythms of nature, this is a wake up call. Here is a photo essay of an upstate maple syrup session. And that's just the first batch of what could be 4 or 5 passes!

After some much needed rest and relaxation over the holidays, and some quality family time, December came to a close. I had rewarded myself with some much needed time off to wrap up the year, but I hit the ground running at the beginning of January.

This time of year sends me back out on the road to work in the Wholesale market. Traditionally, most of my accounts aren't interested in sampling wines or discussing new vintages in January because they tend to be "hunkering down" for a slower winter season. Amazingly enough, I have seen some good interest in our wines given this time of year!

I had the opportunity to work with several of our distributor's sales representatives lately. These trips have taken me from Jamestown to Binghamton. Despite some long hours on the road, they have all paid off; I have had a banner January!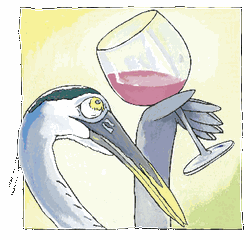 On the Blue Heron Café end of things, this time of year normally gives me a chance to revamp my menu and work on improvements for next year. I have had several meetings with Kara, Tambi, and Paul on a variety of topics. Paul and I have scheduled all of the live music for next year, be sure to look up the schedule (soon to be released)! Tambi and I have discussed Keuka Lake Wine Trail events and I have met with Kara to make sure that we are doing everything that we can to make things go as smoothly as possible.

Looking forward to next season, I'm excited to say that I expect nearly all of my staff from last year to return! With this stumbling block out of the way, I will be able to concentrate on getting the doors open and the food ready to go.

I was able to prepare lunch for a small group that joined us from the New York City area. These buyers came to the winery to try samples from us and three other wineries. I prepared a very nice buffet lunch for the assembled group and the winery representatives that were pouring from them. The group really enjoyed the event!

In the near future, I will have several meetings to look at some possibilities for next season. We have some big plans for the future, but need to get some things moving to be ready for May! For a sneak peek, make sure that you join us for Happy Hour on Wednesdays this summer – some of them will have live music!

The holidays are over. We have all had time to settle into our new year's resolutions, or give them up. We are all itching for spring.

I however, enjoy this quiet time of year. I spend a few months reflecting on my past wedding season, planning for the future season and of course plan on doing a little Finger Lakes wine tasting!

My friends and I love visiting the local vineyards this time of year. I can never seem to get enough of Damiani's Syrah or Shaw Vineyard's Cabernet Sauvignon. Yum!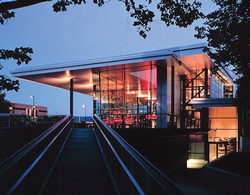 Recently, a group of us attended the Corning Museum of Glass 2300˚ event. The January event, Fire and Ice, brings about 35 local wineries together. You get to sample delicious wines while listening to music and watching talented artists blow glass. This is one winter event we are sure to never miss.

A new favorite event of mine is coming up on us rather quickly, the Keuka Lake Wine Trail Cheese & Wine Lovers event. With Valentine's Day right around the corner, this is the perfect gift for you and your sweetie. What a way to celebrate - with wine and cheese!


Here at Heron Hill Winery we will be serving Sundried Tomato Chicken Pizza paired with our Classic Dry Riesling. Lively Run Goat Diary will be here sampling all of their tasty goat cheeses and offering them for sale. I love the variety of chevres that they produce. It is creamy and light. It goes great it stuffed mushrooms too.

If you are interested in more information about this event you can purchase tickets on the Keuka Lake Wine Trail's website, weekend tickets are $18 per person.

Don't forget to stop in and visit us here at the winery. Tambi and I love to pour wine and catch up with our favorite customers this time of year!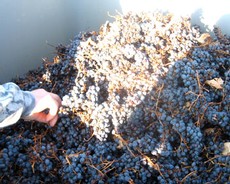 As of last week, we are officially done with harvest. The last crop we picked is a Late Harvest Cabernet Franc we had let hang on the vines at Ingle Vineyard. There will be no Icewine this year, but we are very pleased with the Late Harvest Vidal, the Late Harvest Riesling from Ingle Vineyard and the Late Harvest Cabernet Franc.
In the vineyard, pruning will start with the New Year. In the cellar, we are monitoring the Malolactic fermentations on the 2011 reds, and starting to stabilize the 2011 whites so they will be ready to be bottled in the spring. The 2011 harvest has been one of the biggest harvests at Heron Hill Winery, and somewhat challenging because of the weather conditions and a cellar filling very quickly with freshly pressed juice. Now we have more time to take a more regular pace, after the excitement of the harvest season. But there is always something to do on a vineyard and in a cellar.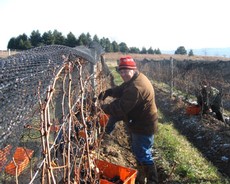 As the holidays approach, I would like to take the opportunity to wish you all a "Joyeux Noël" (Merry Christmas) and a "Bonne Année 2012" (Happy New Year 2012). My wife and I will spend Christmas on Long Island with her Family. Being Italians, they have "The Feast of the Seven Fishes" every Christmas Eve. It is an occasion to see relatives we do not have the chance to visit as often as we wish. There is not that much fish though, mostly lobster tails, shrimp and clams in different sauces and styles. I usually bring some Heron Hill Semi-Dry Riesling, which tends to please everybody. The Heron Hill Muscat remains the favorite for the appetizers.
Traditionally, my mom in France makes the "Bûche de Noël" (Yule log). It is not an easy task to undertake. I have tried to make it myself a couple of years ago: the taste was great, but the cake collapsed and looked more like a layered cake than a round log. But my mom also makes festive dishes that are much easier, which I am able to recreate, given that my mom never uses measuring cups. She was a chef for forty years and never used any of these. She would say: "use a small glass of flower, like the ones we use for dinner, the small ones, not the tall glasses, and overfill it up a little but not too much… Well, you'll see…" Thanks mom, I am so glad I called! It is so clear to me now! So, most of my recipes are done by taste.
For the Holidays, my mom always made Flambée Shrimp. It is so easy and spectacular too. Here's her recipe:
Flambée Shrimp for the holidays
First, sauté some chopped garlic in a frying pan with olive oil (which can be replaced by butter). When the garlic is slightly brown, add the raw shrimp and sauté them on one side for a couple of minutes. Flip them and sauté them on their other side for another couple of minutes, or until almost cooked (can't you feel the resemblance with one of my mom's recipes?) You can add some salt and pepper to taste during this step. In the meantime, in a small saucepan, warm up some Whiskey or Rum, about 1/4 cup. When the Whiskey is smoking (it does not have to be boiling), TURN OFF ALL BURNERS ON THE STOVE (you will see how important that is!), place the frying pan in safe surroundings, clear of flammable objects (I usually leave the pan on the stove as it is a pretty safe spot in my kitchen), pour the smoking Whiskey over the shrimp, and with a long match, ignite the Whiskey. The alcohol will burn with a blue light. You can wait until all the alcohol has burned down, or you can stop the flambée by covering the frying pan with its cover. That will give an extra kick to the dish. If we have guests (I also make that dish just for my wife and I occasionally), they often get awed by the show!

I traditionally use raw shrimp with their shell, and they are eaten as an appetizer. They are quite tasty on their own, but I like to make a homemade Mayonnaise or Aioli.
Homemade Maynnaise or Aioli for the Flambée Shrimp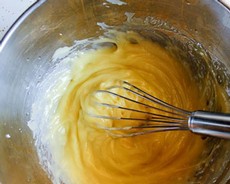 Again, it is very simple: put one to two egg yokes in a bowl, add a pinch of salt and pepper. Then, with a small whisk, start whisking and add olive oil VERY SLOWLY. Towards the end, you can add finely chopped fresh garlic to make it an Aioli ("Ail" means garlic in French). Just dip the shelled shrimp in the Aioli, and enjoy! Here too, the Heron Hill Semi Dry Riesling or Muscat complement the dish very well.
I have made a variation of this recipe to make a main dish at last Valentine's Day dinner I had with my wife at our house. I first sautéed the shrimp in garlic and olive oil until almost cooked, then set them aside in a plate. I then sautéed a little more garlic in Olive oil, and then added some scallops. I did not want to mess up the cooking of the scallops. That is why I decided to cook the shrimp and the scallops separately. Better be safe than sorry on a romantic date… When they were almost ready, I added the shrimp back in the pan with the scallops and then poured the warm spiced Rum, ignited it, and after the alcohol burned off, I poured the shrimp and scallops over pasta. Et voilà! It was quick, efficient, and it looked like I was a skilled French chef! Because the flavors were not as prominent with the pasta, Eclipse White or Ingle Vineyard Chardonnay pair extremely well with the dish.
Enjoy the holidays!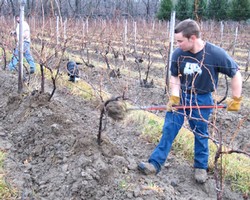 It's December, time to turn the page. It seems as if each month has a focus, October was harvest, November has been shoveling up the dirt onto the vines to protect them throughout the winter cold and December begins the pruning that will continue until March. Hand pruning some 14,000 vines at a rate of 150/day takes all winter, almost every workday until April 1st when the "season" begins. Parallel to the vineyard work is the garden work. (And I use the term "work" in the positive sense as in project or pastime.)
Our game-plan with the garden is to work (focus) for seven months and then enjoy the fruits of our labor for the five winter months. We freeze a lot of our food; spinach, peas, corn, broccoli, beans, all freeze well. Fruits also are stored frozen or dried including pears, strawberries, peaches, raisins, etc. Mother Nature does a beautiful job preparing us for winter storage with root vegetables. Our root cellar is chockfull with potatoes, carrots, beets, parsnips, brussels sprouts, onions, garlic and the "best thing you never ate": celeriac!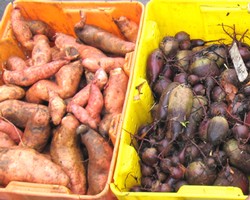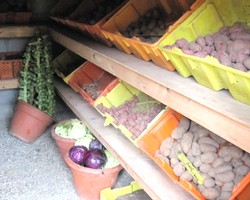 Sprinkled with olive oil, and oven roasted at 400 degrees for 20-30 minutes, along with slices and chunks of the other root crop, it tastes nutty and unique like nothing you've ever had. Try it. Celeriac is also good boiled, mashed and added to mashed potatoes - ah the bounty.
For over 40 winters we've pruned the vines in the daytime and savored the fruits of our labor at night - what's wrong with that game-plan?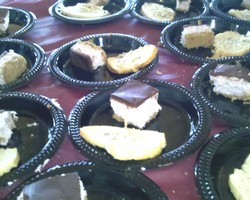 What a great season, I made it through October and just finished two busy sold-out weekends of Keuka Holidays, two of our biggest weekends of the year! We had a record-braking crowd on the first Saturday with over 1000 people through the door…wow was I tired! We served a fabulous Roasted Red Pepper Soup topped with an Asiago Crisp and a side of Eclipse Red Raspberry Cheesecake. We received rave reviews from everybody, check out the links for the recipes!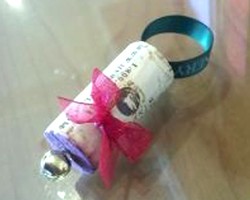 This year we had one of our staff members, Lauren, hand make 1,200 cork ornaments. Lauren spent countless hours tying bows, cutting ribbons and gluing jingle bells on each cork. I think Lauren recruited a few of her friends to help her with this project…maybe enticing them with a home cooked meal and lots of wine!
As the 2011 season winds down, we are already gearing up for 2012! I have already booked tons of groups for the upcoming season, especially October (one of the busiest months). I am also working on ordering a great present for our wine club members (sorry…can't reveal the secret yet!). The final shipment of the season is always a great one with two of our most special wines leaving the building…the Gold Club is even receiving an unreleased wine!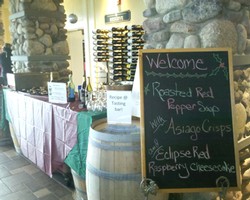 As I get ready to take a small breather, Bernard (our winemaker) just stopped by and said that we are going to hand-pick our Late Harvest Vidal Blanc next Wednesday! Even though it is my day off, I am a trooper and will be there with bells on! I am just thinking about what I will bring for a hot drink to keep me warm while picking, maybe hot mulled cider with a little Goldschläger?
Remember now that it's the slower season, (the best time to visit in my opinion), you can stop, visit and taste for an hour or two and we can try to solve all the world's problems!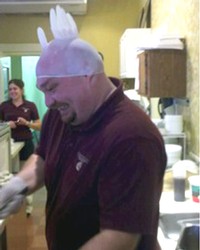 With the unpredictable October weather, some improvisation was necessary. Cool, rainy days brought smaller crowds, but the limited seating in the Blue Heron Café was challenging even for lighter crowds. Putting the tower heaters and conference room to use helped to hold the crowd. For the last weekend, we even used one of the tent sides to close off the opening of the awning. All of these tactics combined worked well to keep the crowds happy!

Tunes in the Tent proved to be another great series for the year. From Virgil Cain and the Movers to the Keuka Kats, we saw good crowds for most of the events. The Wine Club VIP members really seemed to enjoy the events too. Again, weather offered a few challenges, but the big tent heaters kept everyone cozy under the cover. Look forward to the lineup for next year's Tunes in the Tent to come out by February!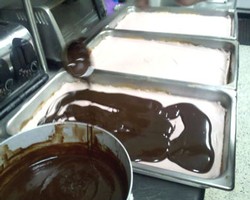 Last weekend and this upcoming weekend will wrap up Wine Trail events for the year. For Keuka Holidays, I will be preparing a Cream of Roasted Red Pepper Soup topped with Asiago Crisps and an Raspberry Cheesecake with Chocolate Eclipse Ganache. The soup is one of the Café favorites and the cheesecake is a recipe that I developed on a whim, featuring raspberry and Eclipse Red in the filling and topped with an Eclipse Red Chocolate Ganache. The numbers for this event are amazing, we served just over 1000 people on the first weekend and expect to see nearly 800 next weekend! As we approached the end, we had to makes sure it stayed fun!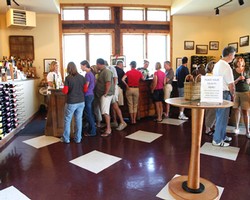 We have had a fantastic year at Heron Hill at Bristol on Canandaigua Lake. All of our staff live such diverse lives outside of Heron Hill; we thought it would be fun to introduce all of them to you. Employees wrote a bit about themselves, enjoy the insiders view about the Bristol staff!

First, let me introduce myself. My name is Josie Holden; I was born into this family business, when I moved back to the area and began working at the Bristol location. On school breaks I worked at the main winery on Keuka Lake. I currently enjoy working at the Bristol tasting room as the Assistant Manager and being a part of Heron Hill Winery. I hope one-day to take it over and keep the family business running. In my spare time, I enjoy fishing with my husband, photography, cooking and gardening. When I started at our Bristol Tasting Room, I knew it was going to be a success and I was right! We have done really well at our location and grown and I have learned about what it is like to be part of a small business and help manage it.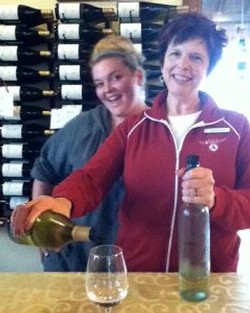 Christina Bowe, our Manager, has been here for more years than she would like to admit to. Christina started at the Rochester Public Market when her daughters were young as a part-time position, then spring-boarded into the wholesale department for Heron Hill Winery. When the opportunity for the position opened up at Bristol, she thought it would be a fun transition and a little more relaxing. That definitely was not the case, but she has enjoyed every minute of it. She loves traveling, cooking and listening to great music.

Chelsea Bowe is Christina's daughter and began going out with her Mom when she was old enough to pour. After trying several different ideas for a career she began helping her Dad who is an Electrical Contractor. She has now been working with him for over four years and really loves it, but found herself occasionally helping her Mom at festivals and wholesale events. When Christina started her job at Bristol, Chelsea joined the team as one of our experienced tasters, and was dubbed the "Group Taster" since she is very comfortable with large groups. Chelsea says, "Even though I have a 'real' job, I truly enjoy the contact with people."

Karyn joined Heron Hill last season as a wine server at the Winery on Keuka Lake. This season, she joined the staff at Heron Hill's Bristol tasting room, since it is in her neighborhood. When she isn't serving wine she is a technical writer and e-Learning consultant. She keeps herself busy five nights a week with dance, dance, dance and more dance (swing, salsa, rumba, jazz and most recently, tap dancing).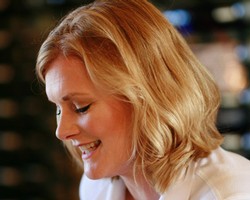 Stephanie Von Bacho joined the Bristol tasting room in September of this year after stopping in for a tasting. As a wine enthusiast, she is certified by the WSET at the advanced level and loves teaching people about wine. Stephanie works occasionally, mostly weekends, as her day job at the University of Rochester Medical Center overseeing education for 3,500 nurses which keeps her pretty busy. Stephanie and Scott live in the Finger Lakes with their 2 goats, 26 chickens, 2 dogs, a cat and 2 horses.

Sandy Robinson, a newbie to the wine industry, feels that she could not have had a better entry point into the business than Heron Hill. She will be starting a Wine & Spirit Education Trust (WSET) wine course with the New York Wine and Culinary Center; and will be traveling to Northern California in the spring in order to scout wineries and apartments for a likely future move. Most of her adult life has been spent in the movement arts and alternative wellness fields. As a soccer player in high school, and squash player in college, she never would have thought that she would enter the world of dance. She parlayed her participation in Rochester-based dance companies into teaching dance, then Pilates, which led her to yoga, which she taught for 10 years. Yoga along with qi gong and essential oils became part of her therapeutic treatments for clients when she obtained a massage license and opened a practice. She also has a Master's degree in multicultural/multi-religious studies.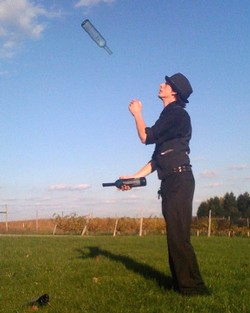 Joshua Zubrzycki also joined us in September. Joshua has been known as a person of many talents. We call him "our entertainer". He is artistically talented as a haberdasher, viticulture technician at FLCC, jewelry making and our FAVORITE, a juggler (makes his own juggling balls). He has also been practicing juggling Eclipse bottles!

Debi Combs, our Southern Bell, has brought a lot of knowledge of living in the South to our Heron Hill staff. She moved here with her husband who is employed at the Finger Lakes Race Track. They have been on the horse racing tour for many years. Debi herself worked at several tracks.

The staff works together well, we all have different lives outside of Heron Hill, but together we work as a GREAT TEAM.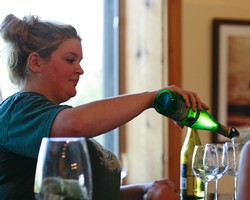 The name Canandaigua is derived from the Seneca Nation's name which is spelled variously Kanandarque, Ganondagan, Ga-nun-da-gwa, or in a modern transcription, tganǫdæ:gwęh, which means "the chosen spot", or "at the chosen town". This area has become a destination for people all over the world.
Our Heron Hill team at Bristol has hosted people from Europe, South America and North America. When asked why they have travelled to this area, they tell us because the Finger Lakes are becoming an "up and coming" wine region and they wanted to check it out. Most of the natives to the area take our region's beauty for granted. When you hear our visitor's amazement at the scenery, the area as a whole, it puts it all in perspective … how lucky we actually are to live here.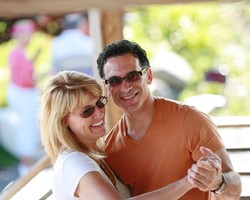 Last month we had our first event, a Vineyard Soiree. With the help of the Canandaigua Merchants Association, we had a day at the vineyard. Many local people, visitors and our staff were exposed to Canandaigua merchants, such as; Wick-edly Sent Soap & Candle Company, F. Oliver's Oils and Vinegars, Sweet Expressions, New York New York, Coach Street Clay, Rio Tomatlan Mexican, Simply Crepes and music and dancing lessons by Tommy Gravino/Sheila Trumble. Heron Hill provided cider making with samples and free wine tastings. It was a great time! Being our first year, we have the kinks out, so stay tuned for next year's event.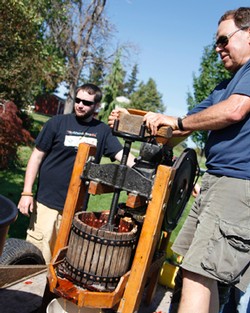 Check out the entire photo gallery of our Vineyard Soiree here!
Our newly improved gift shop offers Heron Hill logo items, as well as products made locally, including our Maple Syrup items made just down the road. If you have not had the opportunity to visit our Bristol location come sip great wines, browse our newly expanded gift shop and take in the beautiful views of the Finger Lakes.
As we begin to wind down for the season, we are beginning to think about next year. Keep a look out for our new and exciting events coming in 2012.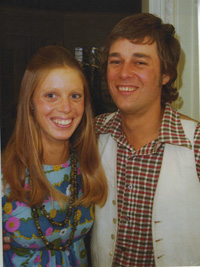 I often get asked "What made me go into the wine business?" Well, nothing made me, I chose to, willingly and enthusiastically. And it's funny because I can almost remember making the decision to do so. I was an English teacher in Colorado and felt there must be more for me. I had been curious about organic gardening and read books about the "farm life".
It was exactly forty years ago, in 1971, that we, my wife, Joey, and I worked in a neighbor's vineyard picking Concord grapes. As I stood on that sun drenched hillside breathing in the smells of fresh air and ripe grapes I realized this was satisfying to me. The rhythm of the work, steady and focused, the rhyme of the workers, chatting and laughing as they worked their way up and down the rows and the thought that it's vintage time! People all over the world, Europe, Australia, America, literally everywhere, were doing the same thing, harvesting grapes, to make wine. A sacramental beverage, as old as history, alive and dynamic in so many cultures and lands, it was inspirational to me. I knew that I had found my path and my loving wife has walked by my side for forty years, pursuing a career but more so, a life and lifestyle of living a "farm life".
Recent Posts
January 7, 2019

July 27, 2017

December 27, 2016

December 9, 2016

November 11, 2016

November 7, 2016

October 21, 2016

August 29, 2016

June 17, 2016

May 27, 2016
Blog Categories
Blog Archives
Our Writers