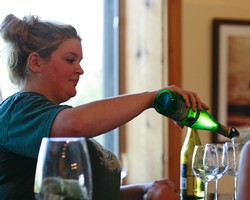 The name Canandaigua is derived from the Seneca Nation's name which is spelled variously Kanandarque, Ganondagan, Ga-nun-da-gwa, or in a modern transcription, tganǫdæ:gwęh, which means "the chosen spot", or "at the chosen town". This area has become a destination for people all over the world.
Our Heron Hill team at Bristol has hosted people from Europe, South America and North America. When asked why they have travelled to this area, they tell us because the Finger Lakes are becoming an "up and coming" wine region and they wanted to check it out. Most of the natives to the area take our region's beauty for granted. When you hear our visitor's amazement at the scenery, the area as a whole, it puts it all in perspective … how lucky we actually are to live here.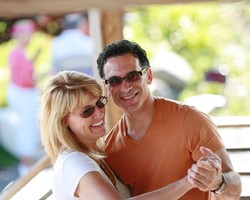 Last month we had our first event, a Vineyard Soiree. With the help of the Canandaigua Merchants Association, we had a day at the vineyard. Many local people, visitors and our staff were exposed to Canandaigua merchants, such as; Wick-edly Sent Soap & Candle Company, F. Oliver's Oils and Vinegars, Sweet Expressions, New York New York, Coach Street Clay, Rio Tomatlan Mexican, Simply Crepes and music and dancing lessons by Tommy Gravino/Sheila Trumble. Heron Hill provided cider making with samples and free wine tastings. It was a great time! Being our first year, we have the kinks out, so stay tuned for next year's event.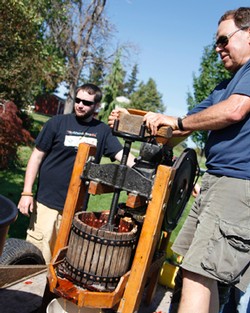 Check out the entire photo gallery of our Vineyard Soiree here!
Our newly improved gift shop offers Heron Hill logo items, as well as products made locally, including our Maple Syrup items made just down the road. If you have not had the opportunity to visit our Bristol location come sip great wines, browse our newly expanded gift shop and take in the beautiful views of the Finger Lakes.
As we begin to wind down for the season, we are beginning to think about next year. Keep a look out for our new and exciting events coming in 2012.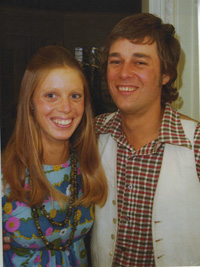 I often get asked "What made me go into the wine business?" Well, nothing made me, I chose to, willingly and enthusiastically. And it's funny because I can almost remember making the decision to do so. I was an English teacher in Colorado and felt there must be more for me. I had been curious about organic gardening and read books about the "farm life".
It was exactly forty years ago, in 1971, that we, my wife, Joey, and I worked in a neighbor's vineyard picking Concord grapes. As I stood on that sun drenched hillside breathing in the smells of fresh air and ripe grapes I realized this was satisfying to me. The rhythm of the work, steady and focused, the rhyme of the workers, chatting and laughing as they worked their way up and down the rows and the thought that it's vintage time! People all over the world, Europe, Australia, America, literally everywhere, were doing the same thing, harvesting grapes, to make wine. A sacramental beverage, as old as history, alive and dynamic in so many cultures and lands, it was inspirational to me. I knew that I had found my path and my loving wife has walked by my side for forty years, pursuing a career but more so, a life and lifestyle of living a "farm life".

Ahhhh…September! Harvest is here and you know what that means; it's the start of the really crazy-busy season! We kicked September off with a jammed packed weekend with Labor Day and "oh boy" did we labor hard at the winery! We had live music by Bruce Holler on Sunday afternoon, unfortunately I was pouring so much wine in the tasting hall that I never got a chance to get out there to even say hello.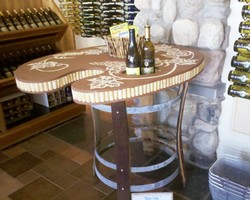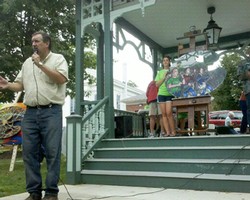 The following weekend on the 10th, I had Saturday off because I went to the 2011 Palettes of Keuka auction! The Palettes of Keuka has inspired upwards of 40 artists each year to create artwork on giant size artist palettes. This event has offers wonderful opportunities to provide funding for numerous art related activities and scholarships. Each year the committee directs thousands of dollars in funding towards the support of the arts in our area. In four short years they have created a Keuka Lake tradition with the grand finale auction held in the village square in Hammondsport. I ended up buying two palettes, one called "Wine, Wonderful, Wine" by Lenolee Spraker and "Pants in the Park" by Andy Clark. I got great deals on both; in total I spent only $170.00! As the auction was winding down, with only a few palettes to go, the auctioneers Steve Muller and Ken Corey, posed a challenge to the audience. As you can see by the picture there are many corks that make-up the border in my palette, the auctioneers asked if anyone could guess the total number that I used to make it with! After many crazy guesses (346, 824, 600, 572) someone shouted out 200… seeing that I had used 185 ½ corks - they were the winner. I had told Steve and Ken that I would donate a bottle of wine of the winner's choice!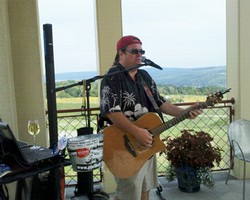 This past weekend was our Harvest Tour of Food and Wine on the Keuka Lake Wine Trail. What a great weekend, I was the greeting committee and check-in person serving the wine and food with Linda on Saturday and Helen on Sunday. It was a great weekend to be in the tent in our parking lot, as the seaplanes were in town and we got to watch them go around the lake at 1:00 on Saturday….very Cool!!! At the trail check-in table we were serving a Butternut Squash, Potato & Sausage Gratin paired with their choice of our Classic Pinot Noir 2008 or our Classic Dry Riesling 2009. Both worked exceptionally well with the rich and creamy gratin.
So far September has proven to be a great success; let's hope with our first Tunes in the Tent this coming Sunday it continues! I can't wait to see the "Crosseyed Cats" perform starting at 12:30 on Sunday! Hope to see everybody here for Harvest!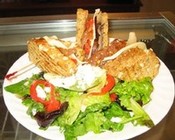 The summer to date has been great at the Blue Heron Café! We have seen crowds comparable to last year, but recent tweaks like linen napkins, proper water glasses, and some higher-class features have really impressed the customers. From Crab Napoleons to Roasted Red Pepper Involtinis, a greater variety of dishes have been well received.

We have hosted a bunch of groups this summer. I attribute this to our Marketing Guru, Kitty, who pressed me very early in the year for my menu. With the additional exposure in the pre-season months, we have easily doubled our groups from last year. To highlight these events, in August we hosted a group from Keuka College for a five course Tapas and Tastings. Thrown into this, we fed the vendors for the Wedding Show and have a couple of corporate events for later in the season. Don't forget to check out the music lineup for Tunes in the Tent, which kicks off with the Crosseyed Cats on September 25th!

Recently, we reduced our hours to Friday through Monday, as the weekday crowd tends to be a bit lighter. The mid-week break is appreciated, as the weekend crowds have been impressive. This has allowed me to offer a bit of time to the Wholesale department. At the end of the month, Lakeside Restaurant will be showcasing us for a Wine Dinner. Beef & Brew in Geneva has also selected us as their Winery of the Month.

Check out my online gallery from the 2011 Wedding Show!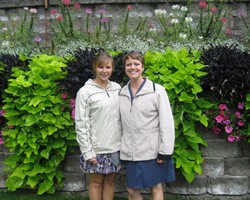 Oh Hurricane Irene! The 1st inaugural Wedding Show at Heron Hill was a success! Waking up Sunday morning to what was not supposed to be a dreary windy day, put challenge to our wedding show. As I arrived at Heron Hill, I had in mind just how I would conquer hurricane Irene! Thanks to my staff, volunteers and patience, we did it!
Thirty-two of our thirty-four exhibitors braved the winds and prepared their booths for the show. Thank you to Crystal City Party Center, Finger Lakes Entertainment and Pembrook Pines Media Group for all the extra help and donations. The show would have not been possible without you!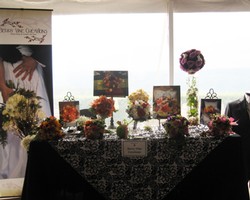 We had exhibitors arrive from all over. Anne from The Topiary came with many of her wonderful floral designs. Heather from McKay's Photography took a different angle and made her booth into its own, displaying many of her wonderful photos. Owen Entertainment joined us for their first show as well, it was excellent to learn about the new services they have to offer.
We had ten giveaways that each of the participating brides were entered for. Luxury Limo gave away a $50 gift certificate. Becky from Berry Vine Creations donated a "bag" of goodies including $200 off a floral package. Inteva Travel gave away a gift certificate to one lucky bride. These are just a few of the great prizes we had.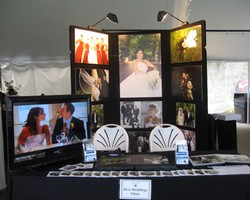 One lucky bride received the grand prize of $500 off a reception at Heron Hill Winery. Ten of my brides for the upcoming 2012 season were here, so it was a battle! As I drew the winning name, I looked over at my bride. She had won, but she thought I was joking with her. As our DJ, Jason, said her name, she and her fiancé got super excited. Congratulations to Jessica and Bill!
We will be hosting the show again next year. Thank you to everyone for attending and making our first year outstanding! We could not have done it without the help of all of our wonderful exhibitors. I am hoping for sunny weather next year ☺

Our son and wife visited from Philadelphia last week, one of many trips they have made this summer. With them this time however, they brought another couple for their first taste of the Finger Lakes. The four of them managed to fit in almost every imaginable activity in a few short days ranging from water skiing and hiking to evening bonfires on the beach (with the mandatory s'mores which we serve with the Heron Hill 2008 Late Harvest Vidal Blanc) and of course there was a small amount of touring and wine tasting. They also enjoyed a great lunch at the Blue Heron Café! It was a terrific weekend and they were awed by not only the quality of the food and wines, which they sampled, but by the shear pristine and breathtaking beauty of our back roads, farms and vineyards and amazing crystal clear lakes. It was wonderful to witness their appreciation of this area that we are privileged to call home.



It is critical that we do all we can to protect our treasure. We are being threatened by a proposal from Inergy, LP based in Kansas City, MO to construct and operate an underground storage facility for propane and butane gas as well as constructing a 14-acre brine pond on a slope above Seneca Lake. Additionally, there would be construction of a rail and truck transfer facility. It is a frightening proposition. To learn more, go to gasfreeseneca.com, Heron Hill Winery is a proud member of the Gas Free Seneca business coalition.

In the spring we were praying for the rain to stop, and now we are praying for the rain to come back and visit us! Growing grapes involves a lot of dancing. The vines could use some water, but on the bright side, the vineyard is fungus free. It looks like we will have more fruit than last year, making Zach, our vineyard manager pretty excited. At this point, we are catching up with all kind of work in the vineyard. The grapes are at the "berry touch" stage, which means that the berries are slowly growing and now touching each other, closing the cluster. The berries are still very hard, like pebbles. Next, we will be seeing the berries go into veraison, when they change color, from green to yellow or purple, depending on the varietal. It will be in a few weeks. Then, they will continue to grow in size and soften during maturation.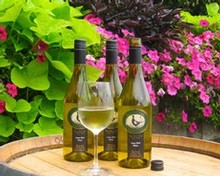 Wednesday was our first bottling with screw caps. The chosen first wine was the Game Bird White. Game Bird Red is to follow next week. We chose the Game Bird Series to start because the wines do not require any bottle aging: they are ready to be enjoyed as soon as they recover from bottle shock. In a few months, we will use screw caps on some wines from the Classic Line, like the Rieslings, the Chardonnay and the Muscat. The red wines benefit from some aging in the bottle, so we will keep using natural corks on these wines. Screw cap closures help preserve the freshness and fruitiness of the wines. Natural corks allow small amounts of air to reach the wine through the cork, inducing the slow oxidation which aging actually is. Some screw cap closures allow some oxygen to get in the bottle, mimicking a natural cork. Maybe we will look into these in the future. But the unique sound that a natural cork makes when opening a bottle of fine wine is a very important part of the whole experience, and so far scientists have not been able to recreate this pop for a screw cap. I have tried to make that sound, but it just sounds silly.
Another excitement in the cellar is the arrival of Dan Pantaleo as the new Assistant Winemaker. I worked with Dan on Long Island for four years. He has been with us for almost two months now, and he is adjusting nicely to a new environment. He has plenty of work in the cellar and is very helpful at keeping me grounded. He is getting the wines cold and heat stabilized and ready to be bottled over the month of August and September. Welcome, Dan!

Watch video and see pictures of the screw cap machine here.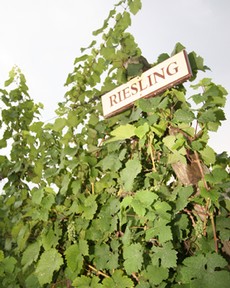 As the summer seems to go blazing by, August approaches and brings with it the 3rd annual Finger Lakes Riesling Festival. This family-oriented event, August 13 and 14 brings together food, music, wine and fun. It's held on the north shore of Canandaigua Lake and has drawn over 20,000 participants the last two years. Heron Hill Winery is a major sponsor and will feature the entertainment at the music tent, including Prime Time Funk and Nik and the Nice Guys, two of Rochester's top bands. On Sunday morning the Campbell Brothers gospel music will fill the air with joy. One of the best parts of the festival is that entry is free. You pay to taste wine and beer, and over a dozen regional cheeses, but the music, the car show, the arts and crafts displays, etc. are all free. We're very excited about the mobile ap being offered to learn more about this great event. Learn more about Finger Lakes Riesling, groove to the tunes, bask in the sun and join your friends for two days of family fun. See you there!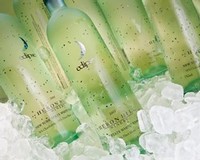 Summer is officially here! After a long, demanding Independence Day weekend we are recovering with a glass of the newly released favorite, the Blaufränkish! Just prior to the weekend, we released the newest vintage (2008) of our Reserve Blaufränkish. It has a deep dark color that foretells a rich, robust and complex wine. Upon opening the bottle, the rich aromas of anise, black raspberry and chocolate soften the rich fruit that leads you into a touch of spicy clove and soft sweet vanilla. For a special dinner we cooked up a (freshly home grown) tomato Basil pizza on the grill that was fabulous with the Blaufränkish.

I am getting SO excited for a fabulous weekend; a large group of us are headed to the Finger Lakes Wine festival. We always love to listen to the live music starting Friday night at the Toga Party; I especially love watching everybody pass by with their crazy outfits! On Saturday I am slinging and selling lots of wine in the Pit pass area; come visit!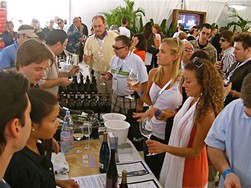 Meanwhile, in the other sections of the festival there is FREE Live music available all day in the Brewers' Garden, Cabernet Courtyard, Sparkling Courtyard and The Park. Styles, like the festival, are eclectic so you'll find upbeat blues and jazz to singer song writer acoustic shows...you'll hear covers, you'll hear originals...you may even find that music comes to you!

On Saturday night after the close of the event we head back to the campsite and have a gourmet meal prepared by the "guys", they are going to be using the smoker to cook two whole turkeys and there will be plenty of sides including baked beans, deviled eggs, salad, macaroni salad and my personal favorite potato salad! After dinner and a few glasses of wine we go watch the GeVa Comedy Improv group out of Rochester. They were so funny last year and kept us laughing for hours! The show starts Saturday evening at 6pm at the Tiki Hut Bar near the camper festival entrance and is open to anyone so stop by for a night cap and be prepared to laugh!!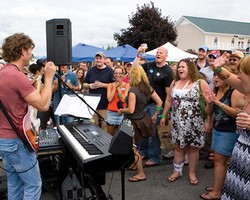 On Sunday I finally get to be on the "right" side of the bar! I get to go around and see all my friends from the local wineries and check out the "competition", generally buying a few cases of wine! I can't wait to see and taste some amazing wines (other than Heron Hill's)!

Hope to see you there, cheers!
We are starting off our second year being open on Canandaigua Lake. After waiting all winter to open we are feeling positive about this season. We have new management this year and a great new staff. Our new staff has been enjoying learning about our history of the winery and our wines.
Our days have been consistent for us. The weekends have been quite busy with group tastings. People love to use our facility for their friends or family to come and enjoy our wines. It is a great facility to have these kinds of events. We also have a great gift shop with local products and Heron Hill logo items to bring home for someone special. We are offering the new Game Bird White that recently came out and tastes great. We look forward to having you come and visit us during the week or on a weekend.
Recent Posts
May 9, 2019

April 22, 2019

January 7, 2019

July 27, 2017

December 27, 2016

December 9, 2016

November 11, 2016

November 7, 2016

October 21, 2016

August 29, 2016
Blog Categories
Blog Archives
Our Writers