We are beginning our 6th year at Heron Hill on Seneca. After the long, cold winter (as in never ending) we are glad to be fully operational again. Heartfelt thanks to our loyal good neighbors who braved the snow and winds to visit on the weekends and left fortified with bottles of their favorite Heron Hill wines to enjoy at home. Many of our "snow birds" returned, only to wish they had waited a bit longer as the cold and rain persisted into May. But still they visited and enjoyed reconnecting with us. Now that we have finally seen that glimmer of warmth, our thoughts turn to outdoor entertaining. There is nothing nicer than sitting on the porch and enjoying a chilled glass of wine with friends. Some of our summertime favorites include Heron Hill Dry Riesling 2008 or for those who prefer a slightly fruiter wine the Semi-Dry 2008. Both pair well with an appetizer such as grilled pizza with artichokes and shrimp or a simple platter of locally produced cheese and fruit. If you keep it local and fresh you can't miss.

Many of your favorite staff have returned to make your visit enjoyable and informative and they will help guide your selections. They also know where the best farm stands are located and will help with food and wine pairings. Alicia has been with us over a year and is graduating in June with a Masters degree in Corporate and Community Education. We congratulate her for her accomplishment! For one of her final research papers, which she is submitting to the Journal of Wine Research, Alicia conducted a survey of our customers regarding what they anticipate of their winery visit experience. A quality product and reputation establishes a relationship with a customer. Her findings confirm that customer service, including a knowledgeable, personable, fun visit, is what keeps that relationship strong and ongoing. That is what the Seneca team strives for and we were pleased to see that we received very positive feedback. Combine that with our award-winning wines and relaxed atmosphere and you will have an experience to savor.



We are very excited to announce a visit from our winemaker on Saturday, June 18. Bernard Cannac will be at our Seneca tasting room from 1-4 pm to meet our visitors, discuss the wines and answer your questions. It will be a fun and informative afternoon. Mark your calendar and plan to come by.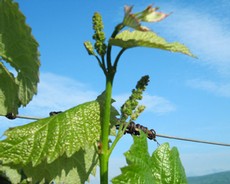 Oh the promise of spring, with hope and destiny in the air. Icy fingers of winter loosen their grip and green appears among the brown of the landscape. We pray our way through the "frost period" when recalcitrant grapevines that have awakened too early feel a bitter sting for their efforts. Well into May we see the flush of buds on canes that reveal the promise of the vintage, will it be large, small, early, late, difficult or wet? We can only imagine and wonder.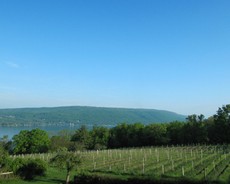 So far we are about a week late in bud-break and a couple of weeks behind in spring chores, such as plowing "away" from the vines, discing new centers, etc. The great news is, we have lots o' buds, due to the wet weather! Almost 100% bud viability on the vines previews a bountiful crop. Not every vintage in the Finger Lakes is a large one, or a classic one. We take the cards and make it work. Having that promise of spring through that makes the work a little easier, the target a little clearer, as we strive to produce world-class grapes for world-class wines at Heron Hill.

Lately, I have been going in several different directions! Primarily, it has been the tail end of my Wholesale season. Between working with our distributor's sales reps and striking out on my own, I have had a pretty good sales season! The winter brought a flurry of stores adding the fine line of Heron Hill wines and lately, restaurants that are preparing to open have been revamping their wine lists and making room for us. I am currently working on scheduling several wine dinners at local restaurants; look for us to be featured at the Lakeside (on Keuka Lake) and the Village Tavern in Hammondsport in the near future.

My second concentration has been Wine Trail events because unfortunately, the food doesn't cook itself! February brought the Truffles and Tastes and April showcases the Artisan Cheese event. The April event paired us with Lively Run Creamery and we highlighted the Roasted Garlic and Pepper Chevre. Suffice it to say, the Pesto Cream Pizza with fresh Spinach was a hit, although I think the staff might have influenced the total number of pizzas that I had to make… Next up is Keuka in Bloom this weekend. If you are joining us, I hope you enjoy the Pancetta and Sage Stuffed Pork Loin, check out the recipe here.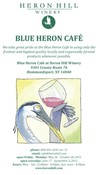 With the season finally changing, my third direction is preparing to open the Café. I have been fortunate to discover that some of my staff will be returning. Modifications have been made to the menu, the wine list is being generated, and the tables and chairs will be arriving soon. With a thorough cleaning and some modifications, we will be opening on May 20th. Be sure to look up the Live Music Calendar and join us for a sandwich and a glass of wine! You can also request a menu here.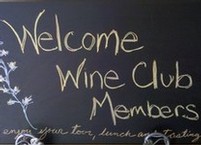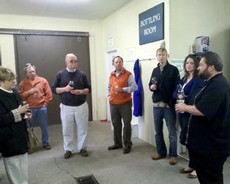 What a spectacular weekend! On Saturday, we hosted a Wine Club Barrel Tasting & Tour here at the winery on Keuka Lake! It was a great behind the scenes experience for our Wine Club members. They started out in the cellar with a private barrel tasting and tour with the Winemaker, Bernard Cannac and Owner/Grapegrower, John Ingle. Bernard spent about an hour explaining the process of wine making and how the production staff works. The assistant winemaker, Brian Barry, was also there as our token "cellar rat" offering another point of view.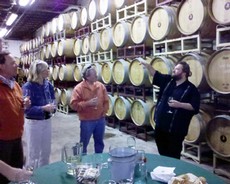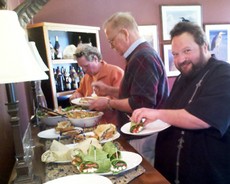 In the cellar, the Wine Club members were treated to a taste of two never before released wines. The first sample was a tank sample of our 2009 Riesling Reserve. This new reserve wine is going to be a dry Riesling that will have grapes from two different vineyards, our estate vineyard and Ingle Vineyard (John's vineyard on Canandaigua Lake). The members seemed pleased with the progress of the young wine. The next sample was the 2009 Cabernet Sauvignon Reserve, a surefire hit with the crowd! The winemakers pointed out the fact that the barrel samples are only a suggestion of what the finished wine will taste like. Tasting out of the barrel or the tanks gives you a glimpse into how the wine will taste once fully aged.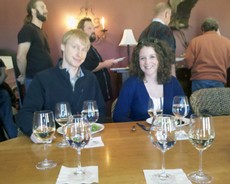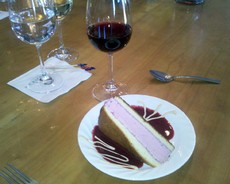 They wine club members were also able to see the bottling line and got some new information that is not being released to the public yet!!! Stay tuned!
After the tour we were off to the conference room for an amazing lunch that was produced by our very own Mike "Ollie" Oliver, our Café Manager and Head Chef! Ollie offered an amazing selection of food for lunch including, Chicken Caesar wraps, Calabrese wraps, Roast Beef Panini with an herbed Horseradish mayo with sautéed peppers and onions, and my personal favorite the Turkey Panini with a Cajun Aioli sauce. One of the highlights of the meal was the beautiful fruit tray that paired beautifully with the Classic Muscat wine. For dessert large smiles were came out from the crowd when we presented the Charlotte a la Framboise, a cool and creamy raspberry mousse sandwiched between two layers of fluffy cake. The cake was the perfect pairing for the barrel sample of the 2010 Blaufrankish. The exquisitely prepared meal was thoroughly enjoyed by all in attendance.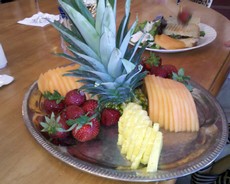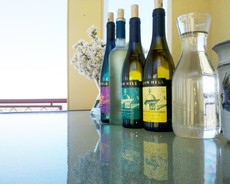 After a delightful meal we headed up to the tower to finish off the afternoon with a sampling of all of the wines from Ingle Vineyard and the newest vintages (not yet released) from the Eclipse Series. During the discussion, John and Bernard explained how in the Ingle Vineyard Cabernet Franc, field blending is part of the wine making process. A field blend is a wine that is produced from two or more different grape varieties inter-planted in the same vineyard. In the days before precise varietal identification, Ingle Vineyard was thought to have been planted with 100% Cabernet Franc, but upon closer inspection we noticed that there is about 10-15% Cabernet Sauvignon intermingled in the vineyard. The field blend of the Cabernet Franc with a smattering of Cabernet Sauvignon allows Bernard and Brian an effortless, though inflexible, blending.
Next weekend brings us round two of the Wine Club Barrel Tasting & Tour. I am sure it will be equally amazing…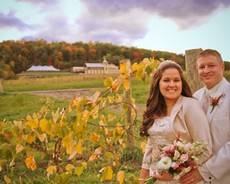 As every bride begins planning her wedding, there is no other better place to get information from than a Wedding Show.

If you have ever been a bride, bridesmaid, mother of a bride or groom, you have most likely been to a wedding show. You can find all of your wedding essentials there. You taste cake, try food from several caterers, listen to what different DJ companies have to offer and more.

On Sunday, August 28, 2011 Heron Hill Winery and Pembroke Pines Media will be hosting the Heron Hill Winery Wedding Show. Pre-registration is free for all brides, click here to register! Each Bride will receive a welcome gift bag filled with goodies and each bride will be entered for several door prizes, which will be given away throughout the afternoon. We will have complimentary wine tastings set-up for all of the guests.The Blue Heron Café will also be open, local musician Bruce Holler will be playing on the terrace too.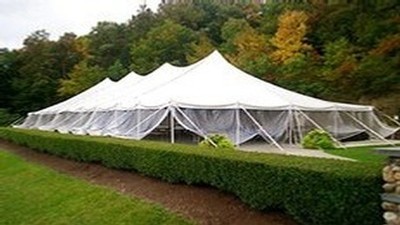 We have invited several bakeries, caterers, photographers, florists, DJ's and more. We are in the beginning planning stages for all vendors. Currently we have Corning Catering, Crystal City Party Center, Berry Vine Creations, SE Video, Schwarz ProFoto, Walker Cake Company, Rochester Wedding and Tom Mike Photo. Here's the list of exhibiters and more info on the Wedding Show.
If you are a vendor and interested in coming, you can also visit the link above to download an exhibitor contract.

The staff at Heron Hill Winery and Pembrook Pines Media is very excited for the event this summer! We want to make sure our local brides have access to the top wedding professionals in our area.

On a side note, we are busy finishing renovations for the upcoming season. We are currently preparing to re-carpet the tent and get it up for the season. The first event will be the Ducks Unlimited Dinner, which we host annually. As always, we are excited to be working with them on this event again!

Let the spring-cleaning begin as we welcome another busy season!

Last week we had what seemed to be spring's prelude, only to have the cold come back. Looks like spring wants to pop out, but winter is not quite done with us yet. In the vineyard, we spent the month of March pruning the Riesling, then the Muscat. The weather hasn't been cooperating too much, but we're getting by. The couple of warm days we had last week were enough to make the vines "cry": the sap is flowing in the plant, sign that the vine is getting out of its dormancy, dawn of a new growing season. In the cellar, Brian keeps pushing things along: the 2010 reds are in barrels for the most part, and we are catching up on our bottling, if this machine would only co-operate…
On April 22nd, students from SUNY Morrisville will be visiting us. Brian will give them a tour of the winery, since I will be in France visiting my family whom I haven't seen for over three years.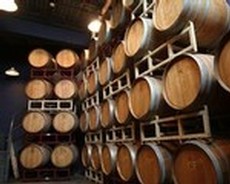 On April 30th and May 7th, we will be hosting an event for our wine club members. It will be a three hour event, including a cellar tour with a barrel tasting, wine tasting in the tower (weather permitting), and a tasty luncheon prepared by Ollie, The Blue Heron Café's chef, which should open for the season by the end of May. Depending on the weather, we will also take our wine club members out on the vineyard for an overview: we might be able to see how the new shoots are evolving. It is hard to tell now when budbreak will be, though, and how early or late the season will actually start. Last year we were burning hay bails against spring frost from late April until early May.
We'll be participating with Spring into Riesling in April and May is Riesling month, we will be showcasing a Vertical Ingle Vineyard Riesling tasting. We'll let you know in our newsletter (sign up here). This special tasting will also be available at our two satellite locations, on Seneca Lake and at Bristol on Canandaigua Lake.
We are slowly getting away from winter, which means we are gearing up for the season, in the vineyard, in the cellar, where it never stops, and in the tasting room. Sometimes the production crew gets to participate with helping to set up events, but when the party's over, we get back to the cellar or the vineyard. It's nice to take a break and get involved in a few key events. Group effort! Click here for details if you're interested in attending the wine club barrel tasting and tour event.
Heron Hill has been fortunate to be involved in wine dinners over the past two months. Winemaker dinners are always a great way for Heron Hill to showcase our wines and the chefs get to go "out of the box" and create something extra special for their wine loving guests.
As many of you know, we have a unique set of wines including the Ingle Vineyard series, which is grown on Canandaigua Lake. These single-vineyard, local wines make a wonderful addition to a gourmet meal prepared with local products. Each one of these dinners was different and I thought it might be fun to highlight them in the blog. I am sad to say, I got so caught up in the events that I did not snap a picture of any of these dishes, which were masterpieces.
Ristorante Lucano, 1815 East Avenue, Rochester, NY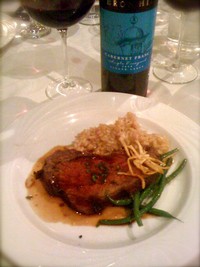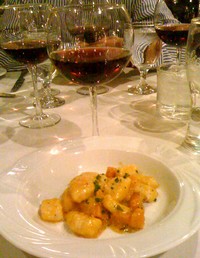 (www.ristorantelucano.com). A wine dinner with a twist "New York Meets Italy" was the theme of the dinner. Owners, Chuck and JoAnn Formosa were our gracious hosts for the evening. Chef Kevin prepared all the dishes made of locally grown food and produce including a Lively Run Farms Goat Cheese, homemade Gnocchi and Bison Strip Steak that melted in your mouth.
Lucano is a hidden jewel on East Avenue, if you're looking for a great southern Italian meal; fabulous wait staff and a cozy atmosphere stop by and visit Chuck and JoAnn.
Rabbit Room, 61 North Main Street, Honeoye Falls, NY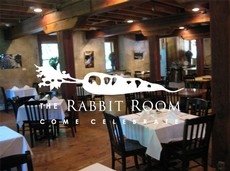 (www.thelowermill.com). The Rabbit Room, about 10 miles south of Rochester is a beautiful venue for dining. The Lower Mill in Honeoye Falls, New York was a grist mill built on the banks of Honeoye Creek by Hiram Finch in 1827. The Gallery steps go through the restaurant and onto the second floor. Andrew Penner and his wife Alison DeMarco have put together American cuisine with a new modern twist. They accredit their success to the local farmers and his dedicated staff.
Once again, our meal was prepared with a "local" theme. Chris Januzzi, our chef for the evening prepared and incredible dinner that was paired perfectly with our Ingle Vineyard wines. Seven Bridges Farm Pork Tenderloin and Braised Short Rib topped the list, with locally grown mushroom with organic chicken thigh.
Even though our winemaker, Bernard could not make it up from Hammondsport because of a snowstorm, which landed him in a ditch, (Bernard was safe) we all had a wonderful time with great food and great wine. Their hours are limited, but worth the trip to Honeoye Falls. I would also consider this venue for a unique special event, which is one of their specialties. They also have events on a regular basis. Check out the Rabbit Room's website.

Good Luck, 50 Anderson Avenue, Rochester, New York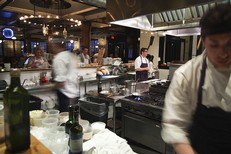 (www.restaurantgoodluck.com). If you have not been to Good Luck, it is an experience that must not be missed. Dan Martello, chef/owner, prepared an amazing tasting dinner for 20 people at a cozy corner of the warehouse space. You get a real NY feel when you enter this restaurant. Good Luck is a fine dining restaurant located in the old Fabrics & Findings, offering a seasonal menu using local produce, meats and cheeses. Meals are served family-style. They are only opened Wednesday through Saturday, but they also serve a late menu until 2:00 am.
Once again, this meal was amazing. Crispy Finger Lakes pork belly, Lively Run Goat Cheese and Hudson Valley duck breast were some of the offerings, paired carefully with Ingle Vineyard. Chef Dan did something unique; in that each sauce for each dish was prepared with Ingle Vineyard, which made is particularly special. The entire group had a wonderful time, and we are looking forward to teaming up with Chef Dan soon.
If you are in the Rochester area, stop in to any one of these places and enjoy a unique dining experience.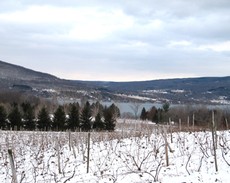 One of the most frequently asked questions I get is "What do you do all winter when the vines are dormant?" I can assure you, it isn't nothing. I was a youth hockey couch for 20 years in addition to working 20 acres of vineyard. We raised four kids and I was there every day to greet them off the school bus, top priority. But the constant activity through that time is the "bushwacking" of some 12,000 vines each winter for the last 40 (!) years. Simple math gives an idea of the measure of the task. I can prune 150 +/- vines a day on a good day - divide that into the 12,000 vines I've always had (until adding the 1,000 vines each of Merlot and Cabernet Sauvignon last spring, that is 80 work days, or 14 work weeks. We finish the harvest in November, or early December when we make Icewines, then we cover the bases of the vines, called "hilling up", into December. Take out holidays, snow days, assorted projects and distractions and it's a busy winter. April 1st is our "done" date for pruning, the start of the vintage season. I will blog on that process later.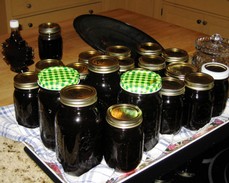 As the winter work wraps up, temperatures climb and it's time to make maple syrup. We get 5 to 10 gallons of syrup off about 60 taps. We used to burn the sap down with grape trunks. I thought I might be the only guy to do that - in the world! Another spring tradition here is cleaning the bluebird houses. Migratory as well as resident bluebirds like to pair off and prepare for nesting in March, so the houses, (we have about 50 of them) need to be clean and ready for April 1st.
Doing these and other side projects every year gets you into a pace, a rhythm, of nature and life. It can be hectic but it also brings a simple continuity that makes farm life satisfying. Soon it will be spring.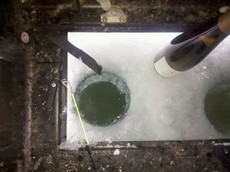 After everything Mother Nature has dealt us so far this season, from lots of snowfall (for most of the season) to a big melt last week to another snowfall a few days ago, I have been able to take full advantage of this beautiful winter. I know not everybody loves this weather, but there is so much to do outside and this snow won't be around very long. I have been lucky enough to be given a fishing shanty (Thanks Stime!), even though it had a few holes in, it works perfectly with a little Gorilla tape holding it together. We went out ice fishing last week and just when I thought I was going to be skunked, I stood up took a drink of my favorite wine the Old Vines Riesling Reserve and PRESTO….I had a blue gill on my line! So exciting! I think the smell of the Riesling was probably what drew all the fish in. After having the "boys" filet all the fish we sat down for an amazing Perch and Blue Gill dinner with rice, homemade dinner rolls and of course more Riesling.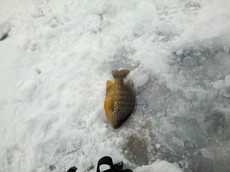 One of my absolute favorite things to do in the winter is to go snowmobiling. It is such a great way to take in the scenery and get to explore the countryside. The Bath Snow-Flakes Snowmobiling Club does an amazing job of keeping the trails groomed and smooth. It is such an exhilarating experience and the most exciting sport there is to do in the winter, especially with lots of great friends. It is a perfect thing for the whole family to do and is usually a mini-vacation for me. A great time for me to think while having fun…..
Another activity that I find enjoyable to watch (NOT participate in…!) is the Polar Bear plunge that is going to be taking place at the Switzerland Inn here on Keuka lake. It is going to be held on March 26th this year. I have been several times and always enjoy watching the "crazies" jump into 32-34 degree water! The jumpers usually dress up in costumes and if I am remembering correctly I think they give out many different awards for costume design, best jump and different things!

On our slow snowy days at the winery we even try out our front hill for some sledding! I am going to try to get my snowmobile up here to the winery so that I can even help out the vineyards guys…they are sick of trudging through the deep snow in the vineyard!

Well, here's to praying for more snow so that I can continue to snowmobile, ice fish and maybe even enjoy some more sledding!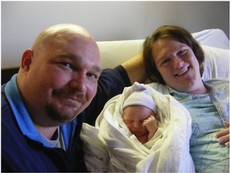 I would be remiss if I didn't start by noting the arrival of my son, Morgan Ronald! He was born New Year's Eve morning. Both Morgan and Mom (Tanya) are happy and healthy. At this point, he has grown to nearly 10 pounds. Sleep has become a precious commodity, but that is to be expected.
Recently, I have returned to the wonderful world of Wholesale Sales. January, despite the weather, proved to be a highly productive month for me! I managed to travel from Cooperstown and Syracuse to Cuba and Salamanca. While riding with our distributors' sales reps, I managed to sell a fair amount of wine. In particular, I look forward to the addition of the entire Ingle Vineyard series at Allen's Wine & Spirits in Olean. With John Coco coming on board, I expect to see increased interest while I'm on the road.

A fair amount of my time is devoted to booking store tastings and scheduling events. We will be pouring at Corning's Cabin Fever this Friday. I have scheduled tastings from Savor Syracuse to the Alfred University Alumni Gala and look forward to the next Cork & Fork.

As for the Café, I was looking forward to a relaxing winter before revamping the menu and beginning to assemble my staff. Kitty, Paul, and Kara have been contacting me about the new menu to pass along to upcoming groups and promotions. With the amazing response to the menu that we saw last year, changes will be minimal. I have had requests for particular items and am considering these.

Additionally, we will be hosting a weekly Happy Hour at the Café. Initially, we were considering Thursday, but Music in the Park may draw our perspective crowd away. At this point, I think that Wednesdays might be a better option. The plan for this event is to offer tapas, wine by the glass, and beer by the bottle. I think that with Kitty's amazing networking and publicity savvy, we can expect an amazing turn out. I am considering a discount for employees of other wineries…

Next weekend, we have the first Wine Trail event of the year. I will be making Curried Chicken Satays and a Raspberry Cheesecake. The ladies in the office are a bit concerned that I will not be fully prepared for this event, so they recommended that I make an extra cheesecake, just to be sure. With that said, if you are at the winery on Monday, ask for leftovers!
Recent Posts
January 7, 2019

July 27, 2017

December 27, 2016

December 9, 2016

November 11, 2016

November 7, 2016

October 21, 2016

August 29, 2016

June 17, 2016

May 27, 2016
Blog Categories
Blog Archives
Our Writers