It is certainly a quiet time of year here at Heron Hill Winery. I spend most of January preparing for inventory, contacting possible brides and cleaning endless amounts of wedding chairs.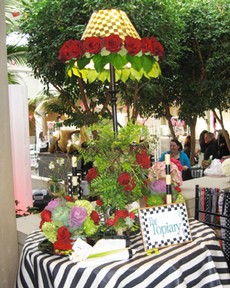 While preparing for the upcoming season, during this "slow time" I have been able to do several wine tastings and talk with some of our nice customers. I have also attended several bridal shows over the course of the last two months.

The most recent bridal show I attended was the 2nd Annual Finger Lakes Wedding Affair at the Memorial Art Gallery in Rochester, NY. What a beautiful show. WellWed hosted it and did a fabulous job of bringing together all of the wedding professionals of the Finger Lakes Region. The theme this year was carnival. Everything was decorated as though the brides had just walked into a carnival. The Well Wed staff thought of everything from candied apples to cotton candy martini's.

I was able to sneak away from the booth to speak with several of the other wedding professionals and see their work. The Topiary out of Pittsford, NY had several gorgeous displays. They had a table display as well as a bridal bouquet sample. I also spent time getting to know the ladies, and I am excited to work with them in the near future.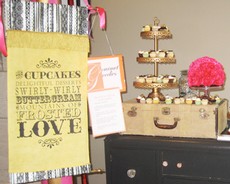 As I was walking around, I made a point to try some of the sweet treats from Gourmet Goodies of Victor, NY. I have never been disappointed by what they create. I specifically sampled their red velvet cupcakes with a cream cheese center and the chocolate cupcake with a peanut butter center. Delicious!

I also stopped to try the paella that All Occasions Catering of Rochester, NY prepared as samples. This was my first time trying their cuisine, and I must say it was yummy.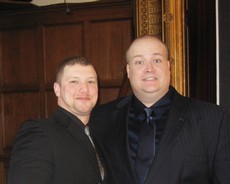 Throughout the show, music was provided by a few of our favorite guys, Nate and Jason of Fingerlakes Entertainment. They also provided all the music for the couture fashion show. I am looking forward to working with them this upcoming season.

All in all this was a great show. I am ready for wedding season to arrive! I have many wonderful couples I am working with this year. On a side now, this week marks my 1 year anniversary at Heron Hill Winery! What a wonderful first year!
Happy New Year from the Wholesale Department. Welcome to another year! The wholesale section of the blog will continue to be a travel log including meeting new customers and interesting people and visiting new places.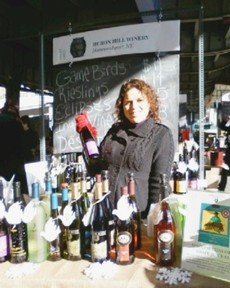 The last event of 2010 was on December 5th. I was honored to attend the New Amsterdam Market (actually very old) just over the Brooklyn Bridge in NYC. As you can imagine, the December wind blowing off the East River was icy, however, it was very sunny. Whitney (one of our ace tasters and my daughter) was freezing, but it didn't stop people from coming to try NY wines. I took the first picture from the back of the market, which is one of the oldest markets and has been in operation since 1642. The view was breathtaking. The area, surrounded by old brick paver roads, was the home of an old warehouse that was converted into a shopping mall, bustling with Christmas shoppers. Behind the warehouse was a miniature golf course, which was obviously closed for the winter, but the view of the bridge was spectacular. There were also quaint little restaurants scattered throughout the streets.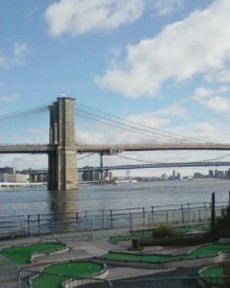 The market was fabulous. Many locals and visitors to NYC were thrilled to have the opportunity to sample wines from over 30 New York wineries at the weekly market. I actually had a couple from New Jersey that saw the advertisement for the event and traveled to the market to get Heron Hill Wines, since we cannot ship wine there. The "localvore" movement in New York City is growing and people are looking to support not only our wines, but also New York products. There were plenty of great vendors considering the time of the year and the chill in the air. Having been working the NY area for several years now, I have found a growing interest in NY wines. Many of customers not knowing where the Finger Lakes are located, makes me giggle, but they are all intrigued at the fact of visiting since it's merely a few hours away. Here's hoping to see more "Big Apple" residents visiting the Finger Lakes in 2011.
All in all our successes at the markets in the biggest city in the world have been extremely successful. The exposure has brought lots of new friends for Heron Hill. Hopefully we will continue to attend these markets in 2011.

First of all, I would like to cease this opportunity to wish you all a Happy New Year 2011! May this New Year be full of health and happiness!
After spending Christmas down on Long Island, under over a foot of snow, I got to spend the New Year Celebration with a few friends in a barn surrounded by vineyards just a slingshot away from Keuka Lake. Deep fried Turkey and Mulled wine paired very well together…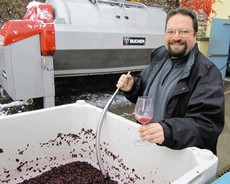 Now, the vines are dormant, and Zac and Ethan are running wires for the new planting we did last spring. They also managed to do some cleaning and burning some piles of brush: pretty high flames! It is supposed to be a cold winter, so we will wait until February to get started on the pruning, to be done by early April, before bud break.
In the cellar, we are monitoring a couple of fermentations about to end. I personally like slow fermentations on white wines to preserve the fruity aromas that developed during the fermentation. If the temperature rises too much, these aromas tend to dissipate. On the contrary, the red wines need higher temperature during fermentation in order to extract the tannins trapped in the skin and seeds. I like to ferment the white wines at around 60 degrees Fahrenheit and the reds can reach temperatures of over 90 degrees at the peak of the fermentation. Right now, the reds have all completed the primary fermentation (or alcoholic fermentation) and are now undergoing the secondary fermentation, also called Malo-Lactic Fermentation (MLF), which is the transformation of Malic Acid, naturally found in grapes and apples, into Lactic Acid, which is a softer acid. The MLF helps the mouth feel tremendously on the red wines. For the white wines, this process is not a necessity. Most winemakers prefer to keep the natural acidity in the white wines to preserve their freshness. At Heron Hill Winery, all the reds undergo MLF, but none of the whites do.
We recently received a question about gluten in wine. From the top of my head I couldn't think of any additive used in winemaking that could contain gluten. Gluten is a big "storage molecule" (like starch) found mainly in wheat and wheat products, like pasta and bread.
At Heron Hill Winery, we only use a few additives, preferring to assist Nature instead of manipulating the wines too much. I checked the composition of the yeast nutrients we use to help the yeast during the fermentation, and there is no gluten in it, which makes sense because as I said gluten, like starch, is a big molecule that needs to be broken down into smaller pieces in order to be ingested by yeasts. Yeast nutrients contain small proteins and vitamins so the yeast can use the nutrients quickly and efficiently.
Close to bottling, we use some fining agent to clarify and stabilize the white wines. Again, there is no gluten in it. Furthermore, the fining agent is a big molecule (clay and/or protein), which reacts to the proteins in suspension in the wine, and once attached to each other and they precipitate to the bottom of the tank. Later, the wine is racked and filtered so these agglomerates are taken out of the wine.
So, to my knowledge, there is no gluten in our wines at Heron Hill Winery. Hope this answers our reader's question!
Cheers!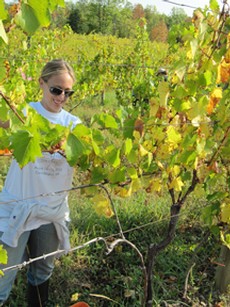 Hello, I'm Josie Holden, the daughter of owner John Ingle. This fall, I was apart of the 2010 Harvest at Ingle Vineyard. It was a great experience and we think this will be a great year for wine, especially the reds. I always enjoy the harvest time and being a part of the family business. It always makes me proud to know that my parents started this from the ground up. I have been working for the family business for a couple years in retail and providing wine tastings. We have opened a new wine tasting room on Canandaigua Lake, on the wine trail. I had the opportunity to work there during the summer and fall season. We had a slow turn out at first, but once word of mouth got around, people visited and enjoyed their experience. I am looking forward to what lies ahead for next season.
During the 2010 Harvest I got to do something new this year. I helped pick some Botrytis grapes, also known as "Noble Rot" for the first time, which are Riesling grapes. I learned something new, which is that this can happen if all the conditions are right, as my father, wrote about in his blog. When we were all picking the grapes, everyone had their own bucket and we were only allowed to pick the really moldy and brown grapes. My father called this "selective picking". Botrytis grapes can be made into a dessert wine. When a Riesling grape has Botrytis it makes the grapes sweeter and higher in sugar content. That is why these grapes are perfect for making a sweet wine.
Every year is different and I look forward to all the exciting times that lay ahead for our vineyards!

By John Ingle, Owner/Grapegrower


As always, harvest 2010 has been a wild ride. Fueled by one of the hottest, and wettest years ever, grapes ripened a month early! We were almost guaranteed a great year, it was just a matter of how far we could push our luck for further excellence. Having my wife, daughter, son-in-law and many friends help with the grape picking made it even more of a labor of love. We shared the rhythms of the harvest; hurrying, waiting, wet, dry, cold, tired, excited all mixed together and multiplied by 12 or 15 of how many pickers we had day to day.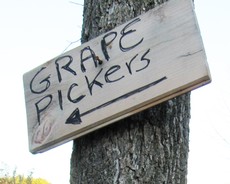 As the season progressed we brought in wave after wave of beautiful, ripe grapes - Pinot Noir, Chardonnay and Cabernet Franc, all up to 26 Brix, incredible! As the Riesling ripened we got 6 days of warm monsoon-type rain and glorious green prapes turned nut brown almost overnite. It was rot! Closer inspection revealed a sweet raisening aroma and flavor...it was "Noble Rot", botrytis, Mother Nature's gift to dessert-wine lovers. The crew tightened their belts and made four different "passes" through the two acre vineyard much of the time on hands and knees picking up fallen grapes off the ground and never a peep or ugh or yuck! It was a team effort rewarded with a "piece of history". The 2010 Ingle Vineyard Bunch Select Riesling will carry memories of effort and excellence - to be shared with joy with friends and family for many years.
By Jo Ingle, Owner/Grapegrower

Our garden has been put to bed after yet another bountiful season. There is still much to do!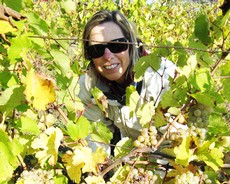 All through the summer months the ripened vegetables are harvested, sorted, cleaned, cut and prepared for freezing. This year has been particularly good. The long hot summer days with a bit of rain here and there, helped to make for an abundant crop of vegetables and fruits. We grow everything! Spinach, peas, beans, strawberries, raspberries, blueberries, corn, melons, squashes, artichokes and more. You name it, we grow it. In addition to the produce going into the freezer, we also can spaghetti sauce, bread and butter pickles from an old family recipe, and beautiful pink applesauce made especially for the grandchildren.
Winter is here. The days are short and cold. The kitchen is filled with the aroma of jellies cooking and hot paraffin melting. The freezer is full, the cupboards are packed, and we're ready to hunker down and enjoy the fruits of our labor.

Here at Heron Hill, I feel very blessed to have the best staff in the whole world! Their dedication to the Winery continues to blow me away. The tasting hall staff is usually first here and the last to leave. I am so thankful that they spend each and EVERY weekend with me! I want to send out a VERY heartfelt thank you to each and every one of them, they are the ones who make my job SO much easier.

My devoted staff works so hard, especially from May to November, our busiest months. We see hundreds and hundreds of people on any given weekend, and even after an exhausting day/week/weekend they are still smiling!

The two staff members who have been here the longest are Audrey and Dave. These two taught me a lot about wine, customers and a few (secret) tricks that I still use to this day. Audrey, or "Odd-rey", as we call her, is the one who always has great bright red lipstick and is generally begging me to work. I think she would rather be here working with the customer than working on her HUGE house that she is re-modeling. We always joke that Dave has been working here since he was 2 years old, he started as support crew for the events tent and has done just about every job possible here! When he turned 21, I was finally able to have him at the tasting bar. He is so great with the customers; it is always an extremely informative tasting.

Karyn and Jen both started this season and are transplants to the area. Jen fell in love with Keuka Lake and decided to move up here full time, leaving here Biology students back in NJ. I am sure they miss her terribly!!! Jen is soft-spoken and very passionate about the Finger Lakes and especially her favorite Lake, Keuka. Karyn lived in Seattle for a long time and just recently re-located back to the area to come help her elderly mom. When Karyn walked in to the winery, my manager Paul and I basically loved her from the first moment and hired her on the spot. Karyn is very energetic and so much fun.

Anne is one taster who has an incredible amount of wine knowledge; I really enjoy learning from her and her wine writer husband also. Almost every customer that Anne waits on is always amazed by the vast amount of information that she can fit into a tasting. Anne lives here locally on the lake and really enjoys gardening. Love her great hints!

Kelsey and Danielle are the local girls! Kelsey is studying to be Occupational Therapist in Ithaca, and is great about coming home EVERY weekend to work at the winery, at times even bringing here adorable dog Latte to come play at the winery with us! Kelsey is so sweet, always keeping us entertained with great "Dave" (see Dave above) stories. Danielle is our fiery redhead, who is usually setting us straight and trying to keep us in line! Danielle works both at the tasting bar and in retail, so you have a variety of places to catch her. She started back to college in January, after giving us notice that she was going back to school to be a pharmacist. She had been our event/wedding coordinator for 1 ½ years prior.

For the last Keuka Lake wine trail event, Keuka Holidays, we had a special guest appearance by Ted! He used to work here every weekend last September & October, coming up just for the weekend to work at the tasting bar! Another red-head, he has a full time job as an assistant manager at a bowling center in Lock Haven, PA. When he was up this past time, he even worked on his birthday! As the best Tasting Hall Manager, I even made him his favorite; an Oreo cheesecake.

Even though Jill & Linda don't work in the tasting hall, I have to give them a shout out. They work in the gift shop on weekends whenever I need them. Jill and her new husband Damin are awesome, they help us whenever I ask (which is usually a lot…sorry guys!!!). Damin helps with the support, washing glass racks, stocking the tasting hall and even jumping on the tasting bar whenever I need him. Jill is great in the gift shop, having the patience of a saint. Jill and Damin even got married here this summer, what a beautiful wedding. I was so glad to be a part of it! Linda works full time as a cashier at a local bank, so she is a perfect fit for working the register here at the winery. Linda always brings us great snacks, a great way to keep up the energy since we never get a lunch break!!!

I can't forget Paul and Kara, my two closest work partners! Paul is the Retail manager, aka our numbers guy. He is always giving us the goal and letting us know how close we are or are not. Paul & his wife Gail started helping out at the winery over 10 years ago during the busy weekends. Just a few years ago he left a very high stress job to come work at the winery. He is always cracking jokes and keeping our spirits up! Kara started back in January, taking over Danielle's spot as event/wedding coordinator. Kara and her new husband Eli work every wedding together and also sell Eli's glass in our gift shop. Kara and Eli also get married here at the winery in September and of course left us for 2 weeks during the busiest time (….grrrrr).

Thank you. Thank you. Thank you. The whole staff makes it such a great place to work!

October brought a first for me at the winery, also known as "Tunes in the Tent"! I had reviewed past sales with Christy, our CFO, but I wasn't quite sure what to expect. In the end, we discovered that in general, it isn't worth it to keep the Café open while the party is going full bore in the Tent! The obvious exception to this is Columbus Day weekend. I am resigning myself to the fact that for all intents and purposes, for this weekend, "all bets are off"! Columbus Day weekend proved to be the busiest three day stretch that the Café has seen for the entire year!

As the season came to a close for the Café, the seasonality of the business came around to show itself. We had closed for most of the weekdays, but as October came to a close, even the weekend crowd started to dwindle.
The first annual Cork & Fork offered a brief foray back into the Wholesale market for me. This event, held in Seneca Falls, was the first "selling event" that I have ever attended. As a first for me and a first for them, there was a fair amount of last minute conversation about the finer points of the event. When it was said and done, we got some amazing exposure from the Friday night VIP tasting! We were paired with Dano's (in Hector) for the evening and all were impressed with our coordination. Saturday brought the selling end of the event. The expected crowd was much larger than the actual crowd, but after all, it is the first annual event…

While the Café was closing for the season, which was accompanied by a flurry of cleaning and storing of equipment, I had a chance to witness an event that I hadn't had a chance to experience before. The tear down of the tent was a monumental experience for me. A mere two days after our last Tunes in the Tent, the tent as a whole was disassembled for the year. This might also be read as "After putting on our last big show of the year, I only had a day to clean up!" Without realizing it, we had stored a fair amount of stuff under the tent!

With the Café closed, it was time for me to return to Wholesale ventures. Specifically, the task at hand is to touch base with my year-round accounts to ensure that they are prepared for the holidays. This, of course, allows for the chance to show off the new vintages! Some of my customers have seemed to be a bit put-off by the fact that I have had to split my attention for the year. After explaining that if they simply purchased more wine…

How could I leave this entry without mentioning the close of the final Wine Trail weekend of the season?! After preparing the Chicken Riggies for consecutive weekends of Keuka Holidays, let's suffice it to say that I am looking forward to a chance to "find my muse" for February's event, Truffles & Tastes! To be fair, it has been a fun year of Wine Trail food. I am, however, looking forward to a surprise for February, maybe homemade Truffles…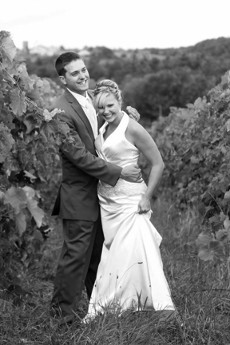 I have completed my first season at Heron Hill Winery!! What a season it was! Between weddings, ordering for the gift shop and my own wedding, it was crazy. Let's just say the honeymoon in St. Lucia was more than needed!
I had to the pleasure of working with several wonderful couples this summer and fall. Each wedding had their own unique twist and a party to remember. I want to thank all of them for choosing us as their venue. They helped make my first season memorable.
I also had the pleasure of working with some of the wedding industries finest: Corning Catering, Around the Corner Catering, The Village Tavern, Finger Lakes Entertainment, Dianna Hart, Chrissy Albright, Schwartz Photography, Van Scooters, Pleasant Valley, Bath Floral and others. Everyone was a joy to work with and made every detail perfect.
As for my own wedding in September...it was PERFECT!! Thank you to all of the Heron Hill staff that helped to make my day special. We had an amazing time followed by an unforgettable honeymoon in St. Lucia.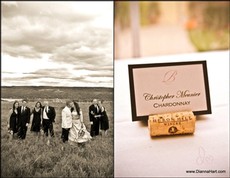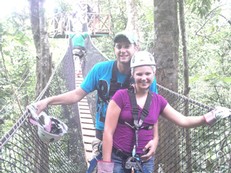 We spent 7 glorious days laying on the beach, zip lining, hiking and swimming in the ocean. We stayed at the Sandals Regency La Toc. The resort was gorgeous. The food was fantastic. We had the option of dining at 8 different restaurants each night. We drank our share of the local beer called Piton and sampled several of their specialty drinks. I highly recommend St. Lucia to honeymooners and couples for a relaxing, well-deserved break from life!
As fall comes to a close, I am finally catching up on orders for all those Christmas goers. I have created an assortment of gift baskets here this season. They make great gifts for just about anyone. Be sure to visit our website or stop in to browse what we have to offer. Gift cards are my favorite gift to give for the holidays as well. Why not give the gift of wine! We also have several wine clubs that are a great idea as well. Wine clubs are the gift that keeps on giving!!
Come visit us in the off-season and happy holidays!!

We survived Columbus weekend. Phew! So many people, so much wine, so much fun.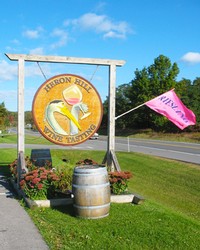 It is hard to believe that more than 7,000 guests have passed through the doors of "Seneca" this season. Reflecting back over the past several months, I think one of the best aspects of working in a tasting room is getting to know our customers, and realizing that no matter where we call home, we are all very much alike. There is a common love of family, food and wine. We enjoy all of our guests, but there are some that strike a cord. One such visitor is the Mom from the Bronx who, four years ago, came in a little teary-eyed after having dropped her daughter at college. I have seen her every semester since as she makes her trek to pick up and drop off. A wine novice initially, she has become a huge Riesling fan and always takes some Classic Semi-dry home with her. This June will probably be our last encounter, but it has been fun watching the progression from freshman to senior Mom.
Another memory involves a young couple married in July 2006, the summer we opened, who were honeymooning in the Finger Lakes. They too have returned every year to enjoy a tasting and celebrate their anniversary. This year they asked for only one glass and he tasted solo as they are now expecting their first child.
And I will be forever grateful for Mrs. C., my high school French teacher who's tenacity helped me retain enough vocab to fumble through a tasting with a group who spoke almost no English. (Bernard, where are you when I need you?) I'm not exactly certain what was said, but a good time was had by all. There are enough stories to fill a book.
Fall is really a beautiful time to visit the wineries. Leaves are turning and the smell of grapes is in the air. As the weather cools our tastes change and we make the transition from light and refreshing to warm and comforting. There will be more Classic Cabernet Franc and Reserve Pinot Noir on our table, more soup and hearty pastas.
Many thanks to our visitors from near and far for what you bring to our "table". We enjoy meeting you and hearing your stories. We appreciate your interest in our wonderful wines that require so much attention and work to get from vineyard to bottle and also your appreciation for the beautiful Finger Lakes area. Many thanks also to our terrific staff who put in some hectic days and do such a good job.
A votre santé!
By Christina Bowe, Wholesale Sales Manager
It was my honor to do two GreenMarkets in the New York City area last weekend. The GreenMarket is a program of GrowNYC and was developed to support local farmers while offering over 600 varieties of delicious farm-grown products to City residents (organic meats, breads, vegetables, soaps, artists and, of course, NY wines.)
This was actually my second visit to the market as a visiting winery. The reception was amazing to NY grown products. These markets are a bit different from any markets I have been to in upstate. These markets require that only locally grown, locally produced items be offered, with the exception of a group of clothing recyclers that had mountains of clothing at the end of the day that they brought to centers to be used by the less fortunate. No crafts, no vegetable wholesalers are allowed to set up. This makes for the most incredible choice of selections.
Brooklyn Market Amazing….Prospect Park, Brooklyn, NY
Both days we were lucky enough to be next to Cayuga Pure Organics. The founders of Cayuga Pure Organics have been involved in the Ithaca, NY farming community since the early 1970's. In 2003 Erick Smith and Dan Lathwell furthered their commitment to the region's citizens and environment by joining together to form Cayuga Pure Organics. They have grains, flour, beans and the most amazing bread I have ever tasted. Unfortunately, they ran out of it on Saturday and then again on Sunday. We didn't have a chance to purchase.
Milk Thistle farm drives from Ghent, NY to service all the Greenmarkets in the City. They are an intimate, organic farm that knows the cow's names and allows them to stay outside during the growing season, only bringing them in for milking. They were on the other side of us. I could not get a picture; there were lines of people and our stand was extremely busy. The locals religiously bring their glass milk bottles back to the stand for a new bottle filled with delicious organic milk and even small pints of chocolate (which, of course, I tried…..like melted chocolate ice cream in a bottle.) It was a sight to see that before the end of the day were completely sold out.
Brooklyn's Prospect Park is known for being a family-friendly park, as well as a dog park. We saw every breed of dog at the Westminster Dog Show with some mixed breeds missed in. Families brought their children with picnics, and musicians playing for family at friends. You truly had to be there, a sight to see.
A personal training group set up hula-hoops, yoga mats and other hand-held equipment and all were having a blast trying out the different exercises. A unique marketing tool, but also added to the festivities of the market. If you ever have a chance to go and visit Brooklyn on a Saturday, it is definitely necessary to see.
Manhattan on Broadway at Columbia University, Sunday Morning
The atmosphere was different with the same vendors attending. Set up along the street but it seemed not to have the dedication as yesterday's market. We were definitely welcome in "The Big Apple" and the exposure of Finger Lakes Wines was amazing. It was amazing to me to hear how many people did not know where the Finger Lakes were located. That just validated the fact that we were educating and exposing consumers to the great wines of the Finger Lakes. The favorites of the consumers were our Ingle Vineyard Series for it's sustainability and the Eclipse series. The Vidal Blanc was a huge hit; unfortunately, I did not bring enough to satisfy the demand.
I am looking forward to next season and the possibility of making it to the markets again.
Recent Posts
January 7, 2019

July 27, 2017

December 27, 2016

December 9, 2016

November 11, 2016

November 7, 2016

October 21, 2016

August 29, 2016

June 17, 2016

May 27, 2016
Blog Categories
Blog Archives
Our Writers