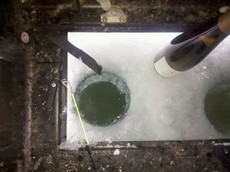 After everything Mother Nature has dealt us so far this season, from lots of snowfall (for most of the season) to a big melt last week to another snowfall a few days ago, I have been able to take full advantage of this beautiful winter. I know not everybody loves this weather, but there is so much to do outside and this snow won't be around very long. I have been lucky enough to be given a fishing shanty (Thanks Stime!), even though it had a few holes in, it works perfectly with a little Gorilla tape holding it together. We went out ice fishing last week and just when I thought I was going to be skunked, I stood up took a drink of my favorite wine the Old Vines Riesling Reserve and PRESTO….I had a blue gill on my line! So exciting! I think the smell of the Riesling was probably what drew all the fish in. After having the "boys" filet all the fish we sat down for an amazing Perch and Blue Gill dinner with rice, homemade dinner rolls and of course more Riesling.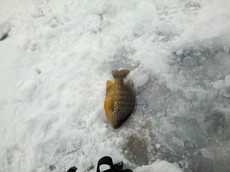 One of my absolute favorite things to do in the winter is to go snowmobiling. It is such a great way to take in the scenery and get to explore the countryside. The Bath Snow-Flakes Snowmobiling Club does an amazing job of keeping the trails groomed and smooth. It is such an exhilarating experience and the most exciting sport there is to do in the winter, especially with lots of great friends. It is a perfect thing for the whole family to do and is usually a mini-vacation for me. A great time for me to think while having fun…..
Another activity that I find enjoyable to watch (NOT participate in…!) is the Polar Bear plunge that is going to be taking place at the Switzerland Inn here on Keuka lake. It is going to be held on March 26th this year. I have been several times and always enjoy watching the "crazies" jump into 32-34 degree water! The jumpers usually dress up in costumes and if I am remembering correctly I think they give out many different awards for costume design, best jump and different things!

On our slow snowy days at the winery we even try out our front hill for some sledding! I am going to try to get my snowmobile up here to the winery so that I can even help out the vineyards guys…they are sick of trudging through the deep snow in the vineyard!

Well, here's to praying for more snow so that I can continue to snowmobile, ice fish and maybe even enjoy some more sledding!

Here at Heron Hill, I feel very blessed to have the best staff in the whole world! Their dedication to the Winery continues to blow me away. The tasting hall staff is usually first here and the last to leave. I am so thankful that they spend each and EVERY weekend with me! I want to send out a VERY heartfelt thank you to each and every one of them, they are the ones who make my job SO much easier.

My devoted staff works so hard, especially from May to November, our busiest months. We see hundreds and hundreds of people on any given weekend, and even after an exhausting day/week/weekend they are still smiling!

The two staff members who have been here the longest are Audrey and Dave. These two taught me a lot about wine, customers and a few (secret) tricks that I still use to this day. Audrey, or "Odd-rey", as we call her, is the one who always has great bright red lipstick and is generally begging me to work. I think she would rather be here working with the customer than working on her HUGE house that she is re-modeling. We always joke that Dave has been working here since he was 2 years old, he started as support crew for the events tent and has done just about every job possible here! When he turned 21, I was finally able to have him at the tasting bar. He is so great with the customers; it is always an extremely informative tasting.

Karyn and Jen both started this season and are transplants to the area. Jen fell in love with Keuka Lake and decided to move up here full time, leaving here Biology students back in NJ. I am sure they miss her terribly!!! Jen is soft-spoken and very passionate about the Finger Lakes and especially her favorite Lake, Keuka. Karyn lived in Seattle for a long time and just recently re-located back to the area to come help her elderly mom. When Karyn walked in to the winery, my manager Paul and I basically loved her from the first moment and hired her on the spot. Karyn is very energetic and so much fun.

Anne is one taster who has an incredible amount of wine knowledge; I really enjoy learning from her and her wine writer husband also. Almost every customer that Anne waits on is always amazed by the vast amount of information that she can fit into a tasting. Anne lives here locally on the lake and really enjoys gardening. Love her great hints!

Kelsey and Danielle are the local girls! Kelsey is studying to be Occupational Therapist in Ithaca, and is great about coming home EVERY weekend to work at the winery, at times even bringing here adorable dog Latte to come play at the winery with us! Kelsey is so sweet, always keeping us entertained with great "Dave" (see Dave above) stories. Danielle is our fiery redhead, who is usually setting us straight and trying to keep us in line! Danielle works both at the tasting bar and in retail, so you have a variety of places to catch her. She started back to college in January, after giving us notice that she was going back to school to be a pharmacist. She had been our event/wedding coordinator for 1 ½ years prior.

For the last Keuka Lake wine trail event, Keuka Holidays, we had a special guest appearance by Ted! He used to work here every weekend last September & October, coming up just for the weekend to work at the tasting bar! Another red-head, he has a full time job as an assistant manager at a bowling center in Lock Haven, PA. When he was up this past time, he even worked on his birthday! As the best Tasting Hall Manager, I even made him his favorite; an Oreo cheesecake.

Even though Jill & Linda don't work in the tasting hall, I have to give them a shout out. They work in the gift shop on weekends whenever I need them. Jill and her new husband Damin are awesome, they help us whenever I ask (which is usually a lot…sorry guys!!!). Damin helps with the support, washing glass racks, stocking the tasting hall and even jumping on the tasting bar whenever I need him. Jill is great in the gift shop, having the patience of a saint. Jill and Damin even got married here this summer, what a beautiful wedding. I was so glad to be a part of it! Linda works full time as a cashier at a local bank, so she is a perfect fit for working the register here at the winery. Linda always brings us great snacks, a great way to keep up the energy since we never get a lunch break!!!

I can't forget Paul and Kara, my two closest work partners! Paul is the Retail manager, aka our numbers guy. He is always giving us the goal and letting us know how close we are or are not. Paul & his wife Gail started helping out at the winery over 10 years ago during the busy weekends. Just a few years ago he left a very high stress job to come work at the winery. He is always cracking jokes and keeping our spirits up! Kara started back in January, taking over Danielle's spot as event/wedding coordinator. Kara and her new husband Eli work every wedding together and also sell Eli's glass in our gift shop. Kara and Eli also get married here at the winery in September and of course left us for 2 weeks during the busiest time (….grrrrr).

Thank you. Thank you. Thank you. The whole staff makes it such a great place to work!

By Tambi Schweizer, Tasting Hall Manager
Over the years I have been asked numerous questions, so I have kept a journal of them. Hopefully my answers will entertain and educate….
On a typical night, what wine is in your glass?
I tend to be a dry red wine drinker, but it has been such a hot summer that I have been drinking my two favorite white wines that we carry here at Heron Hill, the Reserve Pinot Blanc and the Ingle Vineyard Chardonnay. As the weather has cooled down over the past few weeks (which puts an end to camping…oh so sad!), I have switched to one of my favorite red grapes, Cabernet Franc.
Is there a quality you like most in wine?
Alcohol….Oh wait…. I meant to say how well it pairs with food! Just this past weekend we served a roasted corn, red pepper and cheddar chowder and for dessert a maple pumpkin cheesecake drizzled with a pecan maple glaze. This matched SO amazingly well with the Semi-Dry Riesling that I paired with it for the Keuka Lake Wine Trail Harvest Tour of Food and Wine. I heard lots of great comments about how well the spiciness of the soup complimented the sweetness of the Riesling and how the acidity balanced the sweetness of the cheesecake.
Do you have a favorite piece of advice for when I am out wine tasting?
I tend to choose a color, white or red and often times I stick to a certain varietal, like Cabernet Franc, of which there are hundreds of different bottles here in the Finger Lakes region. The other advice that I usually give is to make sure you have eaten and drink LOTS of water.
Do you have a favorite hangover cure?
First, I drink close to a gallon of a water to flush out the system then take a few liquid Advil (love them…!) and finish with a few sips of one of our dessert wine, like the Late Harvest Ingle Vineyard Riesling Reserve. I think the 17.2% R.S. really helps to coat my stomach.
What is your favorite wine that you have ever drunk…Heron Hill or elsewhere?
My absolute favorite red wine that ever came out of Heron Hill was the 2002 Baco Noir Reserve. It was just an amazing full bodied syrah-style wine with plum and blackberry fruits along with tar and smoked meat notes. Unfortunately we only made 198 cases, but I am lucky enough to have put away almost a case of it! I hope to keep opening one per year on my birthday for quite a few years, as long as no bottles secretly disappear to hunting camp…..
What surprises people most about your job?
I think the fact that my staff and I are required to taste every bottle that we open; to check for corkage issues is the biggest shock. The wine tasters are usually astonished that we can "drink on the job"! I always tell everyone that is one of the "tortures" of the job!
What is the best time of the year to come wine taste?
I always am encouraging everyone to come in the off season, preferably not on the weekends, that way we can have a real conversation and really be able to spend time and be able to answer any and all question that you may have.
What else do you do around here for fun?
My favorite pastime is definitely going snowmobiling! I dream about snow ALL year round and pray for lots of it! When it's not snowing; you can usually find me camping, especially near the fire concentrating on roasting the perfect s'more while drink out of my special light up wine glass (only $4.99 at the winery).
The other thing that I tend to do on my day off is get a friend or two and head to wine country and check out the other wineries. Just last week I went and have a great lobster bisque at my southern neighbor, Bully Hill, then continued on to a beer tasting at Keuka Brewing. I really loved the new beer called "After Burner", it was made with Jalapeno Peppers…what a great concept; it started sweet at first and got spicier as it continued down and then finished with a calming effect. So cool! We then headed over to McGregor's on the east side of Keuka and tried a few wines there with my former co-worker Dan. It was great to be able to catching up and share stories about all the craziness that happens!


By Tambi Schweizer, Tasting Hall Manager
Wow, things have been really great lately. First, we hosted about 40 wine writers and bloggers here at Heron Hill for TasteCamp…needless to say they all seemed amazed at the spread we put out for them. Thank to Ollie for some great food, courtesy of the Blue Heron Café. At our tasting bar, we hosted 8 local wineries from Keuka and Canandaigua Lakes for them, with everyone really showcasing some magnificent wines! I think the winner from the Heron Hill wine collection was the Library wine re-release of the 2002 Ingle Vineyard Riesling. The white peach and mineral qualities that are showing through are just exquisite! This '02 vintage has been a favorite of mine since I have been here!
I just got back from NYC where I poured wine at Taste of the Upper West Side. The Friday night event was from 9 to midnight (…ugh, I am usually in bed at 9 pm!) featuring a divine dessert tasting! I have to give a shout out to the NYC Greenmarket! One of the ladies gave Doug and I a whole basket of fresh juicy strawberries and a large cup of whip cream! They were delicious, thank you! I saw my friends from the Hot Blondie's Bakery again; yes the brownies are still some of my favorites! Here's a picture of the Greenmarket staff shucking oysters.
On Saturday night, The Taste of the Upper West Side featured the Best of the West with some of the same vendors from the Friday night event, but with also a few really great additions, like the Long Island Wine Country booth. I tried some really great wines, making me think that I NEED to get to Long Island to go wine tasting. I think that trip will have to wait until the busy season is over here!

Well, I am headed of to train about 12 staff today with TIPS training (Training for Intervention ProcedureS). TIPS is the global leader in education and training for the responsible service, sale and consumption of alcohol. Proven effective by third-party studies, TIPS is a skills-based training program that is designed to prevent intoxication, underage drinking and drunk driving. Hopefully this training will help my staff to be more aware of what to look for and how to handle the difficult situations that may arise while working here at Heron Hill! Cheers….

By Tambi Schweizer, Tasting Hall Manager
It's getting to be that time of the year…with the oncoming arrival of tons and tons of people! YEAH! I love having visitors at the winery, especially after a long winter with barely anyone coming to visit me! (hint…hint…!)
I think what I really find intriguing is trying to "figure out" what style and or type of wine the tasters enjoy. It is a fascination of mine to understand why certain people like different types of wines. I really enjoy spending time educating the visitor about what this area has to offer. I spend countless hours educating my tasting hall staff to be able to provide them with the best information on our wines as well as the what the Finger Lakes Region has to offer.
I also pride myself on having been to almost all the local Finger Lakes wineries, neighborhood restaurants and local pubs! I frequently recommend the local brewery up the street, Keuka Brewing Company, for the non-wine drinker in the crowd. They usually have about five beers on tap at any given time, from the lightest (my favorite) the White Cap Wheat, a Belgian style wheat beer made from a blend of wheat and barley, with light hops. They add orange peel and a touch of coriander to give this beer a light, refreshing flavor. Their darkest, the Full Sail Stout Ale, a blended beer with 5 malts, has hints of smoke, coffee and chocolate that has a beautiful, rich flavor and a creamy head.
I tend to encourage visitors to enjoy dinner in the local restaurants that pride themselves on serving Finger Lakes wines, especially any from the Heron Hill collection! One of my favorite restaurants (that carries Heron Hill wines) is the Village Tavern in Hammondsport. It is a European style bar and restaurant, offering an exceptionally warm and cozy atmosphere with award-winning food and beverages…another hint!!! Their specialties include a large selection of my favorites like fresh fish and seafood. I think my favorite appetizer there is the Escargot that is sautéed in garlic, wine and herbs. They also have the most extensive and tantalizing wine list in the Finger Lakes!
Recently I was able to head over to Seneca Lake to pick up a set of horseshoes that I won at a local charity event that was hosted by Hazlitt Vineyards benefiting under-privileged children in Schuyler County whose parents/guardians weren't able to give them any holiday presents. I love going to the Seneca Santa benefit; they always offer great wine and excellent music and the bonus is that it is almost always on my birthday!
Since I was already on the East side of Seneca Lake, I stopped into the new distillery, Finger Lakes Distilling. It is a breathtaking building with a great view of Seneca Lake. I was so amazed when I walked in to the building; the ceiling is painted a magnificent crimson red with a canoe hanging from it. They carried a great line-up of products; I even bought a t-shirt, koozie and the Maplejack Liqueur. The liquor starts out as an apple brandy made from New York apples. It is aged in a bourbon barrel and sweetened with local maple syrup. I was thinking about putting it on my pancakes!
I really pride myself on the local experience, immersing myself in many local activities or places that are very popular for the locals. Just a couple of weeks ago, I was at the Corning Museum of Glass for their 2300º monthly series. Named for the temperature of their glassblowing demonstrations, these FREE public events feature glassblowing demos, live music and plenty of food with different themes each month. The March theme was "The day after St. Patrick's Day" with the Town Pants (one of my favorite bands). They totally rocked the house!!! While there I drank the Pinot Noir Reserve from McGregor Winery (east side of Keuka Lake), great job John McGregor!
So, if you plan on visiting the Finger Lakes regions and don't really know where to begin, stop into Heron Hill Winery and spend some time at the tasting bar with me. I'm more than willing to give you any advice on where to go, what to do and where to stay! Feel free to e-mail me or call me as I am out there are willing to tell you as much as I possibly know. I am a HUGE promoter of the Finger Lakes Region and want everyone to visit the most beautiful (wine) region in the entire world!!!

By Tambi Schweizer, Tasting Hall Manager
2010? Can it really be so? I just got back from 3 weeks in the Bahamas and headed back to work immediately!!! I always seem to be a glutton for punishment; I mean really…who is going to do my laundry?
While down south I worked for about 3-4 hours a day fixing up Adirondack chairs that I found either at the local dump or alongside the road, painted our new wraparound deck on the beach house and spent many hours in the back yard cleaning brush. I also spent many hours trying to get all the sand back to the beach that was deposited on our front porch from a large blow that had come through a week before we got there.
Well, it wasn't all work and no play. My boyfriend and I headed to the Abaco Inn on an almost daily basis to check out the Jack and Ginger specials at noon (we did get very thirsty from working SO hard during the morning hours)! Can you see our drinking buddy, Mr. Lizard who joined us on a fairly regular basis!
The weather wasn't the greatest for the first 10 days, so we focused on working and hanging out with the family. It was a great family vacation, as my mom and dad were there along with my sister and her two adorable kids and of course my fabulous boyfriend, who became my bike mechanic during the vacation.
During the trip we went kayaking over on the bay side and ran across a great statue named Kate (who seemed to be playing more than studying…I can relate!) A couple of our friends who live on the island, Mike and Gail, found the statue and donated money to the school to be able to acquire the statue and locate it to the perfect spot in the cove at Fry's Mangrove. When we were out bicycling one day on our way to the Abaco Inn I saw this sign by the side of the road that really cleared up any questions as to which way to go…this way or that way! Oh, I can't forget that we found a huge treasure chest and ran/swan into a large school of fish…aren't they cool?
Well, January in 2010 has brought a nice warmth from down south and here in the north the warmth is coming to my cheeks as I sit here drinking a glass of one of Heron Hill's library wines, (want access…join our Platinum Wine Club for limited releases of our library wines) our 2002 Baco Noir. It has aged very well over the last 8 years with softening tannins and huge fruit on the finish. Here's to many glasses of wine over the next year with hope that all our resolutions come true in 2010!

By Tambi Schweizer, Tasting Hall Manager
I just returned from NYC where I poured wine at two different events. The first one was Cook. Eat. Drink. Live. 24.7.365. and the second one was Spit & Twit. They were both located in amazing places.
The Cook. Eat. Drink. Live. venue was down in the Chelsea area in an amazing post and beam warehouse located on The Tunnel & La Venue at 608 West 28th Street @ 11th Avenue in New York City. They had a lot to offer at this amazing site. For the "Cook." Section of the event they had over 35 restaurants sampling their products…my favorite was this great homemade macaroni and cheese, with the creamiest cheese sauce I have ever tasted. It just melted in your mouth! Down in the tunnel area was the "Eat. & Live." section with almost 30 different gourmet food brands, including cheese samples, lots of amazing sauces and some fabulous brownies from "Hot Blondies Bakery". I even traded some wine in return for a couple brownies that I was able to actually save to take home for a gourmet chocolate treat in upstate! I was located in the "Drink." area that included a sophisticated collection of fine wine from all over New York State with wine for both the novice collector and expert oenophile. Thank you to The Grape Exchange for sponsoring this section. They did a great job of getting about 40 wineries together to pour wine for a great crowd. I spent two days educating the public about the Finger Lakes wines and in general where the Finger Lakes region is located. Heron Hill's Semi-Dry Riesling and the Ingle Vineyard Pinot Noir were the hit of the show. Most people seemed to really be into finding wines to pair with the Thanksgiving meal that is happening next week. The Pinot Noir is very smoky and earthy which pairs well with the roasted veggies as a great side dish. The crispness of the Riesling is amazing with the sweet potatoes and the softness of the turkey. Overall I think the show was a great success, I was able to get the word out about Finger Lakes wine with many retailers seemingly interested in pricing up at least a few of our wines. Hopefully our outside sales manager, Christina Bowe's phone is ringing off the hook. Look for her in the NYC area in the near future.
On Sunday I headed down to City Winery located on Varick Street in the Soho district of NYC. City Winery hosted a really cool consumer tasting event called Spit & Twit. This was the first of its kind event, incorporating the Twitter platform throughout the tasting. As the consumers came through and tasted all the wines there were then encouraged to spit them out in the provided dump buckets and then Twitter about each of the particular wines. It was a fascinating idea that I believe just need a little bit of "tweeking". I found that there wasn't a lot of spitting actually happening, but that's to be expected…it was a fun afternoon to have a few glasses of wines and try new wines that many people had never tried before. I found that people really needed to have a few snacks and after a few winery tastings and actually twitter about the wines they were trying. I think they forgot to keep twittering as the event wore on. I did get a lot of really great contacts from the event and would love to keep supporting these types of events, as I think they could be really effective in the social media aspect of marketing. The photo is of Morgen McLaughlin (President of Finger Lakes Wine Country) and I courtesy of Metromix.
Overall, NYC was a blast. I was lucky enough to bring by boyfriend (I even put him to work), we had some great food, did a little bit of Christmas shopping and for the first time ever went to a dueling piano bar called Sweet Caroline's (located on 322 W 45th St.). I love to visit the city for a few days, but am glad that I live here in the Finger Lakes region, as it is one of the most beautiful (…and quiet) spots in the world!

By Tambi Schweizer, Tasting Hall Manager
Well, it has been great summer, full of lots of free live music on the Blue Heron Café terrace. This past weekend we had Brett Beardslee, a local musician from Hector, NY (East side of Seneca Lake), he was fantastic, singing some of his own tunes while also playing a few of the standard classics! Brett was the talk of the day on Saturday with his amazing 1958 Volkswagen van with the most astonishing paint job!
While Brett was here he had a glass of our newly released Pinot Noir Reserve. (Can you see wine in the photo?) The 2007 Pinot Noir Reserve is a medium to fuller bodied cold weather Pinot Noir. Our Reserve Pinot Noir is gracefully silky with a bright raspberry with a touch of tobacco mid-palette earthiness, finishing with rich raspberry fullness. The crimson color emphasizes aromas of cherry and raspberry, which combines well with the soft touches of oak. This Pinot Noir Reserve tends to be fuller in alcohol, fairly soft in feel and has a light smoke from the barrel. The soft tannins of this Pinot Noir Reserve make this wine a very sleek smooth easy drinking wine that goes well with meats with some degree of fattiness, especially with a twist of pepper accompanied by slightly bitter vegetables on the side. Smoke wood roasted braised beef, lamb and pork are excellent main courses. Another main dish that works excellent is a roasted turkey topped with a cherry salsa.
Another new release that is coming out soon is the much anticipated Pinot Blanc Reserve. This Unoaked Pinot Blanc is energetic and lively with an intense pear aroma, finishing with slight green apple fruitiness. This 2008 vintage release has a great mouthwatering lemongrass and grapefruit tartness that gives it a long refreshing finish. The Pinot Blanc is excellent as an aperitif served with something small to eat, such as creamy dips, crackers & vintage cheeses served with various kinds of finger foods. The vibrant mineral flavors of the Pinot Blanc are enhanced when paired with turkey and chicken dinners.
With these Reserve wines, we only release a very limited amount of cases, anywhere from 100 to 450 cases per release. The Reserve wines are wines that have come from a specific lot of grapes that are of a higher quality than usual, usually only made in a year that had an incredible growing season. Traditionally winemakers would "reserve" some of their best wine rather than sell it immediately, coining the term. Reserve is meant to indicate that the wine is special and has a different unique flavor and a longer aging potential.
We are finally relaxing after the Keuka Lake Wine Trail event that happened this past weekend (Sept 19th & 20th). The Harvest Tour of Food and Wine was an experience of incomparable beauty of the fall season with locally grown foods bursting with the flavors of harvest time in the heart of the Finger Lakes. Almost a 1000 people tasted the exquisite wines of Keuka Lake and sampled dishes prepared from the finest locally produced foods. It was a great celebration of New York's agricultural heartland, an experience that certainly delighted the tastes, pleased the eyes and warmed the soul. Here at Heron Hill, we featured our Classic Heron Hill Pinot Noir with a Garden Harvest Frittata with an Apple and Pear Chutney. The Classic Pinot Noir is lively and exciting, with rich ripe red cherry and raspberries on the nose. This crisp, textured Pinot is accented by an earthy flavor that runs through the pallet. Soft and supple tannins finish this bright, fruit-driven wine. If you missed the Keuka Lake Harvest Tour of Food & Wine, please check out the Keuka Wine Trail website for our last event of the season, the Keuka Holidays Wine Tour. You can ring in the holiday season in vintage form at one of our Keuka Holidays weekends...every year a sell-out! Each winery offers delicious hardy winter foods along with their finest wines. Ticket holders receive a handmade grapevine wreath at their starting winery and collect a Christmas ornament at every winery. The wineries will have holiday decorations and the gift shops will be stocked with unique and local items perfect for almost anyone on your shopping list. Join the fun! Tickets are $35 per person or $55 per couple and they are available as Advance sale only!


By Tambi Schweizer, Tasting Hall Manager
WOW…we have been very... busy... busy... busy... here at the winery. We have had a record number of guests here at the facility, I'm so glad that I am finally able to stay at the tasting bar. I love meeting and talking to all the unique people that I get to meet. Just this past week I met a great couple from Pennsylvania; we ended up having so much in common, while talking wine we had a great conversation about all the similar concerts that we had been to in the past few months! (The Grateful Dead Reunion tour, Jimmy Buffet etc…!) It blew my mind how many similar places we had been to. I guess you ever know….!!!
At the winery we have three large pieces of artwork on display that I have produced over the past few months for local benefits. The first piece that is up for auction on Sunday July 12th is the Yates County ARC "Chair-ish Keuka Lake" Adirondack Chair Gala Auction. I donated my artistic talent and time to create a piece to benefit the Yates county A.R.C. (not-for-profit agency with a commitment to provide services to persons with developmental disabilities.) My inspiration for the chair "Hosta", came from all the plants that grow in abundance in my backyard. They were just coming up in my backyard as I set out all my painting supplies getting ready to paint the chair. So for all you Hosta lovers don't forget the auction event, wine tasting and hors d'oeuvres on July 12th.
The second large piece of artwork that I finished was my palette for the "Palettes of Keuka". Heron Hill has sponsored the creation of my painting on a large "Artist's Palette". These palettes will then be displayed outdoors at the winery throughout the summer months from now until August 29th. A map is available that shows where each palette is displayed. The event will close with an auction in Hammondsport. They will all be auctioned off to the highest bidders and proceeds as well as other funds generated by this event will be used to support the arts in and around the area. My palette is actually a double side painting! The first side has two large sunflowers in close-up detail. The second side has sort of a white/light purple fantasy flower with a dark green and black background, finished with a cool splatter detail…very trendy! The auction will be held on the square in Hammondsport on the 29th of August! Be sure to be there to support the local arts in the community.
The third piece of artwork that I just finished was the "Painted Barrel" for Finger Lakes Wine Country. If you like under water scenes you are going to love my barrel, titled, "Underwater Fantasy". I have incorporated many fantasy fish, with a giant squid which is my favorite animal on the barrel. The barrel would look great in an underwater themed children's room or playroom. The painted barrels are for an online auction that Finger Lakes Wine Country Tourism & Marketing Association is proudly holding from July 3 - October 11, 2009. This regional art exhibit will take place throughout the Finger Lakes and feature painted barrels on display at over 30 wineries and area attractions. All of the barrels will be painted by Finger Lakes artists and showcasing the beauty of the Finger Lakes. Visitors to the Finger Lakes during the exhibit will be able tour the region and stop at the wineries and attractions featuring the painted barrels. There is no cost to view the barrels on display at each venue during regular operating hours. Each painted barrel is available for purchase through a silent auction on their website. Minimum bids start at $100 per barrel; the auction has begun now and will continue until October 11, 2009 at 5:00 PM EST. The proceeds of each barrel are equally divided between the local artists and Finger Lakes Wine Country Tourism Marketing Association.
Finally for all the "Techie" gadget folks out there… I have tried a great new product that we carry in the gift shop, the "Vinoglobe"! The best thing about the "Vinoglobe" is the ability to prevent drips from happening when you are pouring wine. I tried the Vinoglobe with our newest release of the 2005 Eclipse Red wine since it is a wine that when first poured is very closed up and has an immense oak aroma. The new 2005 release is very full-bodied and needs some aeration to really be able to taste the great fullness of the wine. The "Vinoglobe" really helped with the aeration of the wine, they are available at our gift shop for $14.99. It is a cool self attached decanter that seems to work very well with full-bodied dry reds that seem to be a little closed up upon opening. It even pours quickly so that is a great bonus for when you are very thirsty, as I occasionally am after a long day at the winery; I need that glass of wine at 5:00!
Stop by the tasting bar, visit, chat and support all my local artwork that is going to be auctioned off to help benefit the Finger Lakes. Be sure to pass this blog onto all your art and wine friends!

By Tambi Schweizer, Tasting Hall Manager
Upon your visit to Heron Hill Winery in the Finger Lakes, you will find me inside our barrel-vaulted tasting hall. Starting now and continuing into the end of November, this is where I spend most of my time. I am the Tasting Hall Manager for Heron Hill Winery. I thrive on tasting, comparing and educating myself on Heron Hill's award-winning wines. We have so much to offer in the way of different wines!
I prefer the fuller bodied dry reds and love to drink a crisp dry white in the summer time. Some of my personal favorites are our Eclipse Red and White. They are blends that suit almost everyone. Blends are wines that are made up of a variety of two or more different grapes. I feel that they are often greater than the sum of their parts. They can be smoother and better tasting with more balance than their varietal counterparts.
I think that the best bonus for the Eclipse bottles, besides tasting great, is that they are such beautiful bottles. Being an artist myself, I am intrigued by the way the consumers are so attracted to the bottles. I love watching the faces at the tasting bar as I present the Eclipse series. I have never seen so many faces light up, especially when I tell them that our retail store has Eclipse bottle oil decanters available to take home!!
I am very excited about the Riesling tasting flight that we are offering here at the winery for May is Riesling Month. You can try 6 Rieslings for only $5 per person. My favorite Riesling is the Old Vines Riesling. It is a must for the hot summer months that are soon to come (…hopefully!). I love to drink it when I am sitting on the dock at my grandparent's cottage here on Keuka Lake. Pairing it with a crisp vinaigrette salad topped with grilled chicken is my absolute favorite. Just a note: We are currently on the last of the 2005 vintage of the Old Vines Riesling Reserve, but I have tasted the 2007 vintage and it is just as good…and maybe better even though it is a little younger.
Don't forget to come and visit me at the winery, we are always here to answer all your questions. The laid back style of wine tasting that we offer here makes your tasting fun and relaxing. Remember my motto, "There are no dumb questions!"
Recent Posts
July 27, 2017

December 27, 2016

December 9, 2016

November 11, 2016

November 7, 2016

October 21, 2016

August 29, 2016

June 17, 2016

May 27, 2016

March 28, 2016
Blog Categories
Blog Archives
Our Writers