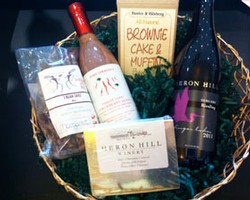 Food Lovers Gift Basket
This gift basket is specially designed to be geared to all the food lovers in your life! The beautifully designed gift basket has everything to treat someone special this holiday season. Enjoy a bottle of the Semi-Dry Riesling, Eclipse wine filled chocolate covered cherriesold fashioned chili mix, NY cheesecake mix and a bottle of Chef Lerman's strawberry dijon dressing.
---
Product Reviews
Tambi

(Dec 7, 2010 at 7:11 AM)
These baskets are selling like hotcakes!!!
---