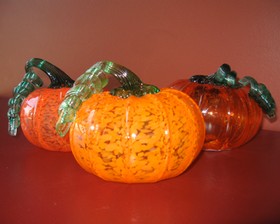 Glass Pumpkin
The beautiful pumpkins are created by local artist, Eli Smith. Eli is a hand-blown glass artist from Kanona, NY. He currently produces all of his products at The Studio in Corning. He works for The Studio as well as the Corning Museum of Glass and plans to open his own studio within the next two years. These pumpkins vary in hue. The size is roughly 4.5" wide by 3.5" tall.
---
Product Reviews
Mary Chelius

(Nov 27, 2012 at 7:42 PM)
I would like to purchase the stained glass fish that I saw in the gift shop at Heron Hill. How do I do that? Thank you.
Mary Chelius
---