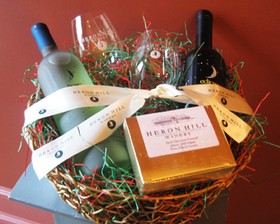 Eclipse Gift Basket
Get an Eclipse Gift Basket and enjoy some of Heron Hill's most popular wines! The beautifully designed gift basket has everything to treat a friend, client or family member. Enjoy a bottle of the Eclipse Red and Eclipse White along with a pair of logo wine glasses and Dark Chocolate covered Eclipse Red wine filled cherries.
Please note gift baskets ship with glassware wrapped separately.
---
Product Reviews
Anita Lindsley

(Jul 4, 2012 at 2:35 PM)
I received this for my birthday and I loved everything about this gift. The white wine was great, the dark chocolate covered cherries were the best I have ever had. I would recommend this as a gift to any wine lover.
---