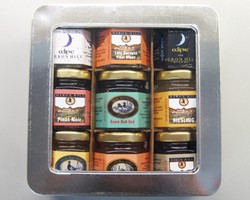 Heron Hill Wine Jelly
This Heron Hill Wine Jelly set comes in it's own tin gift box. Each gift box includes 9 different kinds of jelly made with Heron Hill Wine! Here are some serving suggestions for the different kind of jellies:
Eclipse White: Great with cheese and crackers and white meat glazes.
Eclipse Red: Nice addition in cakes, cup cakes, just heat and pour into holes made in cake and frost.
Riesling: Enjoy with fish or white meat, cream cheese and crackers.
Game Bird White: Perfect with white meats as well as fish dishes.
Game Bird Blush: A pepper wine jelly, nice on white meats like pork, chicken or try it in a stir fry.
Game Bird Red: Enjoy with red meats, use as a glaze or baste.
Pinot Noir: Great with fish or read meats, and with cream cheese and crackers.
Cabernet Franc: A nice addition to cakes, waffles and croissants.
Late Harvest Vidal Blanc: A pepper wine jelly for salmon, it has a nice heat that is enjoyable after a meal.
---
Product Reviews
---