Update Aug. 22 -- The Tower Tasting Experience will now continue on Sundays through September & October!
Reservations should be made in advance by calling the winery 800.441.4241 or in-person at the winery retail shop.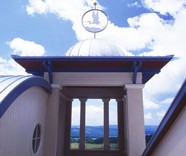 July 18, 2012 (Hammondsport, NY) – Here's the tasting experience for those looking to try something unique to Heron Hill Winery in Hammondsport, NY. Every Sunday this summer through August, beginning July 22, Heron Hill Winery will now offer an option for those looking for an intimate setting in which to sample wine while still enjoying the social elements of winery ambiance. Savor the panoramic view of Keuka Lake from the elevated perspective of the Heron Hill Tower while one of Heron HiIl's seasoned staff members guides you through tasting four premium wines paired with four types of cheese. The tasting will conclude with a specially selected fifth wine – something chosen for that given Sunday.
Heron Hill's current wine tasting options range in price form $3-$5. The cost of the Tower Tasting Experience is $10 per person; participants will taste five wines and receive a Heron Hill stemless wine glass to take home. Tower Tastings will be conducted at 12:30pm, 1:30pm, 2:30pm and 3:30pm every Sunday; ten individual openings are available for each time slot. Reservations should be made in advance by calling the winery 800.441.4241 or in-person at the winery retail shop. If inclement weather occurs, tastings will be moved to the Heron Hill conference room or another reserved section of the winery.
Since it's first vintage in 1977, Heron Hill Winery has grown cold-climate Riesling and Chardonnay grapes and made elegant world-class wines on a slate hill overlooking scenic Keuka Lake in the Finger Lakes region of western New York. Heron Hill Winery was chosen as one of the ten most spectacular tasting rooms in the world by Travel + Leisure! The magnificent vaulted Tasting Hall overlooking vineyards and Keuka Lake provides a beautiful backdrop for tasting a full range of wines including Rieslings, Chardonnays, Vinifera reds and the popular Eclipse Series. The Gift Shop specializes in handcrafted gift items and works by local artisans, as well as locally produced food products and quality wine accessories. Heron Hill Winery on Keuka Lake also hosts weddings and events.