February 2, 2012 | Blue Heron Café, Wholesale | Mike "Ollie" Oliver
Getting through the winter and ready for the spring
After some much needed rest and relaxation over the holidays, and some quality family time, December came to a close. I had rewarded myself with some much needed time off to wrap up the year, but I hit the ground running at the beginning of January.

This time of year sends me back out on the road to work in the Wholesale market. Traditionally, most of my accounts aren't interested in sampling wines or discussing new vintages in January because they tend to be "hunkering down" for a slower winter season. Amazingly enough, I have seen some good interest in our wines given this time of year!

I had the opportunity to work with several of our distributor's sales representatives lately. These trips have taken me from Jamestown to Binghamton. Despite some long hours on the road, they have all paid off; I have had a banner January!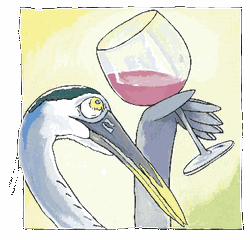 On the Blue Heron Café end of things, this time of year normally gives me a chance to revamp my menu and work on improvements for next year. I have had several meetings with Kara, Tambi, and Paul on a variety of topics. Paul and I have scheduled all of the live music for next year, be sure to look up the schedule (soon to be released)! Tambi and I have discussed Keuka Lake Wine Trail events and I have met with Kara to make sure that we are doing everything that we can to make things go as smoothly as possible.

Looking forward to next season, I'm excited to say that I expect nearly all of my staff from last year to return! With this stumbling block out of the way, I will be able to concentrate on getting the doors open and the food ready to go.

I was able to prepare lunch for a small group that joined us from the New York City area. These buyers came to the winery to try samples from us and three other wineries. I prepared a very nice buffet lunch for the assembled group and the winery representatives that were pouring from them. The group really enjoyed the event!

In the near future, I will have several meetings to look at some possibilities for next season. We have some big plans for the future, but need to get some things moving to be ready for May! For a sneak peek, make sure that you join us for Happy Hour on Wednesdays this summer – some of them will have live music!
Comments