June 29, 2011 | Blue Heron Café | Mike "Ollie" Oliver
Stop by for Music on the Café Terrace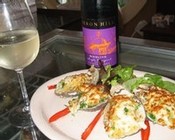 The Blue Heron Café is now open everyday! To celebrate this, we have begun hosting Happy Hour on Wednesday's starting at 5:00 and going until 7:00. We set aside our regular menu and concentrate on several featured appetizers to satisfy the yen for lighter fare. Last week, we showcased the Oysters Rockefeller. For the near future, we are considering a wine paired flight of three or four different appetizers.
I have been booking group lunches and parties left and right. For the first time at Heron Hill, I will be preparing a Wedding Rehearsal Dinner for one of our brides. As we finalize the menu, I am reminded of some of the amazing dishes that I used to prepare and it is inspiring me to find ways to get these flavors on the Café menu.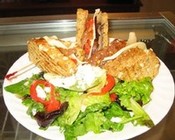 Don't forget, live music starts on the Café Terrace this Sunday! The schedule is available on the website and, of course, in the Tasting Hall. We start off with Bruce Holler featuring Peter Baker on the conga.

Comments
Commenting has been turned off.