May 9, 2019 | Blue Heron Café, Keuka Lake Wine Trail | Chelsea Guererri
Welcome Susan Milovich! Blue Heron Café's new head chef.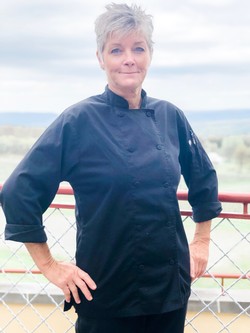 The Blue Heron Café opens for the 2019 season the weekend of May 18th. We are excited to welcome our new chef, Susan Milovich. Originally a New York native, she has held many culinary positions while living in Florida and Virginia. Her and her husband are planting some roots here in the Finger Lakes – a perfect landscape to continue her culinary career.
Over the years, she has developed a keen sense of pairing food and wine via participation in a number of wine clubs particularly in New York, California and Virginia where she and her husband Matt led tastings for award winning wine maker Steve Bottelier at the AmRhein's wine cellars. She now looks forward to bringing this mélange of experience into her own creations at Heron Hill.
Susan can't wait to share her love for food and wine, and is ready to make her mark in the Finger Lakes culinary scene with a new and inspring menu for the Blue Heron Café!
Her first gig was for the Keuka Lake Wine Trail's Wine and Herb weekend. Our herb was thyme - and she utilized it so well! We had 2 different sample dishes, one savory, and one sweet. Susan prepared a Mushroom Bouchée and a Butter and Thyme Tart square.
We were really loving the earthiness of the mushroom and thyme, and the creaminess of the goat cheese from local dairy and cheese producer, Lively Run, so we decided to share the recipe with you!
Mushroom Bouchée makes a wonderful small bite at your next gathering and a delicious compliment to a crisp, white wine or lighter bodied red wine. We were loving it with our Lady of the Lakes Bubbly Riesling. See the recipe below + if you like it - share it!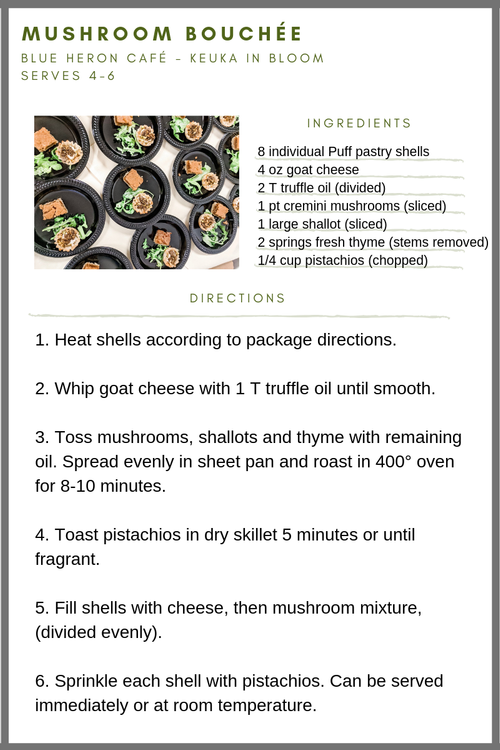 Comments
Commenting has been turned off.