With the Tasting Room at Bristol closed for the season, I'm off and running to seek out new homes for our Heron Hill Wines. It's been a great season for this, since our weather has been unseasonably mild. No worries about traveling in snow and ice.
In the Wholesale Department, January is a relatively slow month, most people are resting from the busy holiday season which begins just before Thanksgiving. The shelves are still loaded with wines, store inventories are being done and staff is regrouping for spring.
I've been visiting prospective clients for over 7 years now, it has been a breath of fresh air to hear more and more customers wanting to support New York's growing wine industry. Their consumers are asking for NY, and the retailers and restaurants are listening.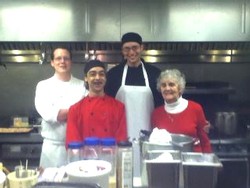 It is a shame that it has taken so long for this to happen, but it's here and wholesale staff is ready to present Heron Hill all over the State. John Coco, Sales Director has led his team (Mike Oliver and I) to all parts of NYS and we have been having great success.
Last month, I travelled to Oneonta and Binghamton to find several restaurants that listened to their customers and want to bring Heron Hill wine to represent their voids in wine lists. We have several features starting next month: The Oneonta Depot and Bella Michaels.
The Oneonta Depot, which is a charming old train station whose food looks fantastic. Too bad we were on such a tight schedule, after looking at the menu, I would have loved to try it. They will be featuring Heron Hill Chardonnay and Riesling, which we are very excited about. Bella Michaels, an Italian restaurant will be featuring our Pinot Noir and Chardonnay this month. This is very exciting for us, since we are not very prevalent in this market.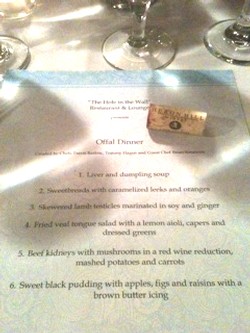 One of the most interesting restaurants that I have gone to is in Perry, New York. The Hole in the Wall, which opened in 2001, brings upscale and innovative cuisine. Anita Billings, her daughter Jacki and son-in-law Travis have wowed their customers with their creative wine dinners. Weeks ago, Jacki and Travis visited Heron Hill on Keuka and tasted several wines. We're excited that they've chosen Heron Hill for their annual dinner in July. This dinner is a real adventure, its beautifully prepared and presented, with distinct taste and is all around delish! We're looking forward to July's dinner to see what the staff at the Hole in the Wall has up their culinary sleeves.
All-in-all life on the road has brought me some pleasant surprises and I am looking forward to educating new customers about Heron Hill wines.


One of Mother Nature's alarm clocks is ringing. Actually it's plinging, like the sound of dripping maple sap from a spigot into a metal bucket. The pace can be slow and steady or it can be surprisingly fast, almost pouring out of the tree. To those tuned into the rhythms of nature, this is a wake up call. Here is a photo essay of an upstate maple syrup session. And that's just the first batch of what could be 4 or 5 passes!

After some much needed rest and relaxation over the holidays, and some quality family time, December came to a close. I had rewarded myself with some much needed time off to wrap up the year, but I hit the ground running at the beginning of January.

This time of year sends me back out on the road to work in the Wholesale market. Traditionally, most of my accounts aren't interested in sampling wines or discussing new vintages in January because they tend to be "hunkering down" for a slower winter season. Amazingly enough, I have seen some good interest in our wines given this time of year!

I had the opportunity to work with several of our distributor's sales representatives lately. These trips have taken me from Jamestown to Binghamton. Despite some long hours on the road, they have all paid off; I have had a banner January!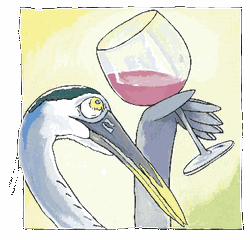 On the Blue Heron Café end of things, this time of year normally gives me a chance to revamp my menu and work on improvements for next year. I have had several meetings with Kara, Tambi, and Paul on a variety of topics. Paul and I have scheduled all of the live music for next year, be sure to look up the schedule (soon to be released)! Tambi and I have discussed Keuka Lake Wine Trail events and I have met with Kara to make sure that we are doing everything that we can to make things go as smoothly as possible.

Looking forward to next season, I'm excited to say that I expect nearly all of my staff from last year to return! With this stumbling block out of the way, I will be able to concentrate on getting the doors open and the food ready to go.

I was able to prepare lunch for a small group that joined us from the New York City area. These buyers came to the winery to try samples from us and three other wineries. I prepared a very nice buffet lunch for the assembled group and the winery representatives that were pouring from them. The group really enjoyed the event!

In the near future, I will have several meetings to look at some possibilities for next season. We have some big plans for the future, but need to get some things moving to be ready for May! For a sneak peek, make sure that you join us for Happy Hour on Wednesdays this summer – some of them will have live music!
Recent Posts
November 13, 2019

October 16, 2019

May 9, 2019

April 22, 2019

January 7, 2019

July 27, 2017

December 27, 2016

December 9, 2016

November 11, 2016

November 7, 2016
Blog Categories
Blog Archives
Our Writers