Barrel samples... tank samples...hanging out with the owner & winemakers…what could be a better way to spend the day than as a wine club member of Heron Hill Winery? As the Wine Club Manager, I enjoyed the time planning, cleaning and getting ready for many of our club members to come to the Spring Barrel Tasting held on Saturday, May 10th.
We started with a "welcome wine" in the Bottling Room where wine club members received nametags and had the opportunity to meet and mingle. The welcome wines were a choice of Classic Muscat--a fun springtime wine, aromatic, floral and slightly spicy off-dry, or our Classic Cabernet Franc--a deep, rich wine with raspberry & cherry, and slight licorice spiciness to offset the deeper fruit. Both wines were a huge hit and got the group off to a lively start.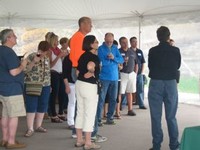 Next, I sent half of the group to the cellar to taste barrel & tank samples with the winemaker Bernard Cannac, and the new addition to our winemaking team Mark Patterson. In the cellar, we were greeted with a gourmet Finger Lakes meat & cheese board to accompany two barrel samples and three tank samples. The two barrel samples were both Cabernet Franc from Jeff Morris of Glenora Farms/Morris Vineyard, but they were in different oak barrels, so it was interesting to compare and contrast. Many of the wine club members were surprised how the flavors were so different just from spending time in two different oak barrels. The first two tank samples were both Rieslings from different lakes, one from Seneca Lake (west side) and one from Cayuga Lake (west side). This was a lesson in terroir, and again the club members were astonished with the differences and still slight similarities of the Riesling (soon to be wine)! The final tank sample was Pinot Blanc from Morris Vineyard, a favorite among the samples!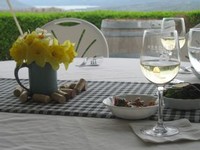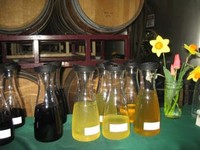 Meanwhile, the other half of the wine club members headed to the Tower where they were treated to a fresh hummus & crudités tray while talking with the owner of Heron Hill Winery, John Ingle. He spoke about the vineyard conditions and how the winter affected the berries for this upcoming harvest.
In the Tower, we were happy to announce that Heron Hill's Classic Dry Riesling 2012 is featured on the front cover of the June issue of Wine & Spirits magazine and named a '100 Top Value of the Year' with 92 points and a feature on pairing the Dry Riesling with Atlantic seafood. We were also excited to share that we received Double Gold for our Reserve Pinot Gris from the Finger Lakes International Wine Competition!
Request information on joining a Heron Hill Wine Club here >> http://www.heronhill.com/Wine-Clubs
Choose between the Platinum Club or Gold Club. Both wine clubs receive 2 bottles shipped every other month along with a newsletter and recipes. Wine Club members enjoy 20% off most wine purchases throughout the year along with many other perks!
Recent Posts
November 13, 2019

October 16, 2019

May 9, 2019

April 22, 2019

January 7, 2019

July 27, 2017

December 27, 2016

December 9, 2016

November 11, 2016

November 7, 2016
Blog Categories
Blog Archives
Our Writers