We survived Columbus weekend. Phew! So many people, so much wine, so much fun.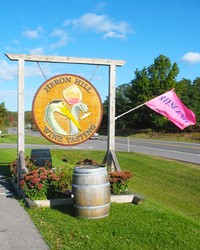 It is hard to believe that more than 7,000 guests have passed through the doors of "Seneca" this season. Reflecting back over the past several months, I think one of the best aspects of working in a tasting room is getting to know our customers, and realizing that no matter where we call home, we are all very much alike. There is a common love of family, food and wine. We enjoy all of our guests, but there are some that strike a cord. One such visitor is the Mom from the Bronx who, four years ago, came in a little teary-eyed after having dropped her daughter at college. I have seen her every semester since as she makes her trek to pick up and drop off. A wine novice initially, she has become a huge Riesling fan and always takes some Classic Semi-dry home with her. This June will probably be our last encounter, but it has been fun watching the progression from freshman to senior Mom.
Another memory involves a young couple married in July 2006, the summer we opened, who were honeymooning in the Finger Lakes. They too have returned every year to enjoy a tasting and celebrate their anniversary. This year they asked for only one glass and he tasted solo as they are now expecting their first child.
And I will be forever grateful for Mrs. C., my high school French teacher who's tenacity helped me retain enough vocab to fumble through a tasting with a group who spoke almost no English. (Bernard, where are you when I need you?) I'm not exactly certain what was said, but a good time was had by all. There are enough stories to fill a book.
Fall is really a beautiful time to visit the wineries. Leaves are turning and the smell of grapes is in the air. As the weather cools our tastes change and we make the transition from light and refreshing to warm and comforting. There will be more Classic Cabernet Franc and Reserve Pinot Noir on our table, more soup and hearty pastas.
Many thanks to our visitors from near and far for what you bring to our "table". We enjoy meeting you and hearing your stories. We appreciate your interest in our wonderful wines that require so much attention and work to get from vineyard to bottle and also your appreciation for the beautiful Finger Lakes area. Many thanks also to our terrific staff who put in some hectic days and do such a good job.
A votre santé!

By Christina Bowe, Wholesale Sales Manager
It was my honor to do two GreenMarkets in the New York City area last weekend. The GreenMarket is a program of GrowNYC and was developed to support local farmers while offering over 600 varieties of delicious farm-grown products to City residents (organic meats, breads, vegetables, soaps, artists and, of course, NY wines.)
This was actually my second visit to the market as a visiting winery. The reception was amazing to NY grown products. These markets are a bit different from any markets I have been to in upstate. These markets require that only locally grown, locally produced items be offered, with the exception of a group of clothing recyclers that had mountains of clothing at the end of the day that they brought to centers to be used by the less fortunate. No crafts, no vegetable wholesalers are allowed to set up. This makes for the most incredible choice of selections.
Brooklyn Market Amazing….Prospect Park, Brooklyn, NY
Both days we were lucky enough to be next to Cayuga Pure Organics. The founders of Cayuga Pure Organics have been involved in the Ithaca, NY farming community since the early 1970's. In 2003 Erick Smith and Dan Lathwell furthered their commitment to the region's citizens and environment by joining together to form Cayuga Pure Organics. They have grains, flour, beans and the most amazing bread I have ever tasted. Unfortunately, they ran out of it on Saturday and then again on Sunday. We didn't have a chance to purchase.
Milk Thistle farm drives from Ghent, NY to service all the Greenmarkets in the City. They are an intimate, organic farm that knows the cow's names and allows them to stay outside during the growing season, only bringing them in for milking. They were on the other side of us. I could not get a picture; there were lines of people and our stand was extremely busy. The locals religiously bring their glass milk bottles back to the stand for a new bottle filled with delicious organic milk and even small pints of chocolate (which, of course, I tried…..like melted chocolate ice cream in a bottle.) It was a sight to see that before the end of the day were completely sold out.
Brooklyn's Prospect Park is known for being a family-friendly park, as well as a dog park. We saw every breed of dog at the Westminster Dog Show with some mixed breeds missed in. Families brought their children with picnics, and musicians playing for family at friends. You truly had to be there, a sight to see.
A personal training group set up hula-hoops, yoga mats and other hand-held equipment and all were having a blast trying out the different exercises. A unique marketing tool, but also added to the festivities of the market. If you ever have a chance to go and visit Brooklyn on a Saturday, it is definitely necessary to see.
Manhattan on Broadway at Columbia University, Sunday Morning
The atmosphere was different with the same vendors attending. Set up along the street but it seemed not to have the dedication as yesterday's market. We were definitely welcome in "The Big Apple" and the exposure of Finger Lakes Wines was amazing. It was amazing to me to hear how many people did not know where the Finger Lakes were located. That just validated the fact that we were educating and exposing consumers to the great wines of the Finger Lakes. The favorites of the consumers were our Ingle Vineyard Series for it's sustainability and the Eclipse series. The Vidal Blanc was a huge hit; unfortunately, I did not bring enough to satisfy the demand.
I am looking forward to next season and the possibility of making it to the markets again.

By Bernard Cannac, Winemaker
Harvest started much earlier than last year. We had more heat and more sun in 2010 than we did in 2009, which explains why the grapes got ripe earlier. We started on September 3rd with some Seyval Blanc for the Game Bird line. It was followed by some Pinot Blanc and Pinot Gris dedicated to the Eclipse White blend. Then Pinot and Chardonnay came in at the same time; these two varietals tend to get ready to pick close to each other, with Pinot Noir being slightly earlier than the Chardonnay, but not this year. The Muscat has been picked at around that time too.
We actually just released the 2009 Heron Hill Muscat this week, and it is selling very quickly, people are enjoying it. We only produced 300 cases and I have the feeling they will go fast.
This week we picked most of the Riesling, trying to dodge the rain as well as we could. The decision to pick a block before another is based on the maturity level of the fruit, the sugar content and the acidity, but also the flavor profile, which we call aromatic maturity, which is for me the most important. Another factor is the weather and the sanitary condition of the block. And then we have to add the logistic factor. All this makes harvest very exciting.
Next, will be the rest of Ingle Vineyard Riesling being picked today. We will also see some Cabernet Franc be harvested next week. The picking frenzy will slow down with some Cabernet Sauvignon the following week and then we will see what the weather does and what we can hope for our dessert wines. It is always nice to have a plan or a schedule, but ultimately the weather will dictate the speed of harvest.
Once all the grapes have been picked, it might look quieter outside, but the party continues in the cellar for the fermentations, which demand constant attention and care. Even if harvest is early this year, don't worry, we still will be busy until the Holidays!

Recent Posts
November 13, 2019

October 16, 2019

May 9, 2019

April 22, 2019

January 7, 2019

July 27, 2017

December 27, 2016

December 9, 2016

November 11, 2016

November 7, 2016
Blog Categories
Blog Archives
Our Writers