This year the Keuka Lake Wine Trail's Keuka Holidays event weekends both sold out by early. We are very thankful that so many people have chosen to celebrate the beginning of their holiday season by visiting our wineries. Once again, the ornament you receive at Heron Hill Winery was made by a local craftsperson. I'm also very excited to share the Mushroom Burgundy Soup recipe below from Blue Heron Cafe because it's so easy and so flavorful!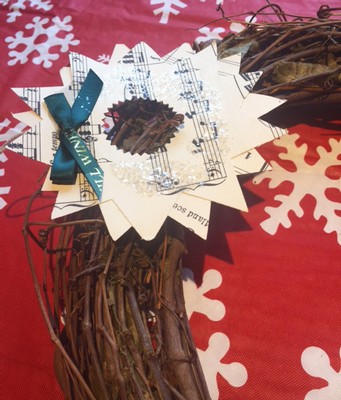 INGREDIENTS:
6 cups of milk
3 cups chopped button mushrooms
1⁄2 diced red onion
1⁄2 bunch of diced green onions
1⁄2 cup chicken stock
1⁄2 cup of Eclipse Red
2 tablespoons of garlic
2 tsp of sage Day-old bread (any type)
1 cup Asiago cheese

TO PREPARE:
In a medium-hot pan with olive oil, sauté the garlic until almost soft then add in the red and green onion. Sweat the onions then add in the mushrooms. Once the mushrooms are tender add in the Eclipse Red wine to deglaze. Once the red wine reduces add in the chicken stock and cook for about 5-6 minutes and add milk, leaving on low simmering for about 20 minutes. Add in the sage, salt and pepper to your liking. Once the soup thickens turn off and wait about 10 minutes before serving to cool down the soup. Once cooled top with home style croutons.
TO MAKE HOMESTYLE CROUTONS:
Cut bread into small cubes and toast. Once toasted, toss in olive oil and toss with salt & pepper and top with shredded Asiago cheese.

Heron Hill's Classic Muscat is made with Valvin Muscat, a cross of Muscat Ottonel and Melon Muscat. It's very aromatic and slightly sweet with tropical fruit flavors. The current sale price on this wine makes it a great value for holiday entertaining. Here are two holiday recipes utilizing this wine.
Easy Wine Brine for Turkey
1 cup kosher salt
1/2 cup light brown sugar
1 quart vegetable stock
1 teaspoon poultry seasoning
1 teaspoon chopped fresh rosemary
1 teaspoon cracked black pepper
1 bottle Heron Hill Muscat
Heat vegetable stock with brown sugar and salt until completely dissolved. Transfer to a shallow pan and chill for 10 minutes.
Mix all remaining ingredients in a very large stock pot or plastic bin (that will fit in your fridge). Place your turkey in the brine and submerge completely. Cover tightly and keep refrigerated for 48 hours, turning once every 12 hours. Remove turkey from brine and roast as you normally would. Discard any leftover brine.
Sweet & Spicy Ham Glaze
2 cups Heron Hill Muscat (this leaves enough for the cook to enjoy while making dinner)
1 pound of dark brown sugar
1 teaspoon of creole spice mix (such as Tony Chachere's)
½ cup spicy brown mustard
Juice from one can of pineapple rings
Mix in a saucepan and heat on low stirring it every few minutes.
I use a spiral sliced ham to make carving easier but if you like big, rustic slices buy a ham that has not been pre-sliced.
Place pineapple rings on surface of your fully cooked ham and put a maraschino cherry in the center of each securing with a toothpick.
Pour glaze over entire ham and bake (covered) for 3 hours at 300 degrees.
Remove cover (foil or pan lid) and baste with glaze in the pan. Bake uncovered at 350 degrees for an additional 25-30 minutes to brown nicely.
Recent Posts
November 13, 2019

October 16, 2019

May 9, 2019

April 22, 2019

January 7, 2019

July 27, 2017

December 27, 2016

December 9, 2016

November 11, 2016

November 7, 2016
Blog Categories
Blog Archives
Our Writers