Eclipse Trio Pack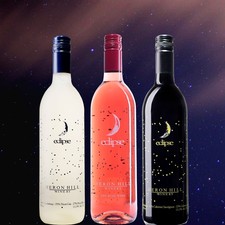 Our Eclipse Trio Pack is our long term best seller that is a proprietary blend of top vinifera grapes resulting in red, white and rosé wines. Perfect for any occasion!
Trio Pack includes one 750mL bottle each of:
Eclipse Red: Our signature Bourdeaux-style blend of Cabernet Sauvignon, Merlot and Cabernet Franc
Eclipse White: This aromatic, fruit-driven, light & balanced wine is a blend of Pinot Blanc, Pinot Gris and Chardonnay.
Eclipse Rosé: rosé is a refreshing blend of Cabernet Sauvignon and Merlot
$10 flat rate shipping on this 3 bottle purchase!
Product Reviews