Midwinter Warmer Red Wine Trio Virtual Pack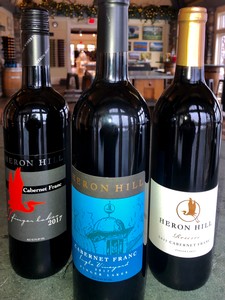 This at home Midwinter tasting flight kit includes 1 bottle each of our 2017 Classic Cabernet Franc, 2017 Ingle Vineyard Cabernet Franc, 2017 Reserve Cabernet Franc, two tasting glasses, a fact sheet about each wine with food pairing suggestions, a wine aroma wheel with wine flavor chart, wine tasting placemat and a wine evaluation chart.
Virtual Tasting will be taking place on February 18th on our Heron Hill Winery Facebook Page at 6:30pm. Featuring special guest, Heron Hill Vineyard manager Don Riesenberger.