A very fine place...to pick some, fine estate-grown Riesling from the vineyards overlooking beautiful Keuka Lake.
This past week saw everything shift into Hi gear, with the Vineyard in front of the winery being picked. First up was a small crop from our oldest Block with some amazing, raw floral and fruit notes, and a little bit of minerality even at this early stage. There was a little bit of 'good' Botrytis cinerea in the mix, which should manifest itself in some apricot notes post-fermentation.
The next day we picked the rest of the Vineyard, which mainly consists of some younger Riesling vines. Crisp acidity. Lovely fruit flavours. And, as an added bonus, yields were higher than we anticipated. Don made the call early in the Winter to leave a few extra buds on the canes prior to pruning to compensate for the Polar Vortex that had already been gripping the Northeast and it paid off with a bit more fruit then expected. Bonus.
Saturday saw the arrival of the first of the Bordeauxs. We accepted delivery of some nice, handpicked Merlot which now rests comfortably in a tank and several bins for fermentation. We looked to be picking our own Cabs form Ingle Vineyard early next week as the jump to Lightspeed continues.

We were honored to host our Harvest Sweepstakes Winners this past week. Chad and Jen from Portland, Maine had the pleasure of helping pick and process the first lot of Ingle Vineyard Riesling this year, as well as enjoying lunch with John and a Library Tasting with Bernard later on. Congratulations, Chad and Jen!
We're well into it now, with Riesling coming in from 3 different lakes in the past few days, and looking very nice. We should be getting more Ingle Vineyard fruit in the coming days, although a glance at this week's weather forecast is not very promising. The vineyard at Heron Hill will likely be on hold until early next week, with the Reds coming in in short order afterward.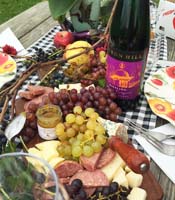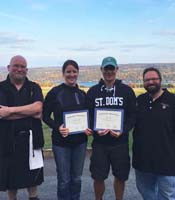 But I'm not sure I love you when you show up 3 hours late with the first load.
Today was already expected to be a pretty busy day, with 3 loads of Chardonnay from the eastside of Seneca Lake expected to arrive starting at 10am. Equipment issues at the Grower's end lead to a delay in arrival, with the 1st truck finally showing up at just after 1pm, so 3 hours later than planned. Oh well, these things happen during Crush, and you just have to roll with it.
We were pleasantly surprised to find out that we were receiving more grapes than we had requested, which will definitely help alleviate some future supply issues down the line. The Chardonnay graped came in at normal Brix levels for Cool Climate Chardonnay, although the berries were a bit smallish. We should see some good results from theses grapes next Summer when we begin to release 2014 white wines.
The delay allowed us time to catch up on a few other things around the Winery and in the vineyards, with some housekeeping, tank cleaning, mowing, paperwork and miscellaneous other duties all being done while we waited the arrival of the grapes, so the time was not wasted. On the slate for tomorrow -- pressing of the Ingle Vineyard Pinot Noir. Time to put that Baby to bed!

Well, it wasn't really mud. And I'm not sure that water is an apt descriptor either, but there was likely SOME water amongst all the other detritus I pulled out of the screens leading to the drains. Ah, the glamour and romance of harvest life!
Anyway, the Chardonnay from Ingle Vineyard started coming in today. A very acceptable 21.5 to 22 degres Brix with pH's in the 3.2-3.3 range, and some fabulous flavours and aromas -- lemon, melon, a bit of green apple and some grass. Should make a couple of excellent single vineyard wines, or possible a Reserve wine, in the coming months and years. Once again, tonnage is an issue. The vines on the west side of Canandaigua Lake didn't necessarily like last winter too much. Last year was also a bumper crop from these vines, and yields tend to be cyclical -- abundant one year, not as much the next. The weather conditions the previous year during the period when these vines were setting buds for this year also plays a part.
The last few days saw us moving a lot of juice off lees in the Cellar to prepare them for fermentation. We also spent quite a bit of time inoculating some juices that were ready to go and managing some fermentations that were already started. The Ingle Vineyard Pinot Noir is pretty much done fermenting and is undergoing a bit of a longer maceration to extract some extra flavour and aromas. Wonderful berry fruit and rose petals or aromas of violets are coming through on the nose. We will likely press it out early next week.

More low-lying clouds this morning, with the heaviest bit seeming to be sitting right at the entrance to the Winery on County Rte 76, making visibility limited. The headlights of an oncoming SUV only appeared through the fog about 20 feet, making the left turn up the drive a bit more exciting than necessary. By the time I reached the lower parking lot, I was above the clouds, and the Winery sat majestically in front of me.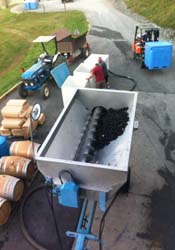 Lots of stuff to do today. It began with the return of some barrels we had stored off-site for awhile in order to complete the Cooling Project in the Cold Room. Most of the barrels were 2012 reds that will come out of barrels shortly, soon to be refilled with some of this year's bounty. A slow moving project what with the press pad being somewhat cluttered with the various pieces of equipment needed to process the grapes coming in.

First load in: 7.3 ton of Pinot Blanc from Jeff Morris over on the west side of Seneca Lake. Nice and clean and 21 degrees Brix. Luvly Jubbly! A bit more than originally estimated earlier in the week, so a nice surprise and may lead to a nicer surprise sometime next Summer. Wink! Wink! Prior to the first press load being finished a nice little light show started, coming from the SSW. Not much rain with it, just enough to be annoying, and a few bolts in the vicinity. The show lasted on and off right through the 2nd press load, with a few lightning strikes a little too close for comfort when you're standing around all that steel.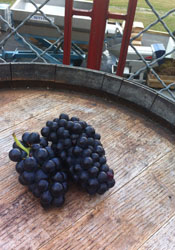 During late afternoon we saw the arrival of the first grapes from John and Jo's Ingle Vineyard on the west side of Canandaigua Lake. Pinot Noir showing very nicely at this stage. Clean fruit. Just wish we had a bit more of it. The brutal Winter we experienced last year had a devastating effect on many varieties throughout the Finger Lakes, with Pinot and Merlot being particularly impacted. The exceptional weather we have experienced the last few weeks has helped out nicely in the development of ripening in all varieties after a late start to the Season. When it was still in the 40s in May the outlook wasn't as cheery.
Well, almost time for a pizza and a beer, then bed!
Mas tarde!

Mark Patterson joined the Heron Hill winemaking team in May 2014. Mark will provide updates throughout Harvest 2014.
Our Harvest 2014 began on Friday, September 26, after the first day was pre-empted due to our Glycol Cooling System not being available. First in: 3.42 ton of Seyval Blanc destined for Game Bird in a few months. A soft start, really, but one that helps get a few "gremlins" out of the way.
A bit of an inauspicious beginning Friday morning, with some fog cover as I drove up the hill from Hammondsport on County Route 76. Starting just before Keuka Lake Vineyards the fog grew heavy. Visibility was limited to only a few feet. A real Pea Souper. Just as I approached the beginning of the estate vineyards at Heron Hill, there was a break in the miasma -- glorious sunshine broke through all around.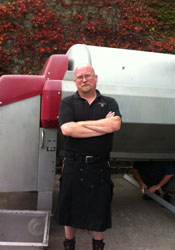 (A first day of Harvest ritual -- here's Mark wearing his utility kilt)
After some last minute set-up, the load arrived from one of our contract growers near Penn Yan and the first grapes of the Season found their way into the hopper for processing, through the crusher-destemmer, and onwards into the Press. The Press was started and the first juices began to drip into the Press pan at 21 degrees Brix! The juice was pumped into a jacketed tank for cold-settling of the bits of skin, pulp, and other detritus that we don't want in our clarified juice during fermentation and the first day of Crush was coming to a close.
As the other lads began breaking down the crusher-destemmer, hopper and lines for clean-up, it was time to tackle some Marechal Foch that had been 'hot-pressed' for us at another facility. Hot-pressing is widely used to process French-American Hybrids like Foch, DeChaunac and Baco Noir in order to tone down some of the more, let's call them, 'interesting' flavours and aromas found pre- and post-fermentation in these cultivars. About 1500 gL put to bed to settle for a few days under cooling, and it was time for this lad to toast the arrival of a new Crush with several pints of IPA and a Fish Fry!

So can someone tell me what happened to summer? It seems like we waited and waited and now it's almost gone.
Steve & Pam h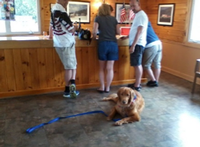 ad a fantastic summer visit with kids and grandkids, enjoying Seneca Lake in all its splendor.
I took a couple of trips back to Connecticut to visit my "kin" -- we shared a few bottles of delicious Heron Hill wine, along with some amazing food and lots of great laughs. At the Tasting Room on Seneca Lake, we enjoyed seeing many familiar faces and making many new friends. Since our tasting room is "Dog Friendly" we have lots of great friends that happen to have 4 feet. Here is Ryder lounging in the tasting room while "mom & dad" sample the new wine vintages and talk with Nancy.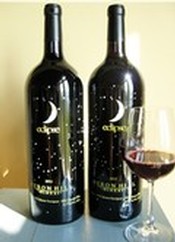 The 2011 vintage of Eclipse Red is quickly becoming a favorite. Heron Hill's signature Bordeaux-style blend of Cabernet Franc, Merlot and Cabernet Sauvignon was first bottled in 1991. The 2011 Eclipse Red was aged 24 months in French, Eastern European, and American oak barrels. For the first time in over ten years, this vintage of Eclipse Red was also bottled in 1.5L magnums. Magnums are only available to purchase in our tasting rooms at this time and are a perfect size for a dinner party! This wine pairs so well with red meat and hearty lasagna for dinner but what about Chicken with a Red Wine Cream Sauce?
Chicken with a Red Wine Cream Sauce
Heat 2 tablespoons of olive oil in a large skillet over medium high heat, add 1 tablespoon of minced garlic and 2 lbs. of chicken breasts.
Cook about 10-12 minutes on each side, until juices run clear.
Remove chicken to platter and add to skillet:
2 teaspoons smoked Paprika
2 tablespoons dark brown sugar
1 teaspoon salt and ½ teaspoon black pepper
1 teaspoon dried Thyme
¾ cup of Eclipse Red Wine
Heat and stir until all ingredients are well blended. Put chicken back into heat through 8 to 10 minutes, spooning sauce over the chicken breasts from time to time.
Remove chicken to clean serving platter and add to skillet:
2 tablespoons of butter
2 tablespoons of heavy cream
Wisk until smooth and thick. Pour sauce over chicken breasts and serve with fluffy rice and roasted seasonal vegetables.

Barrel samples... tank samples...hanging out with the owner & winemakers…what could be a better way to spend the day than as a wine club member of Heron Hill Winery? As the Wine Club Manager, I enjoyed the time planning, cleaning and getting ready for many of our club members to come to the Spring Barrel Tasting held on Saturday, May 10th.
We started with a "welcome wine" in the Bottling Room where wine club members received nametags and had the opportunity to meet and mingle. The welcome wines were a choice of Classic Muscat--a fun springtime wine, aromatic, floral and slightly spicy off-dry, or our Classic Cabernet Franc--a deep, rich wine with raspberry & cherry, and slight licorice spiciness to offset the deeper fruit. Both wines were a huge hit and got the group off to a lively start.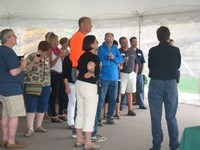 Next, I sent half of the group to the cellar to taste barrel & tank samples with the winemaker Bernard Cannac, and the new addition to our winemaking team Mark Patterson. In the cellar, we were greeted with a gourmet Finger Lakes meat & cheese board to accompany two barrel samples and three tank samples. The two barrel samples were both Cabernet Franc from Jeff Morris of Glenora Farms/Morris Vineyard, but they were in different oak barrels, so it was interesting to compare and contrast. Many of the wine club members were surprised how the flavors were so different just from spending time in two different oak barrels. The first two tank samples were both Rieslings from different lakes, one from Seneca Lake (west side) and one from Cayuga Lake (west side). This was a lesson in terroir, and again the club members were astonished with the differences and still slight similarities of the Riesling (soon to be wine)! The final tank sample was Pinot Blanc from Morris Vineyard, a favorite among the samples!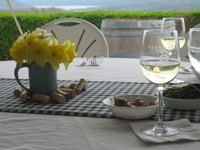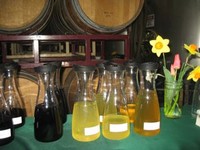 Meanwhile, the other half of the wine club members headed to the Tower where they were treated to a fresh hummus & crudités tray while talking with the owner of Heron Hill Winery, John Ingle. He spoke about the vineyard conditions and how the winter affected the berries for this upcoming harvest.
In the Tower, we were happy to announce that Heron Hill's Classic Dry Riesling 2012 is featured on the front cover of the June issue of Wine & Spirits magazine and named a '100 Top Value of the Year' with 92 points and a feature on pairing the Dry Riesling with Atlantic seafood. We were also excited to share that we received Double Gold for our Reserve Pinot Gris from the Finger Lakes International Wine Competition!
Request information on joining a Heron Hill Wine Club here >> http://www.heronhill.com/Wine-Clubs
Choose between the Platinum Club or Gold Club. Both wine clubs receive 2 bottles shipped every other month along with a newsletter and recipes. Wine Club members enjoy 20% off most wine purchases throughout the year along with many other perks!

As the days grow warmer, we've welcomed a couple new members to our great team...Rachel joins us with extensive wine knowledge and a fun, easy going personality. She is our local children's librarian and always enjoys a literary discussion. You can find her at the wine bar as well as conducting Black Button spirits tastings on Sundays. Look for a Heron Hill Book Club coming soon!
Chanel proves that great things really do come in small packages. She is a local college student with lots of energy, enthusiasm and a beautiful smile!
We are happy to welcome these two new members to our team, and look forward to continuing to provide our visitors with an engaging tasting experience season after season.
In early April, the Tasting Room on Seneca Lake started pouring samples and selling a selection of small batch crafted spirits from Black Button Distilling. Made right in Rochester, NY this is another fine example of the excellent quality products being made right here in our own backyard. Stop by our tasting room to try the Wheat Vodka, Citrus Gin and Moonshine Whiskey!


Saturday, May 10th – Local Cheese & Heron Hill Wine
Bring your mom to the Heron Hill Tasting Room on Seneca Lake for samples of delicious locally made cheeses from Sunset View Creamery, paired with a wonderful selection of Heron Hill wines. Enjoy complimentary cheese with your wine tasting!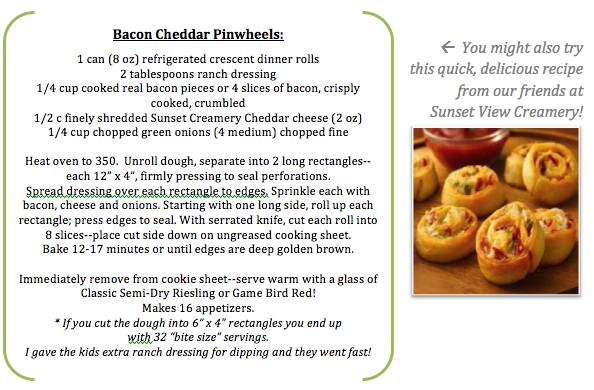 Even as the pulse of the spring chores accelarates in our vineyards along Canandaigua Lake, I pause to reflect on the maple syrup harvest that already seems some time ago. We tapped the trees in mid-February as we usually do. There was a brief warm spell that yielded five gallons of sweet, light amber syrup. After that is was cold, cold, cold, well into mid March. We harvested another 15 gallons from our seventy taps but being as late as it was, the syrup was noticeable darker. Toward the end of the season the maple trees bring more solids up from the roots causing the darker color. Old time Vermonters know that this darker syrup isn't the favorite choice of syrup connoisseurs but that it does have more flavor and viscosity, so they gladly charge tourists top price for light amber syrup while they smile and enjoy the darker stuff. We ended up with a large yield after all – about 20 gallons – and the cupboards are full awaiting visiting grandchildren. So begins the growing season of 2014 – promising challenges and opportunities as we await bud break at Ingle Vneyard with possibilities of extensive bud kill. Time will tell how severe the damage is—probably by mid-May we'll have a better sense.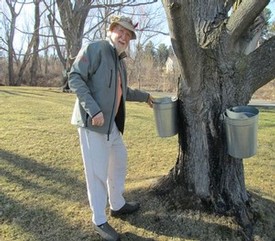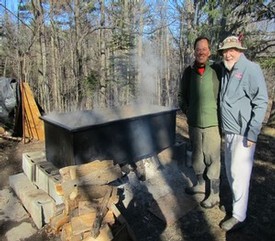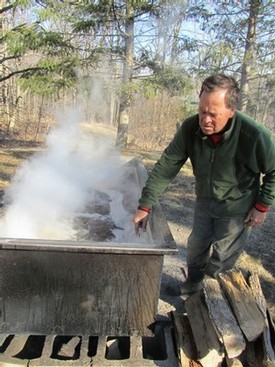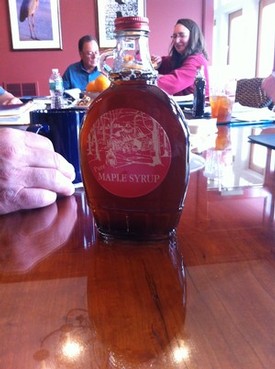 The master about to give his product his critical taste test. Fresh maple syrup for a morning staff meeting at the Winery.
Here's a more detailed re-cap of our family's process (originally posted in Feb. 2012): Maple Sugaring at Ingle Vineyard >>
Recent Posts
January 7, 2019

July 27, 2017

December 27, 2016

December 9, 2016

November 11, 2016

November 7, 2016

October 21, 2016

August 29, 2016

June 17, 2016

May 27, 2016
Blog Categories
Blog Archives
Our Writers