Employment
In addition to the magnificent vaulted tasting hall and winery overlooking vineyards on Keuka Lake, Heron Hill also has a tasting room on the west side of Canandaigua Lake.
---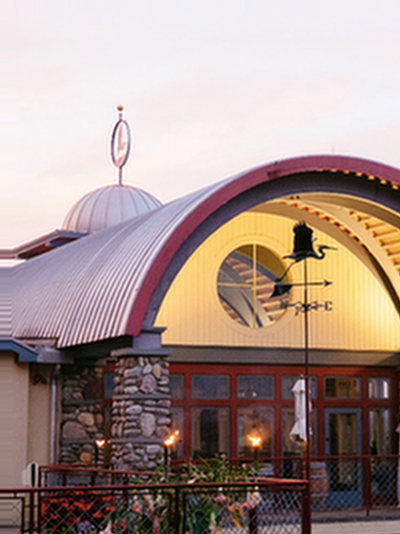 Qualifications and Education Requirements:
• Demonstrate outstanding customer service skills
• Effectively communicate with diverse clientele
• Accurately handle purchasing transactions, including cash register and daily accounting
• Able to manage the serving of multiple guests or groups at once
• Must be minimum 21 years of age and have a valid driver's license
• MUST BE ABLE TO WORK ON WEEKENDS AND HOLIDAYS, AS REQUIRED.
• Basic wine knowledge and familiarity with the New York State wine industry a plus
• Passion for wine and hospitality
• Professional appearance and demeanor
• Ability to stand and walk for long periods of time
• Able to lift cases of wine (40+ pounds)
Tasting Room Server & Consumer Educator - Keuka Lake, 9301 County Route 76, Hammondsport, NY
Heron Hill Winery has been dedicated to excellence in winemaking in the Finger Lakes since 1977. The iconic tasting room, voted as one of the most spectacular tasting rooms in the world by Travel + Leisure, is situated on the rolling hills of beautiful Keuka Lake. We are known for our Riesling, aromatic whites and a wide variety of wines ranging from dry to sweet.

This is a hospitality position and applicants must be energetic, articulate, hard-working, self-motivated, and above all, must enjoy working with the public.

Job Responsibilities & Duties:
• Greet and provide tastings and high customer service for guests
• Describe wines, winemaking techniques, and winery history
• Sell wines by educating and assisting the customer in making purchasing decisions
• Promote and sell Wine Club memberships and special events at the winery
• Accurately process transactions using a POS computer system
• Perform daily cleaning and facility maintenance duties
• Wash and polish glassware
• Assist with special events in the Tasting Room
• Other duties as assigned by Tasting Hall Manager
Pay based on experience.
***Please apply at our Keuka Lake Winery location or e-mail at marketing@heronhill.com