Our Story
1969 John and Jo meet ...
It seems like just yesterday, late August of 1969, Denver, Colorado. I had just restarted my college career as a transfer student at the University of Denver.
I had chosen this location for it's obvious recreational opportunities as well as because several of my friends were in attendance there.One of my friends was having a back to school party in his yard. There were young, happy faces all around, the brilliant Colorado sun was shining down upon us, energy laced music of that period pulsed in the backyard. The stage was set for great things. Across the room I saw a lovely diminutive honey-blonde and had a surging sensation of place. This was a person who would be a player in my life. As the pace quickened with the pulse of the music, the Ripple wine entered the picture - a case of white and a case of red, both nicely chilled. Being a beer drinker, this was new to me, but so was a lot there. I ventured a taste, I think it was the white, not bad! I didn't know enough to analyze the product as I so often do now in my daily wine consuming adventures. It was good, the sun was good, the music was good, it was all good, and still it was only the first day of school.
That lovely young lady has been my loving wife for over 49 years and we both look back at our days at DU as some of the best in our lives, don't drink Ripple anymore though...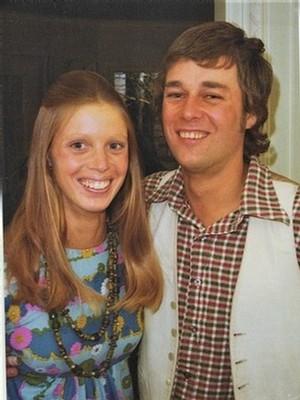 ---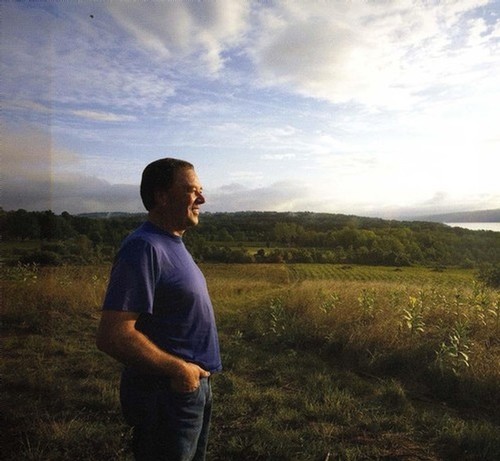 1971 Inspired
I often get asked " What made me go into the wine business?" Well, nothing made me, I chose to, willingly and enthusiastically, and it's funny because I can almost remember making the decision to do so. I was an English teacher in Colorado and felt there must be more for me. I had been curious about organic gardening and read books about the "farm life."
In 1971, my wife Jo and I worked in a neighbor's vineyard picking Concord grapes. As I stood on that sun drenched hillside breathing in the smells of fresh air and ripe grapes, I realized this was satisfying to me. The rhythm of the work, steady and focused, the rhyme of the workers, chatting and laughing as they worked their way up and down the rows and I thought It's vintage time! People all over the world, Europe, Australia, and America, literally everywhere, were doing the same thing, harvesting grapes to make wine. A sacramental beverage, as old as history, alive and dynamic in so many cultures and lands, It was inspirational to me. I would be working outdoors, cultivating the land, being my own boss, producing crops that I could be proud of, this would be my life's work. I knew that I had found my path and my loving wife has walked by my side for almost fifty years, pursuing a career but more so, a life and lifestyle of living the "farm life"
---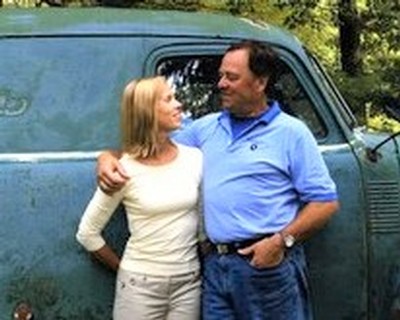 1972 Start of Heron Hill
Spring of 1972, the Ingles planted 20 acres of grapes, including Chardonnay, Riesling, and Seyval Blanc. They cleared the land - a tangle of poison ivy - and planted 12,000 vines. They pounded posts, strung wire and battled weeds and pests. After some four years of nurturing their vineyards, they were ready for harvest. Unfortunately at that time , New York state was experiencing an excess of grapes and as a result, the Ingles could find little to no market for their crop.
---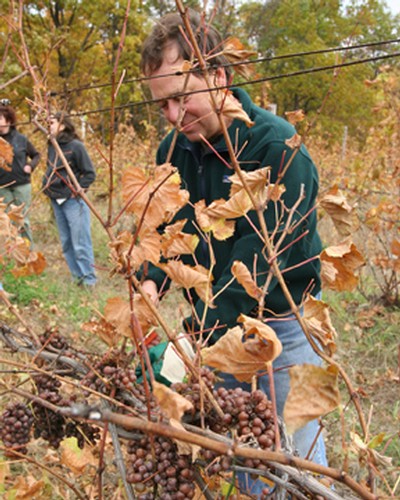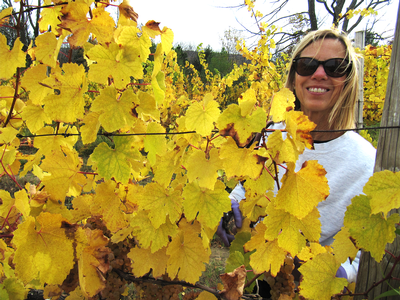 ---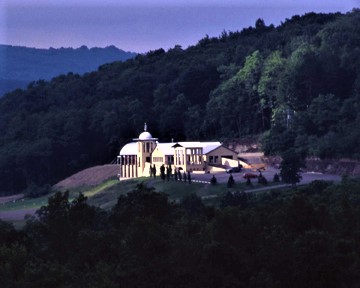 To solve the problem, the Ingles built Heron Hill Winery on Keuka Lake. Being next door to Walter Taylor's Bully Hill Winery and Dr. Frank's Vinifera wine cellars ( two prominent fingures in the Finger Lakes) seemed like a good location.
And It has been. 2020 marked the 43rd anniversary of Heron Hill. There has been much learning, much fun and many people met on their odyssey through the winery owner experience. Heron Hill has a superb winemaker, a dedicated team of helpers and a strong reputation for quality products. Heron Hill is comitted to producing wines of the highest quality, John and Josephine follow the ebb and flow of the seasons through the vineyard, and continue to build the reputation of the Finger Lakes Region and its critically acclaimed wines.
---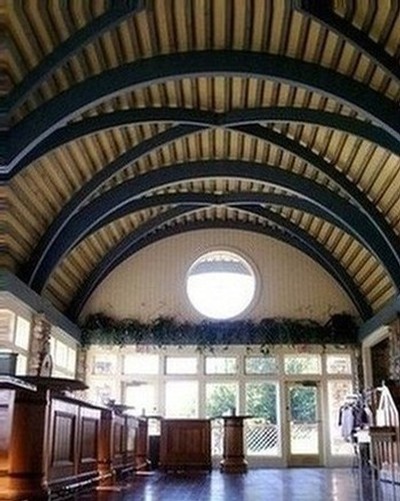 2000
In 2000, a new retail facility was built by New York City architect Charles Warren, an associate of the renowned architect, Robert Stern. Warren's design turned Heron Hill into one of the most innovative and attractive wineries on the East Coast. The architecture reflects the history of the area and is really a style of its own - a Finger Lakes style that combines many elements that make the area unique.
The tower in the center of the building is reminiscent of the farm silos that proliferate the area's country hills. The winery also has a Greek Revival quality to it - a common style to homes and farms in this historic community. Finally, the stone cobbles that adorn boththe inside and outside of the building were found from the local Hammondsport Quarry and enhance the light and natural feeling of the winery.
---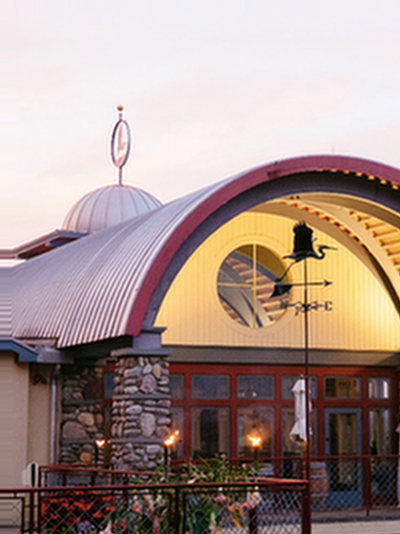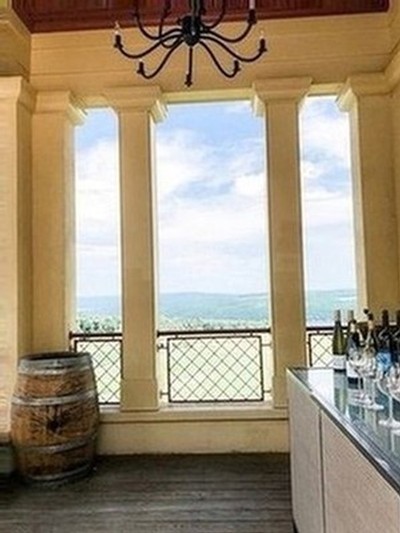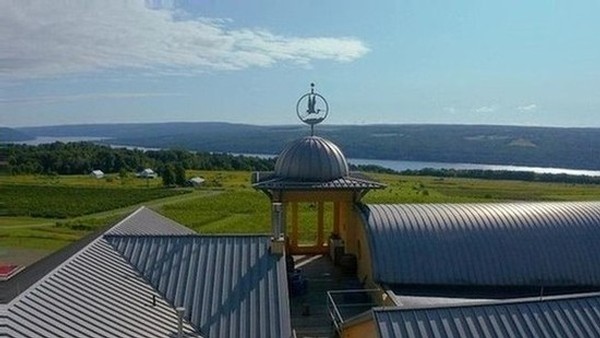 Travel & Leisure magazine selects Heron Hill Winery as one of the
"Top 10 Most Spectacular Tasting Rooms in the World"
One of only two in the United States, the other being Opus in Napa.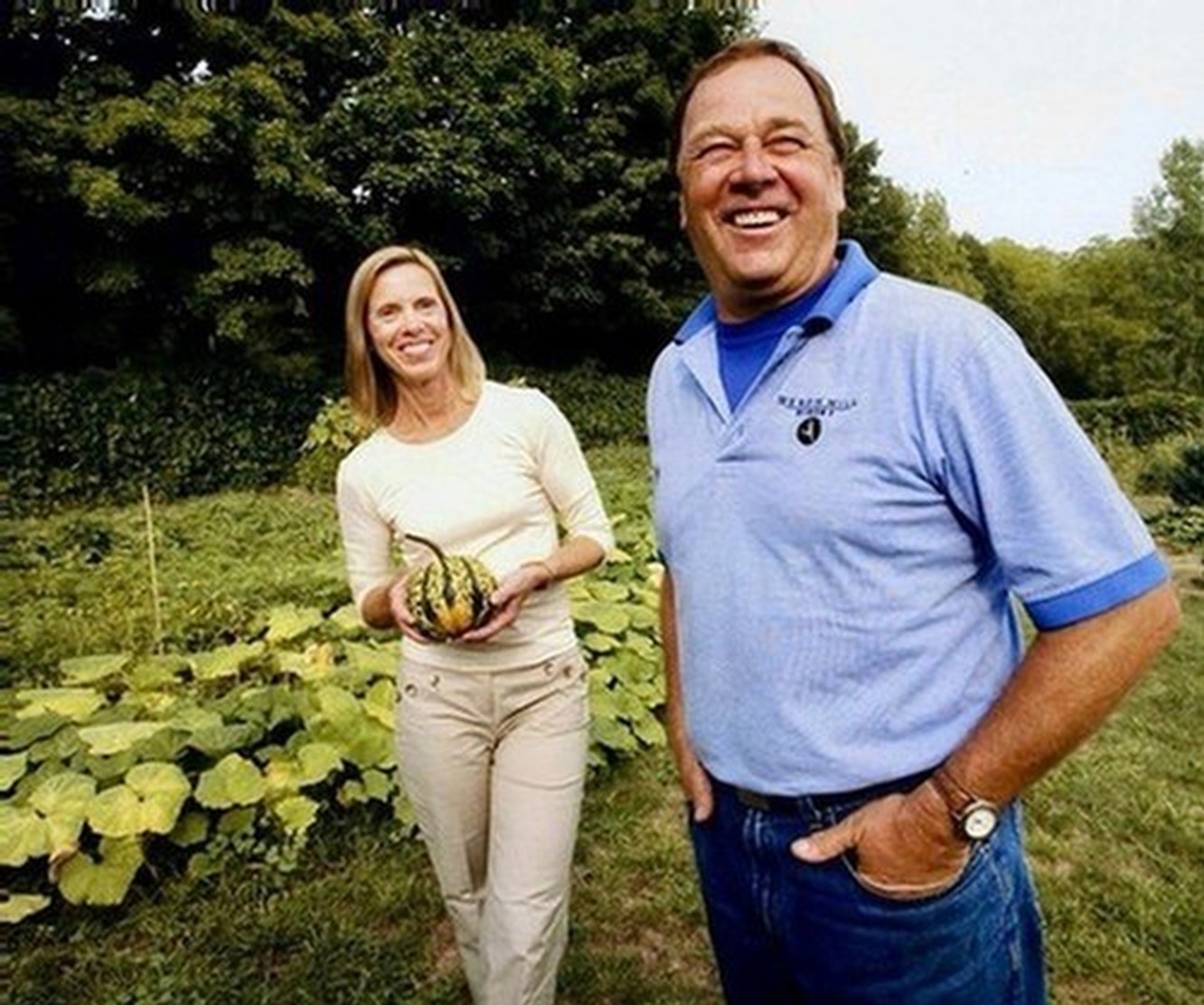 John and Josephine Ingle
Heron Hill Winery Owners
Today Heron Hill makes seven different cool climate Rieslings -- from dry, terroir-driven reserves to our ethereal icewines. Heron Hill Winery has become a coveted destination within New York for tourism, as well as casual food choices. Heron Hill Winery was chosen as one of the ten most spectacular tasting rooms in the world by Travel + Leisure magazine! In addition to the magnificent vaulted tasting hall and winery overlooking vineyards on Keuka Lake, Heron Hill also has a tasting room on the west side Canandaigua Lake.
In 1972 John and Josephine Ingle first planted grapevines overlooking Canandaigua Lake, known today as Ingle Vineyard. Heron Hill's grape grower and owner, John Ingle often says that Heron Hill has "boot prints in its vineyards, not tire tracks." People maintain the vines at Heron Hill, not machines. This personal approach and commitment to quality is evident throughout every aspect of making, serving and selling Heron Hill's wines. These guiding principles have remained constant through the years – from hand-maintaining the vineyards to hand-harvesting grapes to offering educational and enjoyable tastings and hosting events that combine food, wine and entertainment.
Heron Hill has won many awards for its distinctive, elegant wines and continues to be at the forefront of Finger Lakes winemaking. Heron Hill's Ingle Vineyard Riesling 2002 won "Best of Show, White Wine" & Double Gold at the San Francisco International Wine Competition.
---