Aromatic Whites, Keuka Lake Wine Trail Variety Pack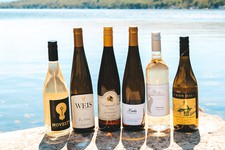 There will be more variety packs available this year, so be sure to check back, subscribe to receive early notifications when a new pack is available, and follow us on Facebook and Instagram.
What's in the pack? 6 different white wines, ranging from dry to sweeter. A true variety!
Featured Wines for the Aromatic White Variety Pack:
2019 Dry Riesling by Weis Vineyards
2017 Traminette by Vineyard View Winery
Diamond by Stever Hill Vineyards
2019 Classic Gewürztraminer by Keuka Spring Vineyards
Novelty (Carbonated Cayuga) by Hunt Country Vineyards
2018 Ingle Vineyard Unoaked Chardonnay
Product Reviews