Chocolate Wine Filled Cherries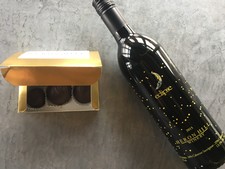 Enjoy these dark chocolate covered Eclipse Red wine filled cherries that were handcrafted by chocolatiers exclusively for Heron Hill Winery. Cherries come in a gold gift box, ready to give as a gift or enjoy yourself.
Product Reviews
Sharon Summers
(Sep 4, 2021 at 4:06 PM)
These Eclipse wine filled chocolates are divine. The thick dark chocolate is like a shell protecting its precious treasure inside. It opens to a creamy wine infused center that surrounds the fruit of a cherry. I can't get enough of it!