Eclipse Series Tasting Flight Kit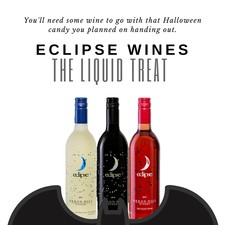 Join our Facebook live event at the link below:
Eclipse Series Virtual Tasting
and enjoy a Halloween special with Bristol Tasting Room Manager Courtney Dolan and our Managing Partner Eric Frarey!
Eclipse Series Tasting Flight Kit is only $59 and includes:
· 2017 Eclipse Red - Our signature Bourdeaux-style blend of Cabernet Sauvignon, Merlot and Cabernet Franc
· 2018 Eclipse White - This aromatic, fruit-driven, light & balanced wine is a blend of Pinot Blanc, Pinot Gris and Chardonnay.
· 2019 Eclipse Rosé- This dry rosé is a refreshing blend of Cabernet Sauvignon and Merlot.
This kit also comes with:
1 special box of our DARK CHOCOLATE ECLIPSE WINE FILLED CHERRIES
2 Heron Hill Stemless tasting glasses
fact sheet about the wines with food pairing suggestions
a wine aroma wheel with wine flavor chart
wine tasting placemat
wine evaluation chart
includes shipping!