Wines We Love, Keuka Lake Wine Trail Variety Pack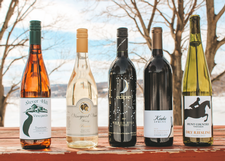 We're kicking off the first variety pack with a selection of wines that each winery selected as one of their favorite wines to enjoy and share. There will be more variety packs available this year, so be sure to check back, subscribe to receive early notifications when a new pack is available, and follow us on Facebook and Instagram.
What's in the pack? 5 different wines, ranging from dry to semi-dry, red and white. A true variety!
Featured Wines for the Wines We Love Variety Pack:
2017 Eclipse Red by Heron Hill- A dry red blend of Cabernet Franc, Merlot and Cabernet Sauvignon, this flagship wine has captivated the attention and interest by many Finger Lakes wine fans for 30 years. A true gem with balanced dark fruit flavors and soft tannins.
2019 Dry Riesling by Hunt Country- This Dry Riesling is a shining example of what a Finger Lakes Riesling can be: lush and succulent, with bright acidity. This wine drinks crisp and fresh, leaving you wanting more after the first taste. Recently awarded 89 Points by Mark Squires of The Wine Advocate.
2019 Blaufränkisch by Keuka Spring- Blaufränkisch, also known as Lemberger, is an Austrian grape grown selectively in the Finger Lakes. This wine has an earthy nose with wonderful smooth black cherry and pomegranate tones. Fuller than a Pinot Noir, sip this wine with pork loin, burger, and steaks.
Semi-Dry Traminette by Stever Hill- This wine is a Gewürztraminer hybrid and has excellent versatility as a year-round drinking wine. The beautiful floral aromatics lead to a touch of sweetness to enhance the unique spicy and floral notes.
Passion Sparkling Riesling by Vineyard View- Off-dry, crisp and a touch of bubbles. The acidity is balanced with ripe fruity flavors of peach and lime. Pour this for a morning mimosa or sip it on its own. This wine is great to serve with appetizers, spicy cuisine or a fresh green salad.
Product Reviews