May 6th Virtual Tasting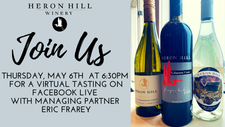 May 6th Virtual Tasting Pack
· 2018 Macri Oaked Chardonnay
· 2018 Classic Cabernet Franc Unreleased
· Lady of the Lakes Bubbly Moscato
This kit also comes with two tasting glasses, a fact sheet about the wines with food pairing suggestions, a wine aroma wheel with wine flavor chart, wine tasting placemat, and a wine evaluation chart!
Join our Easter Wine Trio live tasting event on our
Heron Hill Winery Facebook page May 6th at 6:30pm
$55 plus $10 flat rate shipping
Buy any two packs together and save $20 on shipping!!
Product Reviews