Midsummer Night Virtual Wine Tasting Flight Kit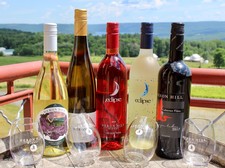 Join us for a Facebook Live Virtual tasting with our new award winning winemaker Jordan Harris. This curated tasting matches perfectly with all summer food pairings.
Our new Midsummer Night wine tasting flight kit includes: Lady of the Lakes Bubbly Riesling, 2017 Reserve Riesling, 2018 Eclipse White, 2019 Eclipse Rose, 2017 Classic Cabernet Franc, four tasting glasses, a fact sheet about the wines with food paring suggestions, a wine aroma wheel with wine flavor chart, wine tasting placemat and a wine evaluation chart. This $99 tasting flight kit has shipping INCLUDED!
Click link below for Midsummer Night Virtual Tasting