#Openlocalwine Trio Pack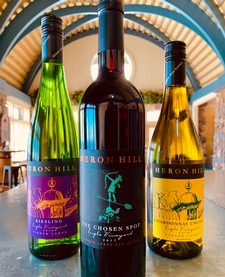 Celebrate #openlocalwine on April 10th with Heron Hill, Ingle Vineyard wines!
Owners John & Josephine Ingle planted Ingle Vineyards in 1972 and Ingle Vineyard wines have been produced as single vineyard wines for decades.
Trio Pack includes one 750 mL bottle each of our 2018 Ingle Vineyard Riesling, 2018 Ingle Vineyard Unoaked Chardonnay, and 2017 Ingle Vineyard The Chosen Spot.
Buy one pack and receive only $10 flat rate shipping. Buy two packs and receive FREE SHIPPING!
Product Reviews