Spring Wine Tasting Kit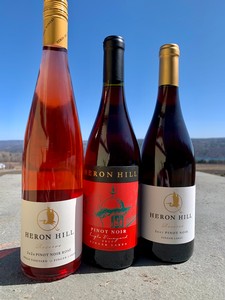 Spring Wine Virtual Tasting Pack
· 2020 Ingle Vineyard Pinot Noir Rose
· 2017 Ingle Vineyard Pinot Noir
· 2017 Reserve Pinot Noir
This kit also comes with two tasting glasses, a fact sheet about the wines with food pairing suggestions, a wine aroma wheel with wine flavor chart, wine tasting placemat, and a wine evaluation chart!
Join our Unreleased Riesling special live tasting event on our
Heron Hill Winery Facebook page April 1st at 6:30pm
$69 plus $10 flat rate shipping
Buy any two packs together and save $20 on shipping!!
Product Reviews