Unreleased Riesling Celebration Trio Pack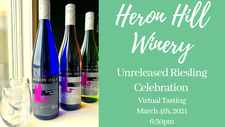 Unreleased Riesling Celebration
Virtual Tasting Pack
· 2019 Classic Semi-Sweet Riesling
· 2019 Classic Semi-Dry Riesling
· 2019 Classic Dry Riesling
This kit also comes with two tasting glasses, a fact sheet about the wines with food pairing suggestions, a wine aroma wheel with wine flavor chart, wine tasting placemat, and a wine evaluation chart!
Join our Unreleased Riesling special live tasting event on our
Heron Hill Winery Facebook page March 4th at 6:30pm
$49 plus $10 flat rate shipping
Buy any two packs together and save $20 on shipping!!

Product Reviews
Debbie Reed
(Mar 4, 2021 at 5:25 AM)
Crisp and clean! Super versatile. A star of The Finger Lakes.