Versatility of Riesling Virtual Wine Tasting Kit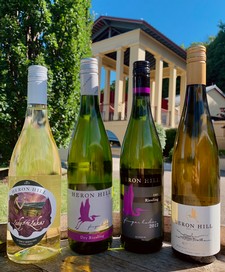 Taste through four Heron Hill Rieslings including two library selection wines and experience the versatility of the Riesling grape with Consumer Educator Chrissy Kramer and Managing Partner Eric Frarey. Thursday 8/20 at 7:00pm on Heron Hill Winery Facebook live.
Lady of the Lakes Bubbly Riesling
Classic Dry Riesling 2018
Classic Dry Riesling 2012-90 pts, Wine and Spirits magazine
Reserve "Old Vines" 40th Anniversary Riesling 2016
Two stemless wine glasses, a fact sheet about the wines with food paring suggestions, a wine aroma wheel with wine flavor chart, wine tasting placemat and a wine evaluation chart. This $99 tasting flight kit has shipping INCLUDED!