Yoga in the Garden July 2nd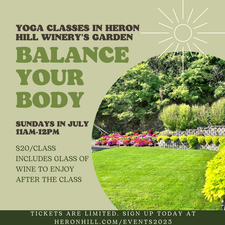 Enjoy a peaceful yoga session at Heron Hill Winery's garden space from 11am-12pm July 2nd. Ticket includes a glass of wine to enjoy after the class. Make sure to bring your own mat and water bottle!
Whether you are an expert or a beginner this class is for everyone. $20 per person per session.
*Cancellation must be made 24 hours from the scheduled date. Any No shows or cancellations after that will not be refunded.
Product Reviews