Winemaking
Heron Hill uses only the most careful processes and state-of-the-art equipment in order to yield the finest, best quality wines.
---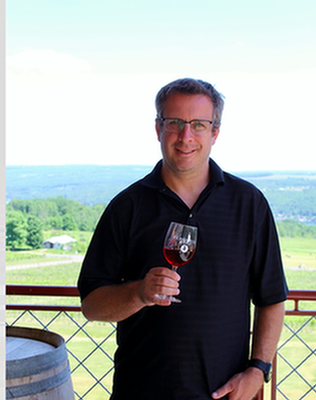 Jordan Harris, Winemaker
Jordan Harris is best described by three words: Passionate, Determined, and Focused. Jordan has always had an incredible passion for all things to do with food and wine. From his young childhood ordering surf and turf at hockey tournaments while his friends ordered hot dogs, to his first job working as a bus boy in fine dining, Jordan has always preferred the best.
---
With Jordan's determination to be the best at his passion, he has achieved many successes. While still a student of Enology and Viticulture at Niagra College of Canada, Jordan placed first at the Inter-Rhone Sommelier Challenge in 2004, just a few months later he finished third in the world in the International Challenge in Avignon, France.
He went on to be recognized as one of Canada's top up and coming winemakers and more recently as a passionate leader in Virginia. He was named Top 40 under 40 Tastemakers with Wine Enthusiast and he was awarded Top 100 Most Influential Winemakers in the USA through Intowine.com.
---
Jordan's winemaking style is simple yet complex. Essentially accepting that it is hard work to be a non-interventionist winemaker. His goal is to have precision and purity everywhere the grapes or wine touch. While many winemakers believe harvest is where the magic happens, Jordan believes it happens through the growing season. Jordan's goal is simple, take the hard work of our growers and express it in the bottle. Make the wine show a place and time. Great wine is grown, not made and Jordan sees himself as a custodian simply guiding phenominal grapes where they want to go.
Jordan joined the team here at Heron Hill in 2020 to be closer to his family and to embrace the opportunity to work in the incredible Finger Lakes Wine region. Jordan is honored to work with the fruit and personalities that have put the Finger Lakes on the world map for the last 40 years. He is looking forward to getting his hands on some cool climate fruit and making Rieslings, Pinots, Cab Francs and more that he loves so much.
---
The winery employs a six-ton Bucher RFP 30 press, which is known for being the most gentle and delicate press available for crushing the grapes. The winery also uses the Gai 1513 bottling system, which lowers the amount of oxygen exposure during bottling.
Heron Hill houses almost 80,000 gallons of stainless steel tanks and 12,000 gallons of oak barrels. In the main cellar, the stainless steel tanks have refrigeration jackets, which allow for temperature-controlled fermentation and aging. In the nearby barrel room, American and Hungarian oak barrels along with barrels from the French districts of Troncais, Allier, Nevers, and Chagny enhance Chardonnay and red wine varieties.