September 8, 2014 | Aimee Coates
A Recipe to Enjoy with Early Fall Evenings and Eclipse Red
So can someone tell me what happened to summer? It seems like we waited and waited and now it's almost gone.
Steve & Pam h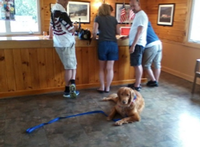 ad a fantastic summer visit with kids and grandkids, enjoying Seneca Lake in all its splendor.
I took a couple of trips back to Connecticut to visit my "kin" -- we shared a few bottles of delicious Heron Hill wine, along with some amazing food and lots of great laughs. At the Tasting Room on Seneca Lake, we enjoyed seeing many familiar faces and making many new friends. Since our tasting room is "Dog Friendly" we have lots of great friends that happen to have 4 feet. Here is Ryder lounging in the tasting room while "mom & dad" sample the new wine vintages and talk with Nancy.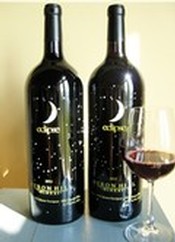 The 2011 vintage of Eclipse Red is quickly becoming a favorite. Heron Hill's signature Bordeaux-style blend of Cabernet Franc, Merlot and Cabernet Sauvignon was first bottled in 1991. The 2011 Eclipse Red was aged 24 months in French, Eastern European, and American oak barrels. For the first time in over ten years, this vintage of Eclipse Red was also bottled in 1.5L magnums. Magnums are only available to purchase in our tasting rooms at this time and are a perfect size for a dinner party! This wine pairs so well with red meat and hearty lasagna for dinner but what about Chicken with a Red Wine Cream Sauce?
Chicken with a Red Wine Cream Sauce
Heat 2 tablespoons of olive oil in a large skillet over medium high heat, add 1 tablespoon of minced garlic and 2 lbs. of chicken breasts.
Cook about 10-12 minutes on each side, until juices run clear.
Remove chicken to platter and add to skillet:
2 teaspoons smoked Paprika
2 tablespoons dark brown sugar
1 teaspoon salt and ½ teaspoon black pepper
1 teaspoon dried Thyme
¾ cup of Eclipse Red Wine
Heat and stir until all ingredients are well blended. Put chicken back into heat through 8 to 10 minutes, spooning sauce over the chicken breasts from time to time.
Remove chicken to clean serving platter and add to skillet:
2 tablespoons of butter
2 tablespoons of heavy cream
Wisk until smooth and thick. Pour sauce over chicken breasts and serve with fluffy rice and roasted seasonal vegetables.
Comments
Commenting has been turned off.