As we happily hit spring in the Finger Lakes, Heron Hill is pleased to continue the tradition of making world-class Rieslings. Since the beginning of 2016, we've received some excellent score in top wine publications and wine competitions. Each year Heron Hill's winemaker makes a full range of Rieslings from dry, single-vineyard wines to sweet, ethereal dessert wine. What most excites Heron Hill's owners & staff is when we meet people who have found a favorite style of Heron Hill Riesling and that wine has become their go-to Riesling to pair with certain foods or for particular occasions. Scores and medals still have meaning and we certainly appreciate judges & wine reviewers that have made tasting wine a life's passion. It will always be about people just enjoying our wine and choosing to share Heron Hill wines with their friends & family!
91 points Ingle Vineyard Riesling 2012, Wine Enthusiast
90 points 'Best Buy' Classic Dry Riesling 2013, Wine Enthusiast
Best of Class 'New York' Classic Semi-Dry Riesling 2013, Grand Harvest Awards*
Double Gold, Classic Semi-Sweet Riesling 2014, Finger Lakes International Wine Competition
*At the Grand Harvest Awards, judges taste wines with other wines of the same appellation. Established in 1990, it is the only wine-judging event in North America that is based on Terroir

What a glorious 2015 season…and now I look forward to what 2016 will bring! I want to take this opportunity to introduce
myself. My name is Nicolette DeAngelis and I am the new Wedding & Events Coordinator for Heron Hill Winery. I have been a part of the Heron Hill team for nearly two years. I began working behind the tasting bar and interning while I finished my Bachelor of Science degree in Business from Mansfield University. Upon graduating this past May, I spent some time on the road working in wholesale selling Heron Hill wines. I transitioned to assisting with events in mid-July under the mentorship of the previous event coordinator, Elke Schmitt. I am so excited for this wonderful opportunity and to bring couples' visions to life at this breathtaking venue in the Finger Lakes.
Here are some of my favorite wedding details from the past season:
The First Look
One of my favorite aspects of weddings is the star-struck reactions couples exchange when they see each other for the first time on their special day. It is an overwhelming moment and absolutely irreplaceable. The "First Look" is when couples actually see each other before the ceremony and specifically take time to photograph this special moment. It makes the moment more intimate and allows for crisp and precise pictures, then the couple uses less of their time during the reception for picture taking.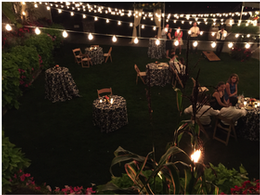 Lighting on the Lawn
The Heron Hill lawn adjacent to the main event tent is a stunning aspect of the venue with its lush colors and dangling greenery. Some couples this past season brought in extra bistro lighting and tables for the lawn so it could be utilized after dark. It brings a romantic feel to the area and is the cherry on top of an already beautiful outdoor landscape.
"Pick a seat, not a side"
Typically, seating for a ceremony is split between the "Bride's side" and the "Groom's side." Some couples chose to have everybody blend together and veer away from labeled seating. This brought a special synergy to ceremonies as well as avoided the confusion of guests figuring out on what side to sit.
There are a few aspects of my job that make me love it so much. My absolute favorite part is the relationship I gain with couples. In order to envision exactly what they want their wedding day to be, I get the opportunity to get to know who they are and what is important to them. Every couple is dramatically different and that is my second favorite part of this job. The event tent has different ambiance every single weekend. It keeps me intrigued and challenged to execute unique weddings every week. My third favorite part of the job is seeing the connection that happens at weddings. There is nothing quite like seeing the love in couples' eyes throughout the evening…a tearing up during a father-daughter dance, or a maid-of-honor gushing over how much love she has for the couple. It is an event where everybody sees the bigger picture about how important it is to love those close to us, which can be overlooked in the day-to-day shuffle.
Overall, I have such a passion for this job and creating memorable experiences is my number one priority. I am ecstatic to see what 2016 brings...there are sure to be many beautiful weddings and exciting new experiences!
We are very excited to announce that our Eclipse Red 2011 received 90 points from Wine Enthusiast magazine! The full review will be in the May 2015 issue. This Bordeaux-style blend aged 24 months in French oak, Eastern European oak, and American oak barrels. It's round & layered with notes of dark cherry, baking spices, and a hint of cedar. In 2016, Heron Hill Winery will be celebrating the 25th Anniversary of our signature red blend!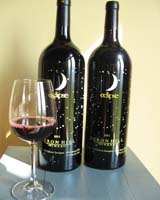 The 2011 Eclipse Red blend is composed of 40% Merlot, 32% Cabernet Sauvignon, and 28% Caberent Franc.
Something about chocolate, even just a bite, is so comforting to me in this cold weather. The Heron Hill team from all three locations, comes together at our Winery in Hammondsport for a monthly Monday morning meeting. Usually there's some tasty baked good served to pair with coffee, tea, and strategy. This month we all loved this Eclipse Red Wine Chocolate Cake. Eric Frarey, our COO and director of sales, and his wife created a delicious dessert recipe featuring Eclipse Red for our February Wine Club newsletter.

ECLIPSE RED WINE CHOCOLATE CAKE
Rich, moist and flavorful, this Eclipse Red Wine cake carries a unique taste and irresistible aroma. The wine makes the chocolate very fudge like with intense flavor. The Merlot in the Eclipse Red wine adds nice cherry notes. As the alcohol does not bake out fully this is the type of dessert you want to make for adults only.
INGREDIENTS:
1 ½ cups of all purpose flour
3/4 cup unsweetened cocoa powder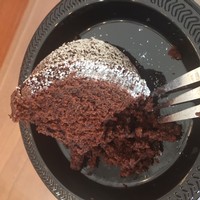 1 tsp of baking powder
½ tsp of salt
½ tsp of ground cinnamon
1 cup of softened butter
1 ¼ cup of granulated sugar
½ cup of dark brown sugar
2 large eggs
2 tsp of vanilla extract
1 ¼ cups of Eclipse Red wine
TO PREPARE:
Preheat oven to 350 degrees. Grease 12 cup bundt pan, set aside.
In a medium bowl sift flour, cocoa, baking soda, salt and cinnamon and set aside. In a mixer bowl beat together butter and sugar on medium high for 3-4 minutes until fluffy, beat in eggs one at a time until combined.
Scrape down sides and bottom of bowl as necessary, beat in vanilla extract.On low speed, beat in or fold by hand the flour mixture in three additions, alternating it with the wine in two additions, starting and ending with the flour. Do not over mix.
Pour into bundt pan, bake 45 mins or until toothpick inserted in center comes out clean. Allow cake to cool for 10 minutes on a wire rack, then turn it out to cool completely. Dust the cake with powdered sugar.

A very fine place...to pick some, fine estate-grown Riesling from the vineyards overlooking beautiful Keuka Lake.
This past week saw everything shift into Hi gear, with the Vineyard in front of the winery being picked. First up was a small crop from our oldest Block with some amazing, raw floral and fruit notes, and a little bit of minerality even at this early stage. There was a little bit of 'good' Botrytis cinerea in the mix, which should manifest itself in some apricot notes post-fermentation.
The next day we picked the rest of the Vineyard, which mainly consists of some younger Riesling vines. Crisp acidity. Lovely fruit flavours. And, as an added bonus, yields were higher than we anticipated. Don made the call early in the Winter to leave a few extra buds on the canes prior to pruning to compensate for the Polar Vortex that had already been gripping the Northeast and it paid off with a bit more fruit then expected. Bonus.
Saturday saw the arrival of the first of the Bordeauxs. We accepted delivery of some nice, handpicked Merlot which now rests comfortably in a tank and several bins for fermentation. We looked to be picking our own Cabs form Ingle Vineyard early next week as the jump to Lightspeed continues.
Last week the mornings were bright, and the vineyards and lake glittered with snow along the west side of Keuka Lake. Trimming stiff vines in single-digit temperatures, doesn't evoke the same romantic image as handpicking juicy, ripe bunches of grapes under the golden light of harvest. However after spending some time with our vineyard manager, I found myself completely fascinated by the process of pruning the vines. Despite tending my own small garden and plants, and growing up in wine country, it still seems miraculous to learn how much life will sprout out of one tiny bud in less than 6 months. From each bud a cane will grown and support multiple clusters of grapes.
Don Riesenberger joined the Heron Hill team last summer as vineyard manager on Keuka Lake. He's very at ease and confident in the vineyard explaining to me why it looks like he's cutting back so much and how he's keeping extra buds on the canes this year. From recognizing a strong spur at the base of the vine to removing just the right amount of new growth, it quickly becomes clear how critical this stage is to maximize the potential of the individual vine. We have control over pruning techniques; we don't control Mother Nature.
"When you look at a vine, you consider what happened last year, what will be different this year, and plan for next year, " demonstrated Don.
Don grew up in nearby Naples and has early memories of tying when he was just tall enough to reach the low growth in his father's vineyards. For 28 years, Don worked as a warehouse manager for Constellation Brands in Canandaigua—and now he's enjoying spending most of his days outside. Don and his wife live on a hillside between Naples & Canandaigua, and have one son currently in college. Heron Hill is very happy to have him around and welcomes his experience, humor, and professionalism.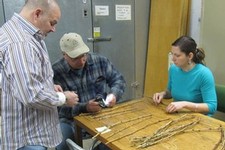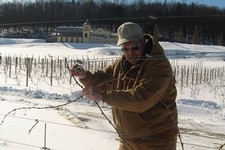 Eric, Don, & Erin checking buds Don pruning young Riesling vines.
Heron Hill has approximately 12.5 acres planted in front of the Winery on the west side of Keuka Lake. The vineyards primarily consists of Riesling ranging from young vines just 1 year old to well established 10 year old vines. Don is also in regular contact with our crew at Ingle Vineyard located on the west side of Canandaigua Lake where some of the vines are over 40 years old. Across the Finger Lakes this winter the fluctuating temperatures, with "arctic blasts" below 0 degrees, have caused concern for vinifera vineyards of all ages. Don explained the different roles of the primary bud, secondary and tertiary bud. We have checked cane samples weekly, although we're seeing healthy signs of green now, it's still too early to tell how fruitful the vines will be this vintage.
I chatted with Don today on this grey, rainy Friday where we're expecting the temperature to reach nearly 50 degree. This pop of warmth will prove perfect for starting the flow of maple sap, but it's potentially dangerous for vulnerable fruit buds when next week's forecast predicts frigid temperatures again.
"What's you're favorite season?" I asked Don. "I actually really enjoy tying in the Spring" Don replied. "There's something about when everything is starting to bloom and working outside while the birds are singing…" Pruning will continue into March, then after the support posts are checked and wires are tightened, tying will begin. The more I learn about grape growing and wine making, the more I appreciate the process and respect the risk people take in this industry. There's no question, everyone's eagerly awaiting the arrival of Spring this Year!

The 2013 harvest is over, after we picked the Riesling Icewine on the third week of November at Ingle Vineyard on a cool site overlooking the west side of Canandaigua Lake. Yes, it got that cold before Thanksgiving! The 2013 whites are either done with the alcoholic fermentation or finishing it slowly. A cool fermentation for white wines helps preserve the aromas from the varietal and also from the fermentation itself. A cool temperature means a long and slow fermentation.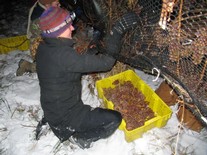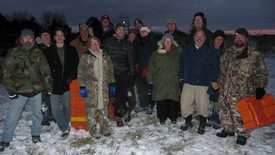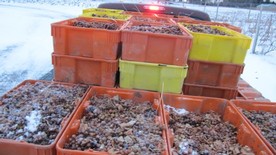 (Scenes from harvesting Riesling for icewine)
The reds need a higher temperature during the alcoholic fermentation to help the extraction of tannins from the skin and seeds. The alcoholic fermentation is therefore much quicker, a matter of days to a week. The rest of the time spent on the skin is called post-fermentation maceration. The red wines have been pressed off the skin and are now going through the secondary fermentation, or Malo-lactic fermentation: malo-lactic bacteria transform the sharp malic acid (found in apples) into the softer lactic acid (found in yogurt). This makes the red wines softer and rounder. Our white wines do not go through Malo-lactic fermentation in order to preserve their natural acidity.
For me, Christmas is a family holiday, in contrast with the New Year celebration which is more of a "friends get-together." It has been a tradition for my wife and I to spend Christmas Eve with her cousins on Long Island for the "Feast of the Seven Fishes." You might have guessed it: they are on the Italian side of the Family. As the name suggests, all the dishes are seafood based: shrimp cocktail, baked clams, broiled lobster tails, clams in a white wine sauce over pasta…and lots of desserts!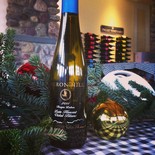 (Heron Hill Vidal Blanc 2011: Gold medal Finger Lakes International Wine Comp.; 90 points Wine & Spirits)
Interestingly enough, we bring the wines: Heron Hill Muscat is a favorite, along with the Semi-Dry Riesling and Ingle Vineyard Riesling. For the red wine drinkers, Heron Hill Cabernet Franc is always a hit, and I might add our Blaufränkisch or Baco Noir Reserve this year along with Eclipse Red 2010. And for dessert, I better not forget Heron Hill Late Harvest! It is a very versatile wine and pairs with many different desserts, as long as the dessert is not overly sweet. An interesting dessert to pair the Heron Hill Late Harvest Vidal Blanc with is a Ricotta cheese filled crêpe flambée. I believe I have shared a flambée Shrimp recipe in the past: you are going to think I am a pyromaniac…well, it surely makes a good show!

Crêpes Flambées with Ricotta cheese filling
For Crêpes:
¾ cup flour
1 cup milk
3 eggs
¼ cup vegetable oil
¼ tsp salt
1 Tbsp sugar
¼ tsp Vanilla extract
For Filling:
400g Ricotta cheese
4-5 Tbsp confectionated sugar
1 ½ tsp lemon zest
1/3 cup orange juice
¼ tsp Vanilla extract
For Flambée:
1/3 cup of either whiskey, dark Rum, aged Brandy, Cointreau,
or Grand Marnier (for a "Crêpe Suzette" approach).

TO PREPARE:
First, blend all the ingredients for the crêpe batter together, then store in the refrigerator for about three hours. This gives you plenty of time to make the filling, which should be made before cooking the crêpes. Just blend all the ingredients together. I chose Ricotta cheese for its creaminess and its lighter taste. To get closer to a Crêpe Suzette, you would replace the Ricotta cheese with half a stick of butter and use orange zest instead of lemon. I like the combination here because I do not want a dominant lemon or orange flavor, but a diversity of aromas. A good substitute for sugar would be honey, and it would actually work even better with the wine!
Using a flat bottom non-stick frying pan (the best is of course the "crêpe-pan), oil well the bottom of the pan. Once the pan is hot, pour a small ladle of batter and swirl the pan so the batter makes a thin and even layer on the bottom of the pan. Cook for about 45 seconds to a min, then flip the crêpe and cook for another 45 seconds, until brown bubbles appear. Place the crêpe on a dish. Repeat with the rest of the batter.
Place about 1-2 Tbsp of the filling in the center of each crêpe. Fold it in half, then in half again to make it look like a wedge or a quarter of a circle.
Place the crêpes in a big heat resistant pan. In a small saucepan warm up the liquor of your choice, then pour over the crêpes in the heat resistant pan, and CAREFULLY light the alcohol with a long match.

Place in a dish, serve and enjoy with a glass of Heron Hill Late Harvest Vidal Blanc! Happy Holidays!

October is always a crazy busy month, except for last year. By the first week of October in 2012 we were done - finished - with the harvest. An early spring - dry, hot summer and smallish crop led to a two to three week early harvest. It was bizarre - but good. 2013 is almost the opposite. A late spring, cool damp summer and a large crop has made us two to three weeks behind schedule. Actually, mid-October, we've just started. We brought in 22 degrees Brix Pinot Noir early this week and are now almost done with the Chardonnay.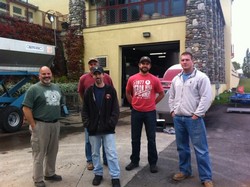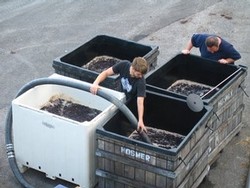 (Some of the Heron Hill Harvest Crew on the press pad; Zeb & Bernard with crushed Pinot Noir)
The damp summer led to many mildew problems. I have talked to growers who had to spray 15 to 20 times for assorted diseases. The average is 6 to 10 times so there was a lot of mildew pressure. Ingle Vineyard, under the supervision of Vineyard Manager Kyle Franzoni and assistant Zeb Archer, has managed to bring a large crop of ultra-ripe, super clean grapes to the press deck. The Heron Hill vineyard, managed by Don Riesenberger, is also looking awesome. Brix (sugar) levels are over 20 degrees and up to 22 degrees. This will bring bold, tasty wines with great depth and character.
Last weekend we shared the harvest duties with sweepstakes winner Jaime Murphy, and her husband James. Not only were they a delight to work with but they really pulled their weight in the vineyard, keeping up with the well-seasoned crew we have. It was a gorgeous day in the Finger Lakes and hand-picking beautiful Pinot Noir, enjoying a vineyard picnic of all organic, home-grown fruits and vegetables, followed by supervising the activities on the press deck at the winery made for a very memorable day for all. Thanks to everyone who helped put this great Heron Hill experience together: Elke, Erin, Kate, Bernard, and especially Sales Director Eric Frarey who came up with this great idea.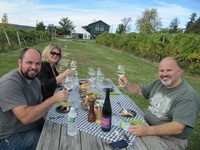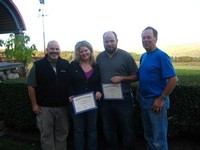 (Sweepstakes winners having lunch in the vineyard; Sweepstakes winners receive certificates from owner John Ingle and sales director Eric Frarey after a successful day.)
As we watch for the rest of the harvest to occur we are full of exuberance and pride as the fruits of our labor promise great things in the bottle!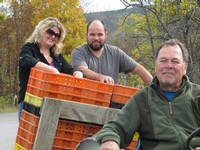 (John Ingle with Sweepstakes winners at Ingle Vineyard)


At this time of the year, we are busy pruning in the vineyard. Pruning is a fundamental stage to the rest of the growing season: it allows us to control the crop we will have at harvest. Each bud we keep will develop and become a fruit baring shoot. The more we leave on the vine, the more grapes we will have at harvest. Consider the energy one vine puts into producing fruit; too many grapes tend to dilute quality and drain the vine from its energy and reserves. On the other hand, we still have to be careful to leave enough buds to balance the vine's natural vigor and have some extra buds knowing some may never develop due to winter damage, spring frost or even later season threats like deer.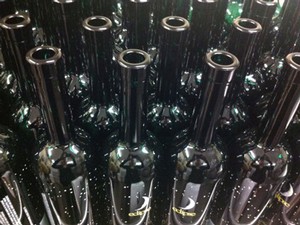 There's always something interesting developing in the cellar. Currently, most of the 2012 reds are now in barrels, as we pumped older reds from barrels to be filtered and bottled. We just bottled Game Bird Red and 2010 Eclipse Red. Next week, we will bottle 2010 Ingle Vineyard Pinot Noir and 2011 Ingle Vineyard Chardonnay. The 2012 whites are being cold and protein stabilized, we plan to bottle these sometime in June. We also have some specially selected Reserve wines for which I'm particularly excited about this spring: 2011 Baco Noir, 2011 Blaufränkisch, 2012 Pinot Gris and 2012 Gewurztraminer. Yes, Baco Noir is almost there, as many customers have been asking for it for a while.
The 2012 vintage will be Heron Hill's first Pinot Gris and Gewurztraminer ever! We are very excited about these two wines and plan to release around 200 cases each. Pinot Gris, also known Pinot Grigio, can be a very shy wine. I have found our 2012 Reserve Pinot Gris to be very different than any Pinot Grigio I have encountered. Our Pinot Gris is very expressive on the nose and complex with tropical fruit and cherry blossom notes.
Many people have asked for a Gewurztraminer since I started at Heron Hill in 2009. We will release the wine in just a couple months! For me, the nose is lychee, characteristic of the varietal, but it also has some floral notes, making the bouquet very elegant.
On a personal note, I am looking forward to visiting my friends and family in southern France at the end of March. So much for trying to lose some weight! When I visit, each meal is a feast, easy on the greens but heavy on the fat and tasty meats and cheeses. It feels really good to go back to where I grew up…my grandparents' villages, and my grandfather's vineyards where I used to work with my father. Although so much as changed or looks very different, I still love to return to these locations where I savor the memories.

With Mother Nature unleashing winter storm "Nemo" on a major part of the Northeast,
we here at Heron Hill Winery and the rest of the wineries on the Keuka Lake Wine Trail opened
our doors to many visitors who were not scared to come out and enjoy a wonderful Finger Lakes event called the Cheese and Wine Lovers Weekend. At Heron Hill, we invited First Light Creamery to
come spend the weekend with us, sampling and selling their cheeses. The cheese maker, Trystan
and his fiancée Emily were happy to get away from the goat farm for a weekend bringing us 25
pounds of their Cream Roasted Garlic and Pepper Chèvre cheese. We used it to bake into
our Chèvre Puff Napoleons over Arugula Salad (recipe available here) topped with Roasted Garlic Red Wine Balsamic Dressing from a local producer, Chef Lerman.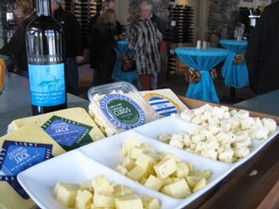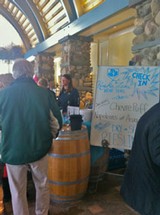 We received rave reviews from all our customers giving lots of great praise and thanks
for using so many local producers. We really pride ourselves on trying to acquire as many
products produced in the Finger Lakes as possible. We are hoping to arrange with First Light Creamery to carry their cheeses in our Blue Heron Café for the 2013 season. The full lines of products that we carry from Chef Lerman have always been hot sellers in the food section of the gift shop.

After such a successful for all the Keuka Lake wineries, I am already looking forward to our next wine trail event, "Viva Italia!" on April 6th & 7th. Each of the 7 participating Keuka Lake wineries chooses a region of Italy with rich flavors enhanced by superb, food-friendly wines produced from each of our vineyards. I just got a preview of the recipe from our Café Director, Mike Oliver for the event and am very excited that we are going to be serving Roasted Eggplant Cannelloni Neapolitan a specialty from the town of Naples located in the Italian region of Campania.
This event always brings back great memories from when I spent a semester in Florence,
Italy. What a great country, so hospitable and the food was AMAZING! My house mother,
Roberta, was always making traditional recipes. I was very glad that I walked 4-5 miles a day to
work off all the calories from the breakfasts and generous dinners that she created each day.
I hope to see some familiar faces and make some new friends at our Keuka Lake Wine Trail events this year. These food & wine events are so much fun and you get to be greeted each and every time by my smiling face! Salute to an incredible 2013 season!

The fermentations of the 2012 wines can dwell into December for some batches of Riesling and Late harvests. For the white varietals, it is not a bad thing to have a slow fermentation: it gives the wine more complexity and preserves the volatile aromas. As long as the sugar content is going down, I am not very worried. Some winemakers have their wines ferment until late spring.
The white wines which have completed the alcoholic fermentation are then racked off the lees a couple of times before being cold and protein stabilized. By chilling the wines at around 28 degrees F, tartaric acid and potassium ions naturally contained in grape juice react together and form tartrates, the little crystals you might have seen in a white or rosé wine that was thrown in the freezer for a quick chill, or the cork of a bottle of red wine. Tartrates are not armful; they just look weird in a clear white wine and feel like sand in your mouth. The tartrates settle to the bottom of the tank and are removed from the wine. Heat or protein stability is obtained by getting rid of the proteins contained in the wine by adding bentonite, a sort of clay. The proteins weighed down by the bentonite settle to the bottom of the tank and are removed from the wine. After a couple of filtrations, the heat and cold stable wine is ready to be bottled during the summer.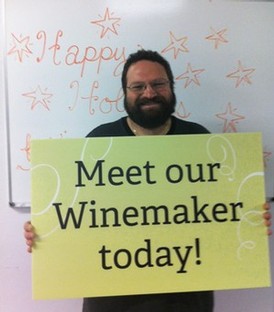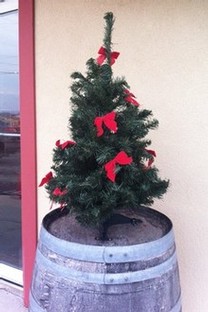 The red wines don't have to go through heat and cold stabilization, although some winemakers may choose to do so. Over the winter, the reds go through a secondary fermentation, called Malo-lactic fermentation. Malo-lactic bacteria eat malic acid, naturally contained in grape juice, and produce lactic acid, which is a softer acid than malic acid. This secondary fermentation makes the wine more stable against spoilage and makes the wine softer. We do not have our white wines go through Malo-lactic fermentation in order to preserve the natural crisp acidity of the Rieslings and chardonnays and other white wines. It's all about balance!
In the vineyard, we are plowing to cover the base of the trunks of the vines to protect them from the harsh winter. We are fixing wires, posts and such before the soil freezes. Pruning starts with the New Year and lasts throughout March.
For the Holidays, my wife and I return to Long Island where her relatives reside. We traditionally celebrate with the Italian "Feast of the seven Fishes." You might have guessed it: it's all seafood! I usually bring the wines, of course: Heron Hill Muscat, Dry and Semi-Dry Riesling, Ingle Vineyard Cabernet Franc and Eclipse Red for the red wine drinkers, and I better not forget my mother in law's favorite: Late Harvest Vidal Blanc. It is the occasion for us to see all our cousins, at least once a year, catch up, and have a great time, playing pool and poker. These guys can be tough! Happy Holidays, and drink responsibly.