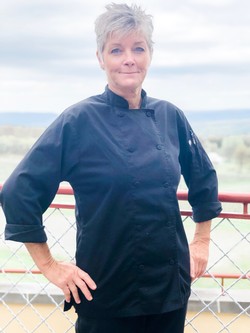 The Blue Heron Café opens for the 2019 season the weekend of May 18th. We are excited to welcome our new chef, Susan Milovich. Originally a New York native, she has held many culinary positions while living in Florida and Virginia. Her and her husband are planting some roots here in the Finger Lakes – a perfect landscape to continue her culinary career.
Over the years, she has developed a keen sense of pairing food and wine via participation in a number of wine clubs particularly in New York, California and Virginia where she and her husband Matt led tastings for award winning wine maker Steve Bottelier at the AmRhein's wine cellars. She now looks forward to bringing this mélange of experience into her own creations at Heron Hill.
Susan can't wait to share her love for food and wine, and is ready to make her mark in the Finger Lakes culinary scene with a new and inspring menu for the Blue Heron Café!
Her first gig was for the Keuka Lake Wine Trail's Wine and Herb weekend. Our herb was thyme - and she utilized it so well! We had 2 different sample dishes, one savory, and one sweet. Susan prepared a Mushroom Bouchée and a Butter and Thyme Tart square.
We were really loving the earthiness of the mushroom and thyme, and the creaminess of the goat cheese from local dairy and cheese producer, Lively Run, so we decided to share the recipe with you!
Mushroom Bouchée makes a wonderful small bite at your next gathering and a delicious compliment to a crisp, white wine or lighter bodied red wine. We were loving it with our Lady of the Lakes Bubbly Riesling. See the recipe below + if you like it - share it!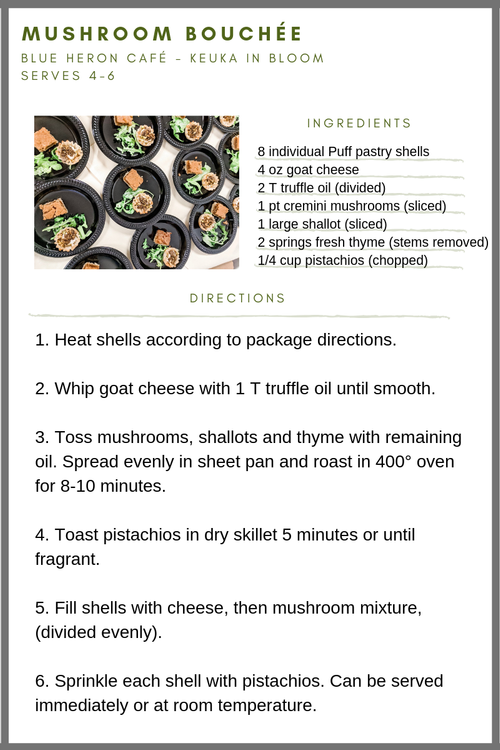 This year the Keuka Lake Wine Trail's Keuka Holidays event weekends both sold out by early. We are very thankful that so many people have chosen to celebrate the beginning of their holiday season by visiting our wineries. Once again, the ornament you receive at Heron Hill Winery was made by a local craftsperson. I'm also very excited to share the Mushroom Burgundy Soup recipe below from Blue Heron Cafe because it's so easy and so flavorful!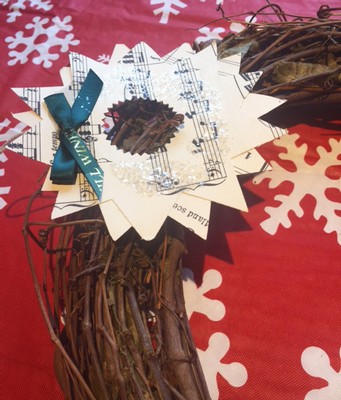 INGREDIENTS:
6 cups of milk
3 cups chopped button mushrooms
1⁄2 diced red onion
1⁄2 bunch of diced green onions
1⁄2 cup chicken stock
1⁄2 cup of Eclipse Red
2 tablespoons of garlic
2 tsp of sage Day-old bread (any type)
1 cup Asiago cheese

TO PREPARE:
In a medium-hot pan with olive oil, sauté the garlic until almost soft then add in the red and green onion. Sweat the onions then add in the mushrooms. Once the mushrooms are tender add in the Eclipse Red wine to deglaze. Once the red wine reduces add in the chicken stock and cook for about 5-6 minutes and add milk, leaving on low simmering for about 20 minutes. Add in the sage, salt and pepper to your liking. Once the soup thickens turn off and wait about 10 minutes before serving to cool down the soup. Once cooled top with home style croutons.
TO MAKE HOMESTYLE CROUTONS:
Cut bread into small cubes and toast. Once toasted, toss in olive oil and toss with salt & pepper and top with shredded Asiago cheese.

With Mother Nature unleashing winter storm "Nemo" on a major part of the Northeast,
we here at Heron Hill Winery and the rest of the wineries on the Keuka Lake Wine Trail opened
our doors to many visitors who were not scared to come out and enjoy a wonderful Finger Lakes event called the Cheese and Wine Lovers Weekend. At Heron Hill, we invited First Light Creamery to
come spend the weekend with us, sampling and selling their cheeses. The cheese maker, Trystan
and his fiancée Emily were happy to get away from the goat farm for a weekend bringing us 25
pounds of their Cream Roasted Garlic and Pepper Chèvre cheese. We used it to bake into
our Chèvre Puff Napoleons over Arugula Salad (recipe available here) topped with Roasted Garlic Red Wine Balsamic Dressing from a local producer, Chef Lerman.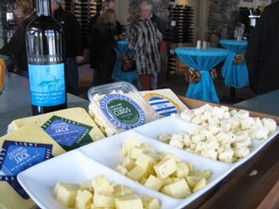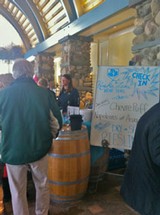 We received rave reviews from all our customers giving lots of great praise and thanks
for using so many local producers. We really pride ourselves on trying to acquire as many
products produced in the Finger Lakes as possible. We are hoping to arrange with First Light Creamery to carry their cheeses in our Blue Heron Café for the 2013 season. The full lines of products that we carry from Chef Lerman have always been hot sellers in the food section of the gift shop.

After such a successful for all the Keuka Lake wineries, I am already looking forward to our next wine trail event, "Viva Italia!" on April 6th & 7th. Each of the 7 participating Keuka Lake wineries chooses a region of Italy with rich flavors enhanced by superb, food-friendly wines produced from each of our vineyards. I just got a preview of the recipe from our Café Director, Mike Oliver for the event and am very excited that we are going to be serving Roasted Eggplant Cannelloni Neapolitan a specialty from the town of Naples located in the Italian region of Campania.
This event always brings back great memories from when I spent a semester in Florence,
Italy. What a great country, so hospitable and the food was AMAZING! My house mother,
Roberta, was always making traditional recipes. I was very glad that I walked 4-5 miles a day to
work off all the calories from the breakfasts and generous dinners that she created each day.
I hope to see some familiar faces and make some new friends at our Keuka Lake Wine Trail events this year. These food & wine events are so much fun and you get to be greeted each and every time by my smiling face! Salute to an incredible 2013 season!

Participating in a Wine Trail Event? Your questions answered here!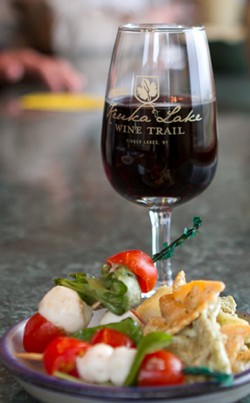 Why did Heron Hill decide to participate in the Keuka Wine Trail?
Heron Hill has been an active participant of the Keuka Lake Wine Trail since the inception. As a participant of the Keuka Lake Wine Trail, all the wineries participate in each and every event. We spend countless dollars on advertising and making sure that we have the absolute best brochure in the region, with a center section dedicated to the 6 events that we do over the course of the year. Established in 1985, the Keuka Lake Wine Trail aims to provide a high-quality, lively experience where guests will feel excited by the food, wine and scenery and stimulated by the conversation.
You can download the brochure at: http://www.keukawinetrail.com/contact-us/
How many people, would you say, the events draw?
Each event draws a different size crowd, for the "off season" events (Cheese & Wine Lovers, this past February, Viva Italia on March 31 & April 1st and Keuka in Bloom May 5 & 6), we generally expect to draw about 500-600 people. It is a very manageable number considering that the event is spread over 8 wineries over 2 days. The "in-season" events (BBQ at the wineries, June 9 & 10 and June 23 & 24, Harvest Celebration, Sept 15 & 16 and the Keuka Holidays Nov 10 & 11 and Nov 17 & 18) are generally sell outs or close to sell outs. The number of tickets sold range from 800-1200 over the course of a weekend.
What can you tell me specifically about Viva Italia?
Each of the eight member wineries around Keuka Lake will prepare a rich variety of food inspired by the flavors and cooking styles from different regions in Italy. Samples of food will be served with complementing local wines. Event attendees will sample a delicious variety of dishes prepared with high-quality ingredients and wineries will make recipes available to enjoy at home. A preview of the event menus includes pasta e fagioli, gorgonzola tortellini, roasted red pepper polenta, zuppa di scarola, pistachio biscotti and lemon-almond cookies.
What are you most looking forward to about it?
I am very excited to see what the attendees thought about all the different regional styles of food. The different regions of Italy all have such varied cuisine and I believe that all the wineries are taking advantage of it!
What would you say people enjoy most about the wine trail events?
All of the returnees are generally commenting on what delicious wines all the wineries have, saying things like "They have great wines and the services has always been warm and welcoming" & "A must-stop on your tour of Keuka!" Another returnee raved about the amount of food they received, the wine tasting, recipes, etc.... Great fun, great wine! They commented on how much they enjoyed the view, the wine, the drive and the smiles.
When does it start?
Event hours are Saturday 10 a.m. to 5 p.m. and Sunday 11 a.m. to 5 p.m. Event attendees may visit all eight wineries in one day or plan an overnight stay to spend more time enjoying the area's other attractions.
Where should they begin? How much does it cost?
Two ticket options are available for this self-guided food and wine event. Sunday-only tickets are $19.00 per person; tickets for the full weekend are $25.00 per person. All ticket holders will receive a souvenir wine glass. When the ticket holder purchases their ticket, they will be assigned to a starting winery and will then start on their highly manageable drive around the Keuka Lake. It can be done in a day, still allowing time to stop at each of the unique eight wineries on the trail or it can be broken up over the weekend. The striking overlooks, on-the-water restaurants, parks, antique barns and charming villages will encourage you to slow down – spend a few days and discover what makes the Keuka Lake Wine Trail different.
Where and how do I purchase my tickets?
Purchasing tickets in advance is highly recommended as most events sell out. A limited number of tickets may be available at the door for a $5.00 surcharge. For all Keuka Lake Wine Trail events, conveniently purchase tickets by calling 800.440.4898, by visiting a Wegmans customer service desk or online at www.keukawinetrail.com.

The holidays are over. We have all had time to settle into our new year's resolutions, or give them up. We are all itching for spring.

I however, enjoy this quiet time of year. I spend a few months reflecting on my past wedding season, planning for the future season and of course plan on doing a little Finger Lakes wine tasting!

My friends and I love visiting the local vineyards this time of year. I can never seem to get enough of Damiani's Syrah or Shaw Vineyard's Cabernet Sauvignon. Yum!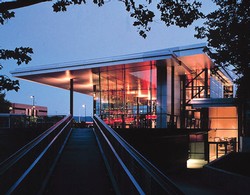 Recently, a group of us attended the Corning Museum of Glass 2300˚ event. The January event, Fire and Ice, brings about 35 local wineries together. You get to sample delicious wines while listening to music and watching talented artists blow glass. This is one winter event we are sure to never miss.

A new favorite event of mine is coming up on us rather quickly, the Keuka Lake Wine Trail Cheese & Wine Lovers event. With Valentine's Day right around the corner, this is the perfect gift for you and your sweetie. What a way to celebrate - with wine and cheese!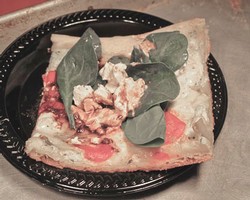 Here at Heron Hill Winery we will be serving Sundried Tomato Chicken Pizza paired with our Classic Dry Riesling. Lively Run Goat Diary will be here sampling all of their tasty goat cheeses and offering them for sale. I love the variety of chevres that they produce. It is creamy and light. It goes great it stuffed mushrooms too.

If you are interested in more information about this event you can purchase tickets on the Keuka Lake Wine Trail's website, weekend tickets are $18 per person.

Don't forget to stop in and visit us here at the winery. Tambi and I love to pour wine and catch up with our favorite customers this time of year!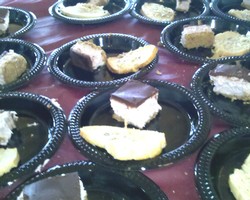 What a great season, I made it through October and just finished two busy sold-out weekends of Keuka Holidays, two of our biggest weekends of the year! We had a record-braking crowd on the first Saturday with over 1000 people through the door…wow was I tired! We served a fabulous Roasted Red Pepper Soup topped with an Asiago Crisp and a side of Eclipse Red Raspberry Cheesecake. We received rave reviews from everybody, check out the links for the recipes!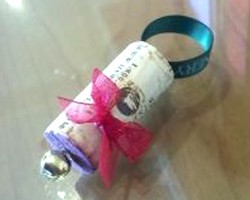 This year we had one of our staff members, Lauren, hand make 1,200 cork ornaments. Lauren spent countless hours tying bows, cutting ribbons and gluing jingle bells on each cork. I think Lauren recruited a few of her friends to help her with this project…maybe enticing them with a home cooked meal and lots of wine!
As the 2011 season winds down, we are already gearing up for 2012! I have already booked tons of groups for the upcoming season, especially October (one of the busiest months). I am also working on ordering a great present for our wine club members (sorry…can't reveal the secret yet!). The final shipment of the season is always a great one with two of our most special wines leaving the building…the Gold Club is even receiving an unreleased wine!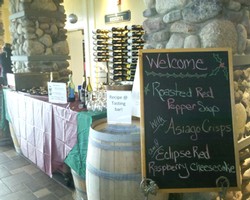 As I get ready to take a small breather, Bernard (our winemaker) just stopped by and said that we are going to hand-pick our Late Harvest Vidal Blanc next Wednesday! Even though it is my day off, I am a trooper and will be there with bells on! I am just thinking about what I will bring for a hot drink to keep me warm while picking, maybe hot mulled cider with a little Goldschläger?
Remember now that it's the slower season, (the best time to visit in my opinion), you can stop, visit and taste for an hour or two and we can try to solve all the world's problems!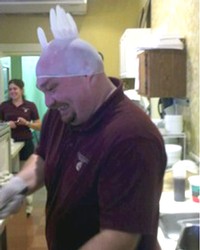 With the unpredictable October weather, some improvisation was necessary. Cool, rainy days brought smaller crowds, but the limited seating in the Blue Heron Café was challenging even for lighter crowds. Putting the tower heaters and conference room to use helped to hold the crowd. For the last weekend, we even used one of the tent sides to close off the opening of the awning. All of these tactics combined worked well to keep the crowds happy!

Tunes in the Tent proved to be another great series for the year. From Virgil Cain and the Movers to the Keuka Kats, we saw good crowds for most of the events. The Wine Club VIP members really seemed to enjoy the events too. Again, weather offered a few challenges, but the big tent heaters kept everyone cozy under the cover. Look forward to the lineup for next year's Tunes in the Tent to come out by February!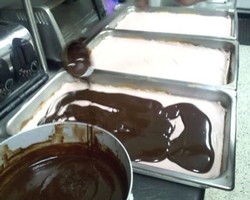 Last weekend and this upcoming weekend will wrap up Wine Trail events for the year. For Keuka Holidays, I will be preparing a Cream of Roasted Red Pepper Soup topped with Asiago Crisps and an Raspberry Cheesecake with Chocolate Eclipse Ganache. The soup is one of the Café favorites and the cheesecake is a recipe that I developed on a whim, featuring raspberry and Eclipse Red in the filling and topped with an Eclipse Red Chocolate Ganache. The numbers for this event are amazing, we served just over 1000 people on the first weekend and expect to see nearly 800 next weekend! As we approached the end, we had to makes sure it stayed fun!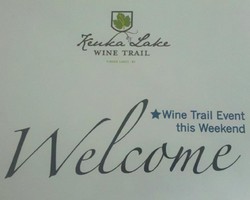 Ahhhh…September! Harvest is here and you know what that means; it's the start of the really crazy-busy season! We kicked September off with a jammed packed weekend with Labor Day and "oh boy" did we labor hard at the winery! We had live music by Bruce Holler on Sunday afternoon, unfortunately I was pouring so much wine in the tasting hall that I never got a chance to get out there to even say hello.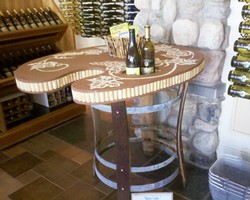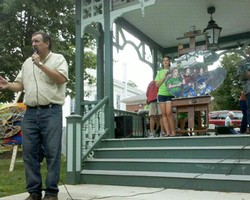 The following weekend on the 10th, I had Saturday off because I went to the 2011 Palettes of Keuka auction! The Palettes of Keuka has inspired upwards of 40 artists each year to create artwork on giant size artist palettes. This event has offers wonderful opportunities to provide funding for numerous art related activities and scholarships. Each year the committee directs thousands of dollars in funding towards the support of the arts in our area. In four short years they have created a Keuka Lake tradition with the grand finale auction held in the village square in Hammondsport. I ended up buying two palettes, one called "Wine, Wonderful, Wine" by Lenolee Spraker and "Pants in the Park" by Andy Clark. I got great deals on both; in total I spent only $170.00! As the auction was winding down, with only a few palettes to go, the auctioneers Steve Muller and Ken Corey, posed a challenge to the audience. As you can see by the picture there are many corks that make-up the border in my palette, the auctioneers asked if anyone could guess the total number that I used to make it with! After many crazy guesses (346, 824, 600, 572) someone shouted out 200… seeing that I had used 185 ½ corks - they were the winner. I had told Steve and Ken that I would donate a bottle of wine of the winner's choice!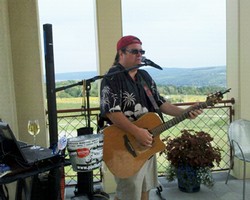 This past weekend was our Harvest Tour of Food and Wine on the Keuka Lake Wine Trail. What a great weekend, I was the greeting committee and check-in person serving the wine and food with Linda on Saturday and Helen on Sunday. It was a great weekend to be in the tent in our parking lot, as the seaplanes were in town and we got to watch them go around the lake at 1:00 on Saturday….very Cool!!! At the trail check-in table we were serving a Butternut Squash, Potato & Sausage Gratin paired with their choice of our Classic Pinot Noir 2008 or our Classic Dry Riesling 2009. Both worked exceptionally well with the rich and creamy gratin.
So far September has proven to be a great success; let's hope with our first Tunes in the Tent this coming Sunday it continues! I can't wait to see the "Crosseyed Cats" perform starting at 12:30 on Sunday! Hope to see everybody here for Harvest!